Parents speak out against masks for elementary, middle school children at East Grand Forks School Board meeting
The dissent comes two weeks after the last School Board meeting, at which board members decide to require masks for K-6 students.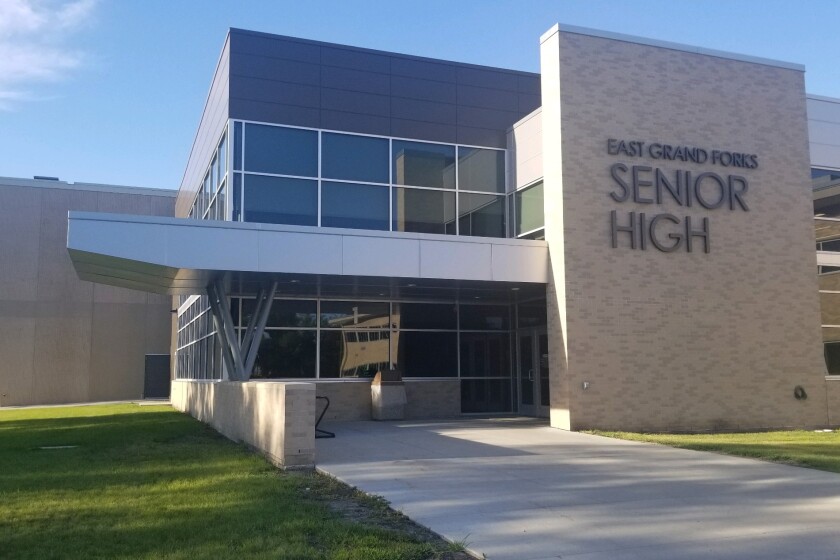 We are part of The Trust Project.
The East Grand Forks School Board meeting on Monday, Sept. 27, featured comments from concerned parents who spoke against a mask mandate enacted by the board at its last meeting.
Four people spoke, three of whom were directly challenging the board's masking rules for students in grades K-6. Approximately 15 others showed up in support.
The dissent comes two weeks after the last board meeting, at which the board decided to move from COVID mitigation strategy level two to level three under the Safe Return to In-Person Learning Plan. The plan requires all kindergarten through sixth-grade students to wear masks indoors; those students originally started the year under a mask recommendation – not a requirement.
Board member Brandon Boespflug started Monday's meeting by asking those who wished to speak to be respectful to those on the board and others in attendance by speaking within the allotted time, three minutes. All of the speakers adhered to the request within a minute or two.
First to speak was Samantha Omdahl, who cited 44 districts in the region that are not requiring masks or quarantines. Her main point was that parents should be able to decide for themselves whether a child should wear a mask. She compared COVID-19 to influenza.
"We need to go back to our sick policy from before COVID," Omdahl said. "COVID's not going away. It's no different than the flu, especially to children. We need to start living with this virus just like we do with the flu. Giving parents the ability to make health choices for their children is not only the right thing to do or the American thing to do, but it also allows those with lower immune systems the chance to wear masks. Just because it's not mandated does not mean they can't wear one."
Matt Hangsleben then said he believes forcing young children who are not eligible for a vaccine to wear masks is physically, psychologically and emotionally unhealthy. He said his sixth-grade child, who has severe allergies and asthma, has to wear a mask all day, even though seventh- and eighth-grade children in the same building don't have to.
"Why?" Hangsleben said. "Because seventh- and eighth-grade kids are eligible to get the vaccine? Do you really believe that there are that many seventh- and eighth-grade kids who have gotten the vaccine, especially when only about half of the adults in this area have gotten it?"
He also said children need to be able to see each other smile, and he believes forcing them to wear masks all day deprives them of happiness.
"Kids need to be kids," Hangsleben said. "They need to see their friends and teachers smiling and having fun. When we smile, it releases chemicals in your brain that makes you feel good. It lowers stress and it helps prevent depression, among other things. You can trigger that reaction in others just by smiling at them, and we're depriving our kids of this every single day, and it's going to have long-term effects. I have heard a lot of parents talk about noticing depression in their kids over the last year and a half. Why are we doing this again?"
Another speaker was Todd Schumacher, East Grand Forks Senior High School science teacher and president of the East Grand Forks Education Association, who said many teachers are already mentally spent, with the school year having just begun.
"Our teachers' mental health is on the line," Schumacher said. "Every decision you as a board makes impacts teachers. Teachers have to add this to their daily routine. For example, the masking of students, right or wrong, who has to do the vast majority of policing? It's the teachers. Who has to answer the questions the students and parents ask? It's the teachers. More and more responsibilities are given to teachers every day, with nothing ever being taken away. This isn't right."
Jamie Lund harkened back to Boespflug's request at the beginning of the meeting that speakers remain respectful.
"My wife sent every board member here an email after the last meeting with quite a bit of information on why these masks are hurting our children," Lund said. "Not one of you responded. So, let's think about respect again."
Lund said it is past time for children to return to normal and, like Omdahl, compared COVID-19 to the much less deadly influenza virus.
"We have to stop listening to that idiot running our state, for one, and the CDC because they keep changing. ..." Lund said. "It's the flu. That's all this is, is the flu, and I think everybody in this room – you, me – we all have an immune system. If you're compromised, wear a mask. If you're old, wear a mask."
Lund rounded out his time by proposing masks don't help anyone except the outlets telling people to wear them, which garnered a round of applause as he finished his statement.
"These masks are not helping," Lund said. "They're not helping anybody, other than the big bucks, the pharmaceuticals and the media. Let's turn the news off for a while."
According to World Health Organization statistics, the flu annually kills an estimated 290,000 to 650,000 people worldwide. To date, approximately 4.7 million people worldwide have died from COVID-19 and its complications.