North Dakota skies hazy from wildfires smoke
Air quality remains good, according to the state's Department of Environmental Quality.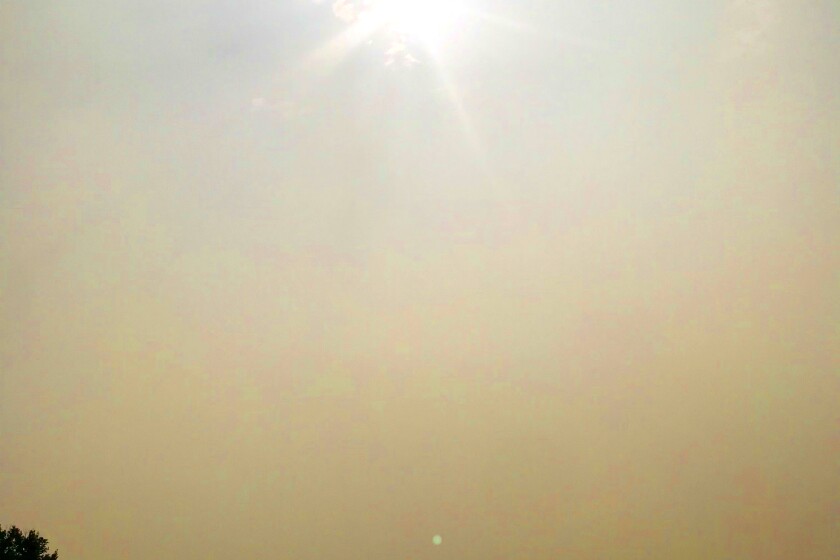 Smoke from wildfires in the western United States have created a haze over North Dakota.
Eighty-seven wildfires in 10 states, including California, Washington and Oregon, have burned 4.6 million acres, according to the National Interagency Fire Center in Boise. Residents in the three states and in Colorado whose homes are near 39 large fires are under evacuation orders, according to the fire center.
Air quality in the Pacific Northwest is among the worst in the world. Portland and Seattle claimed the top spots for worst air quality and pollution among major cities around the globe. In Multnomah County, Oregon, officials tweeted a dire warning: "NO ONE should be outside."
In southwestern Washington and northwestern Oregon, smoke advisories warn that visibility is less than 1 mile. Officials warned of hazardous driving conditions and cautioned those with respiratory illnesses to stay inside to avoid inhaling smoke.
Conditions in Portland and Salem, Ore., were listed as "hazardous," according to data from state environmental officials. In Seattle, the air quality index topped 200, which is considered "very unhealthy." Conditions in Sacramento, Calif., were listed as "unhealthy."
Air quality alerts were in effect for parts of Northern and Central California. Those are expected to remain in place "until the fires are extinguished," according to text posted to the National Weather Service website.
The wildfire smoke in the upper atmosphere is blowing eastward across the United States, resulting in hazy skies in Midwestern states, including North Dakota.
The National Weather Service office in Grand Forks has included widespread haze in its forecast through Wednesday, Sept. 16.
Besides the haze, occasionally a hint of a smoky smell is present in the air. The haze, however, has not affected North Dakota's air quality. The North Dakota Department of Environmental Quality rated the air quality as "good," on Tuesday.
Rain would wash the smoke particulates out of the air, clearing skies of the smoke, said Brad Hopkins, National Weather Service-Grand Forks meteorologist.
"What would really scrub it out of the atmosphere would be a nice low pressure system," he said.
In the Pacific Northwest, meteorologist Dan Borsum said during a news conference on California's North Complex Fire that it was "exceptionally difficult" to say when air quality in that region will improve.
"Unfortunately, it's going to take a substantially strong weather system to come through the region to try to move all the smoke," Borsum said earlier this week. "At this point in time, in the next 15 days, there is not a weather system of subsequent strength to cause this air to be moved out of the region. Unfortunately, we're probably looking through the month of September of maintaining close to this air quality."
Sunny and partly cloudy skies are forecast for the next several days in the Red River Valley, according to the National Weather Service-Grand Forks. On Sunday, Sept. 20, there is a 30% chance of showers and thunderstorms.
The Washington Post contributed to this report.