New class of North Dakota lawmakers prep for upcoming session
Included in Scott Meyer's to-do list after winning election to the North Dakota Senate is finding a place to live in Bismarck during the legislative session next year.
Included in Scott Meyer's to-do list after winning election to the North Dakota Senate is finding a place to live in Bismarck during the legislative session next year.
"My list is getting bigger," he said.
Meyer, who was elected to represent Grand Forks' District 18, will be among 35 new legislators next session, according to a memo prepared by Legislative Council staff and provided to the Herald by Sen. Ray Holmberg, R-Grand Forks. That's about twice as many who came to Bismarck after the 2014 election, and it would represent a 25 percent turnover from last session. For freshmen like Meyer, who operates a mortgage business in Grand Forks, the quick turnaround from the Tuesday election to the beginning of the session in early January may create a steep learning curve.
"I'm a reader," he said. "I'm going to sit down, I'm going to study (and) make sure I educate myself on policy and procedure. I'm not going to be a guy who's afraid to ask questions."
Meyer also was part of a wave of Republicans who ousted Democrats from local legislative seats Tuesday. Heading into the election, Democrats held nine of the 13 seats that were up for grabs in Districts 10, 15, 18, 20 and 42. But Democrats held on to just two of those seats with Rep. Corey Mock's win in District 18 and Rep. Rick Holman's victory in District 20.
Republicans strengthened their control of the Legislature with wins across the state Tuesday, and will hold a 38-9 advantage in the Senate-assuming Jim Roers' slim lead over Democratic Sen. George Sinner holds-and a 81-13 lead in the House. Republicans also won every statewide contest on the ballot, including the governor's race.
Newcomer Aaron McWilliams, a Hillsboro businessman who will represent District 20 in the House as a Republican, said certain views may get lost with what he called a "mega-majority" in the Legislature.
"I think that's a challenge to all the Republicans in the House, including myself, to make sure we're talking back to our districts about the issues and concerns and hearing their viewpoints," he said. McWilliams hopes that will ensure they don't get "locked into the drumbeat of the Republican Party" and instead "make sure we're really marching to the beat of our district."
Priorities
Incoming lawmakers will face at least one major challenge next session: North Dakota's budget. Just a few months ago, legislators met in a rare special session to address the state's fiscal woes, which leaders have said were brought on by dropping oil and farm commodity prices.
In May, outgoing Gov. Jack Dalrymple released budget guidelines for the 2017-19 biennium that asked for reduced budgets for the first time since 2002.
McWilliams said he liked Gov.-elect Doug Burgum's call for "zero-base budgeting," which he described as putting together a budget from "the ground up based on exactly what you need."
"My zero-based budget for my household is, I need electricity, I need homeowner's insurance, I need on food on the table," he said. "What is the very baseline of operations?"
McWilliams also signaled an interest in looking at substance abuse programs, given the overcrowding in correctional facilities.
Steve Vetter, a Republican who won a House seat in District 18, said affordable housing is among his top priorities. He also pointed to a new Grand Forks water treatment plant, for which the city still is counting on another $30 million from the state.
"I'm open to hearing what suggestions I have from my constituents," Vetter said.
Mock, who was elected Tuesday to the House in District 18 after representing District 42 since 2009, said the shifting partisan makeup of the Grand Forks' legislative delegation shouldn't change their overall goals in Bismarck.
"We've always worked closely together," he said. "There are some policy disagreements, but at the end of the day, we try to be team Grand Forks and advocate for our community."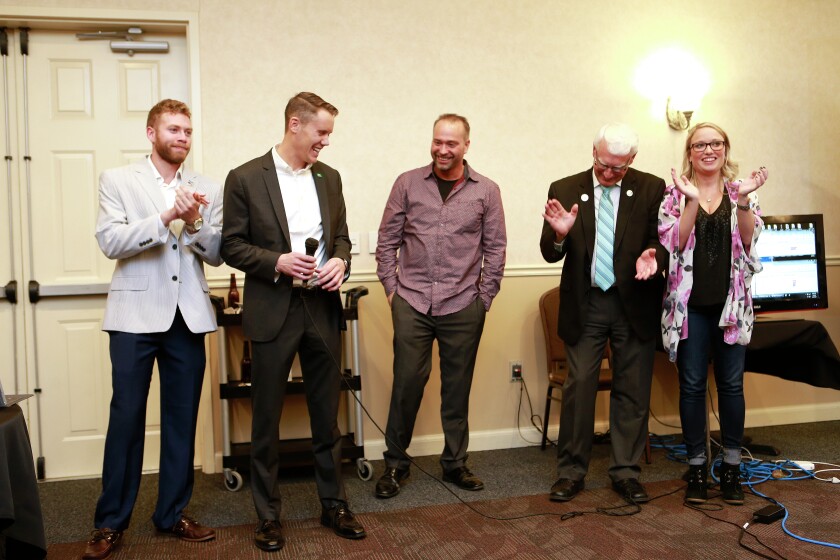 2
/
2:
From left to right, Republicans Jake Blum, Scott Meyer, Steve Vetter, Curt Kreun and Emily O'Brien were elected to the North Dakota Legislature Tuesday night, Nov. 8, 2016. Photo by Eric Hylden/Forum News Service