John Hoff, recalled Grand Forks councilman, lives life of 'inner peace'
This post has been updated John Hoff, a colorful Grand Forks City Council member who was recalled just months after his 2000 election, has lived a lot of life since he left North Dakota. Now a Minneapolis homeowner, he works in security and speak...
We are part of The Trust Project.
This post has been updated
John Hoff, a colorful Grand Forks City Council member who was recalled just months after his 2000 election, has lived a lot of life since he left North Dakota.
Now a Minneapolis homeowner, he works in security and speaks proudly of the son he's followed across the country. Since he left the City Council, Hoff graduated from UND's law school, worked as a teaching assistant at the University of Minnesota, blogged prolifically, found work as a trucker, enlisted in the National Guard and served in Afghanistan.
"The best way to live your life is to assume things happen for a reason and God has a plan," he wrote in an email to the Herald. "Then you can have inner peace through life's twists and turns. Then you can gleefully jump on board the helicopter (that) flies so close to the mountains a Taliban could hit it with a snowball, but the whole time, you have inner peace, so you enjoy the ride."
The Alexandria, Minn., native who is a U.S. Army veteran and one-time Seattle resident and activist was elected to the Grand Forks City Council in June 2000 with just 29 percent of the Ward 2 vote - a 265-ballot victory in an unusual election in which the incumbent dropped out of the race.
A self-described "green Libertarian," Hoff campaigned on issues such as boosting recycling and finding new ways to dispose of surplus property.
He beat out a write-in candidate by only five votes but almost immediately faced a recall effort by citizens who saw him as an "embarrassment" who was unrepresentative of his ward, according to Herald archives.
Those same archives refer to his "abrasive" style and characterize Hoff as an outspoken environmentalist in favor of workers demanding higher wages and legalizing industrial hemp to support economic development. He was unseated in a recall election that November.
Hoff declined a telephone interview but responded to questions via email about the years since that time. He expressed his disappointment in the Herald's editorials on his council tenure as well as the Herald's intention to write this piece.
Hoff said he stayed in Grand Forks in the years after his stint on the council to graduate from UND's law school. He worked for a short time on a master's degree in public administration and also was a political science teaching assistant.
He said he first came to Grand Forks from Seattle to be near his son, Alex, who lived with his ex-wife. In 2005, Alex and his mother moved once again, this time to Minneapolis, where Hoff followed and continued to work on his master's degree. He left school in 2008 - with intentions to take the bar exam - and bought the house he lives in today.
"But it seemed like I left school at the precise moment the economy crashed in early 2008," he wrote. "I knew the housing market had melted down, which was why I was able to buy a house so cheaply, but it was unbelievable how bad things kept getting up through 2010. I was willing to take any job I could get, including driving a refrigerated truck, where I would go all over the country and pick up dead cats from Humane Societies to be used by students in biology class."
Meantime, Hoff had begun publishing a blog: "The Adventures of Johnny Northside." He published a post about a University of Minnesota employee's connections to mortgage fraud. The employee, Jerry Moore, said a post on Hoff's blog included falsehoods and resulted in his firing at the university's Urban Research and Outreach/Engagement Center.
A lawsuit filed in 2009 eventually resulted in a $60,000 judgment against Hoff, ruling that his writing was true but had contributed to Moore's termination. The verdict was overturned in 2012 by an appeals court.
During those same years, Hoff went back to the military. He'd served in the U.S. Army from 1990 to 1994, and in 2010 he enlisted in the National Guard and was deployed to Afghanistan, where he served from 2011 to 2012. After he came back, he passed the Oklahoma bar exam, but he said he was denied his law license "due to my student loans being in default and a lot of writing harsh things on my blog about certain lawyers."
Hoff said he sees himself living in "a warmer state" sometime soon, near his son during graduate studies, flipping houses and maybe even pursuing a doctoral degree himself.
"I will add that I'm hoping to maybe do some foreign contract work overseas with security, which is the career path I'm on right now," he said. "The only thing that keeps me stateside is my son, or I would travel all over the world."
Correction, Dec. 28: This post has been updated to more accurately reflect Hoff's 1990s military service.
1
/
2:
City Councilman John Hoff (left) challenges recall organizer Larry Vander Hoff (right) to a debate in University Park in August 2000. Vander Hoff and Paul Zettler (center) were collecting signatures from Ward 2 residents to force a recall election. photo by Eric Hylden/Grand Forks Herald(Original photo date: 2000-08-02)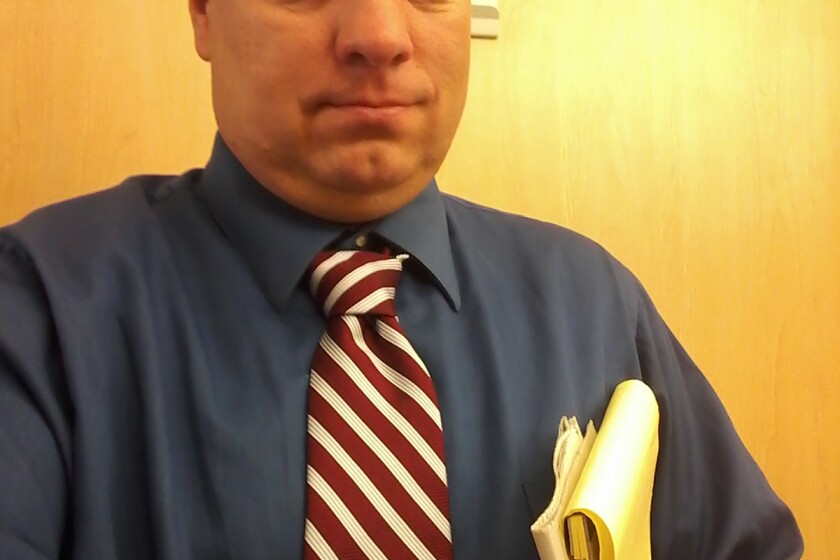 2
/
2:
John Hoff (submitted photo)