Downtown Grand Forks rising: More businesses, events at center of ideas for historic district
For Stacey Searle and Jenny Loer, downtown Grand Forks was the perfect spot for a "sisters day" last week. "We both took the afternoon off and came downtown," Searle said. The two East Grand Forks residents said they don't go to downtown Grand Fo...
For Stacey Searle and Jenny Loer, downtown Grand Forks was the perfect spot for a "sisters day" last week.
"We both took the afternoon off and came downtown," Searle said. The two East Grand Forks residents said they don't go to downtown Grand Forks often, but when they do, it's for the local shops.
"I wish we had more trendy boutiques like this," Searle said while shopping in True Colors, a clothing store downtown. "It's something other than your Target or your Walmart."
The local atmosphere Searle and her sister described is part of what many Grand Forks area residents say they love about downtown, and recent efforts of the Downtown Development Association have stirred questions and ideas among residents and business owners about how downtown Grand Forks can continue to improve.
"In Grand Forks, we have a great base, but there's still room for more," said Jonathan Holth, president of the DDA's board of directors and owner of the Toasted Frog restaurant downtown.
Local business
Carol Murie was one of several more people who said they appreciated downtown's locally owned stores. On a recent visit to Amazing Grains, a natural foods store downtown, Murie explained that she drives from her home on the south side of Grand Forks about once a week to shop there.
"I come down here to shop because it's a specialty," she said. Her other favorite business downtown is Dakota Harvest Bakers, she said, and if there's anything downtown Grand Forks needs to improve, it's to add more small, one-of-a-kind businesses.
Other residents and many downtown business owners agreed, saying that more shops or restaurants would bring more people downtown.
Kelly Thompson, owner of both Ink, Inc., and Urban Stampede downtown, suggested that the city reevaluate its regulations on locally owned small businesses to make it easier for new businesses to open downtown.
"Whatever the city can do to eliminate some of the hoops and hurdles small businesses are faced with," he said.
For example, he said, his Urban Stampede coffee shop has to apply and pay about $100 each year for a license to have tables outside in the summer. While Urban Stampede has been in business for more than 20 years, some regulations like that may discourage new businesses from opening, he said.
One business on its way to opening a new spot downtown is Rhombus Guys pizza, which has recently purchased the historic Metropolitan Opera House on South Third Street to transform it into a brewpub.
"We think Grand Forks deserves its own brewery," said Matt Winjum, co-owner. "The dream" is to brew a beer that becomes a local and regional favorite, he said.
If plans go smoothly, the brew pub should open in early 2015 in the first floor and basement of the Opera House, he said.
Events and access
While Winjum walked downtown last week explaining plans for the brewpub and his work as a DDA member, he didn't see anyone else outside.
"I guess it is a cloudy day today, but when we do have nice weather, we'd like to see more things outside," he said. "We'd like to see more people on the streets."
The DDA is planning outdoor entertainment and community events starting this summer, and it's a goal to continue offering more of that as the organization grows, Holth said. The DDA already hosted a Christmas tree-lighting this past winter, and this upcoming winter the tree-lighting will be a winter carnival, he said.
Other events in the works for 2014 are a river concert, a street fair and an Oktoberfest event, according to the DDA's budget.
The group's efforts have also helped at least one pre-DDA event grow. True Colors has hosted a Ladies Night shopping event for the past seven years, and owner Mickie Nakonechny said this year, for the first time, there will be more than three stores. She credited the DDA for helping to bring cohesiveness to businesses downtown and making it easier to promote events.
Another improvement that could get more people walking around downtown is better navigation, Winjum said, which is why the DDA is interested in getting maps downtown and better signage.
Signs indicating where people can park would be nice, said Loer, one of the two sisters shopping downtown last week. One reason she doesn't come downtown much, she said, is because it's tough to find parking. She and her sister said they know there are parking ramps, but they weren't sure who is allowed to park there.
Parking is also one of the many considerations Amazing Grains is looking at while deciding what to do as the store grows, said Ashley Decker, general manager. "It's not always easy for customers to load up their groceries and walk across the street," she said.
While there have been rumors about Amazing Grains leaving its downtown location, there won't be any decisions made about that for quite a while, and the store has signed a lease for another year, Decker said. The cooperative loves its downtown spot but could use room to grow, and it may take on a second location, move away from downtown or just stay as is, Decker said.
City Council member Bret Weber, whose ward includes downtown, said parking that is more efficient than flat parking lots and having a grocery store downtown are two of the greatest needs he sees there.
"We need a grocery store downtown, and I hope it's Amazing Grains," Weber said. "I hope we're able to help them expand."
Outside downtown
Further developing downtown Grand Forks will be good for the city as a whole, business owners and community leaders said.
UND touts downtown Grand Forks' local feel when trying to recruit students, said Sue Sholes, assistant director of admissions. "Students are always wondering what there is to do in Grand Forks," she said, and downtown offers both shopping and entertainment.
Downtown is also one of the areas the Greater Grand Forks Convention and Visitors Bureau promotes when trying to attract tourism, said Julie Rygg, executive director. "There's really a lot that we have downtown, but the more we can offer visitors, the better," she said.
Grand Forks residents and business owners who aren't part of the DDA seem on the same page as DDA members about what needs to be done downtown, as they voiced a lot of similar ideas.
That's probably because these ideas for improvement have been floating around for a while, but there has not been an effort "as intense or as well-organized" as the DDA, said Kim Holmes, owner of Sanders 1907 restaurant since the 1980s.
Mayor Mike Brown agreed, saying "it's time for a facelift" downtown, and the DDA seems to be the right group for the job. "I think the time is right and the mood is right," Brown said.
Thompson, who is also not part of the DDA, said he "didn't expect any new revelation," of ideas from the DDA's efforts, but he agreed that the group has brought a strong momentum to improving downtown.
"I think we have a really, really good start," he said. "I will be very excited and curious to see what happens."
What do you want to see in downtown Grand Forks?
"More stores that promote an outdoor, active lifestyle." - Ashley Decker, general manager for Amazing Grains
"More places open on Sundays ... and I love places like Urban Stampede. More cool, cultured hangout spots like that." - Wade Davison, UND student
"More local restaurants for younger people, something more trendy for people in their 20s and 30s." - Whitney Duden, Grand Forks resident
"Opportunities for home ownership. There are some condos downtown, but if we could have more of that." - Emily Burkland, executive director for Empire Arts Center
What do you want to see downtown? Share your ideas online at facebook.com/GrandForksHerald or on Twitter @gfherald.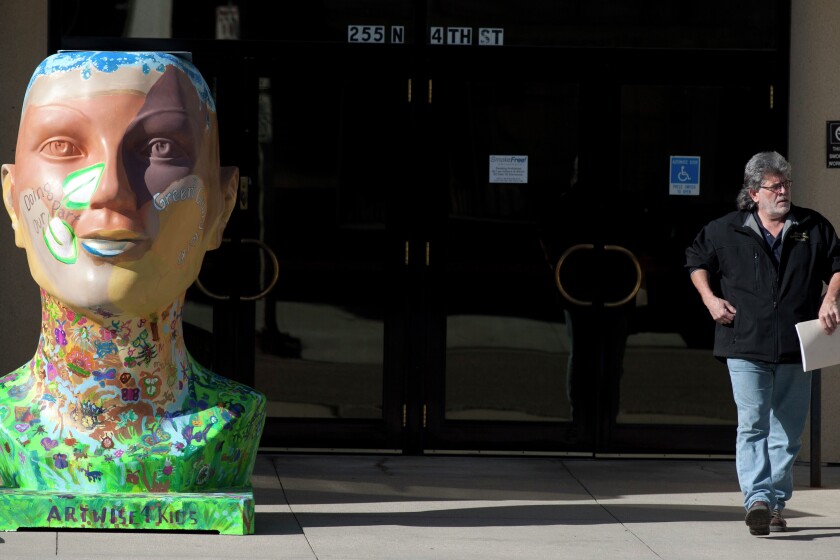 1
/
3:
Gerald Marcotte, a builder from Langdon, leaves city hall with paperwork for a project he's building in Grand Forks. photo by Eric Hylden/Grand Forks Herald
2
/
3:
David Badman, owner of Badman Design Studio, has been in business 26 years in downtown Grand Forks. photo by Eric Hylden/Grand Forks Herald
3
/
3:
An artist reception at the Empire Arts Theater in downtown Grand Forks is seen on the marquee. photo by Eric Hylden/Grand Forks Herald