Colombian medical physicist receives hands-on training on targeted radiation treatment at Altru Cancer Center
Christian Trujillo will take his knowledge, experience with Radixact Synchrony back to his clinic, which will be first in Latin America to offer it to cancer patients.
We are part of The Trust Project.
GRAND FORKS – The clinical training Christian Trujillo received recently at the Altru Cancer Center will pave the way for Colombia to become the first Latin American country to treat cancer patients using the sophisticated capabilities of leading-edge technology, he said.
Trujillo, a medical physicist with Astorga Oncology Clinic in Medellin, Colombia, and Amilcar Estrada, clinical director for technology with Rocol, a medical equipment distributor based in Barranquilla, Colombia, spent four days in Grand Forks last week learning about the Accuray Radixact technology, which precisely targets and kills cancerous tumors.
Trujillo and Estrada chose to visit Altru Cancer Center to gain this knowledge and hands-on experience after learning that the center was the first in the world to provide this type of treatment for lung cancer patients, Estrada said
The Altru Cancer Center began treating patients using this technology in November 2020, said Aaron Kempenich, medical physicist at the cancer center.
Altru is "the most experienced center in the world," in terms of this type of treatment, Trujillo said. "This is a very necessary experience (for me); knowing that the center has this experience is why I wanted to come here."
Trujillo's clinic in Medellin — the second largest city in Colombia, after Bogota, the nation's capital — has already acquired the Radixact equipment and plans to begin using it to treat patients within the next month or so, he said.
The start of treatment of cancer patients with Radixact Synchrony technology at the Medellin clinic will be "a milestone in our region," Estrada said.
Working closely with professionals
Trujillo and Estrada arrived in Grand Forks on July 10 for several days of training at the Altru Cancer Center. They worked closely with Kempenich; Dr. Grant Seeger, radiation oncologist and chairman of Altru's oncology department; and other staff members to learn the capabilities and operation of Radixact Synchrony.
Formal guidelines for the use of this technology have not yet been published — and may not be for two years, Kempenich said. "We're leading the way, we're 'icebreakers.' "
Radixact Synchrony, the "leading edge" in cancer treatment, precisely targets radiation on the tumor itself. The radiation beam actually follows the tumor and delivers cancer-killing rays even as the tumor moves within the body. With the use of artificial intelligence, the technology accounts for patient movement — as the patient breathes or if the patient coughs or breathes irregularly, Kempenich said.
With less sophisticated forms of this technology — because of tumor movement — radiation hits and destroys a wider area of healthy tissue surrounding the tumor. Kempenich has found that, using Radixact Synchrony, the area of health tissue that's impacted by radiation has been reduced from about 18.6 centimeters to less than 8.6 centimeters, "so less than half of the range of affected healthy tissues," he said.
In addition to movement, other dimensions are factored into the targeting of tumors, said Kempenich, who controls the radiation dosage for each patient.
The technology gives "good live feedback, great response; (it) guarantees you're hitting the tumor only."
At the Altru Cancer Center, the technology is most often used for lung and prostate cancer patients, Seeger said. It is also used to treat patients with cancers in the liver, pancreas and spleen, Kempenich said.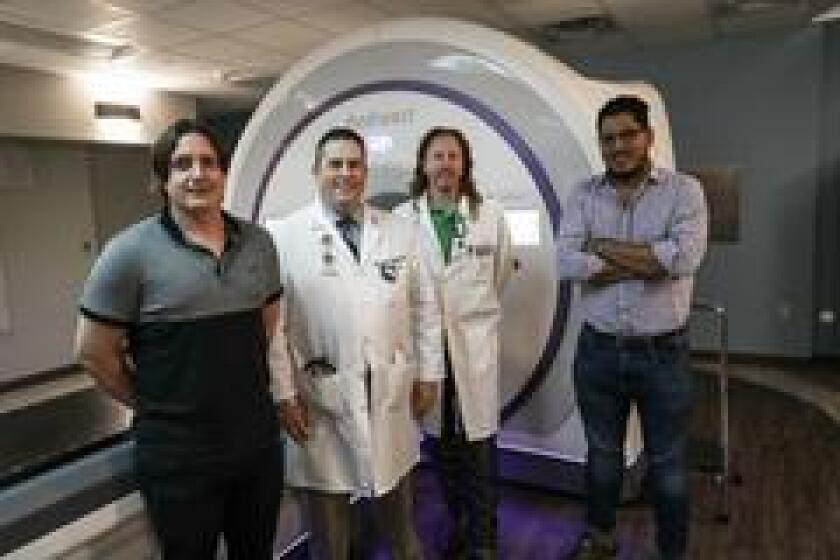 The exacting nature of the targeted radiation allows for far less destruction of healthy tissue that surrounds the tumor, which greatly reduces side effects, Seeger said.
The destruction of healthy tissue can cause side effects such as a dry, nonproductive cough; chest wall pain or discomfort; if the tumor is close to the ribcage, he said. Patients could potentially break a rib, too, if they fall.
"We have seen at least 20 definitive lung cancer patients (in whom), so far, the tumors are shrinking," after treatment with Radixact synchrony, said Seeger. "We haven't seen any tumors recur in the field."
The technology also helps the oncologist get a better view of small tumors, said Seeger, who has spoken about Altru's use of Radixact synchrony at national radiation oncology conferences.
He encourages patients to learn about this technology and do more research on the Altru website. But he's aware that older people may not be as internet-savvy — and they are the ones, unfortunately, who are more prone to cancer, said Seeger, who has practiced at Altru for 13 years.
The treatment itself is very fast and most patients don't realize the radiation treatment is occurring, he said. "They don't even know they're being treated; they don't see or feel radiation."
In the past, radiation treatment would take six weeks, presenting a hardship for patients, especially those who had to travel two hours or more to the cancer center, Seeger said. Now treatment is scheduled for three days — Monday, Wednesday and Friday — in a week.
Radiation therapy may range from 15 to 45 minutes, depending on the type of cancer and where the tumor is located, said Katie Richardson, nurse and practice manager at the Altru Cancer Center. The Altru Cancer Center has treated more lung cancer patients with Synchrony than any other health system in the world, she said.
Not every cancer patient can be treated with the Radixact technology, but other options will be recommended, he said. "We will tailor treatment to the patient."
Altru has been treating more patients with lung cancer, using this technology, than anywhere else in the world, said Ken Harvey, communications strategist with Altru Health System. "There are other forms of radiation treatment in use elsewhere, but we're the standouts when it comes to Radixact."
The nearest other cancer centers that offer this technology are in Milwaukee and Madison, Wisconsin, Seeger said.
Trujillo anticipates that his clinic in Colombia will use the technology to treat patients with breast and prostate — two of the most common cancers in his country — as well as lung, gynecologic, and head and neck cancers, he said.
Hot and sticky weather always leaves us feeling, well, hot and sticky, and also thirsty.