Cards, treat bags make local first responders' day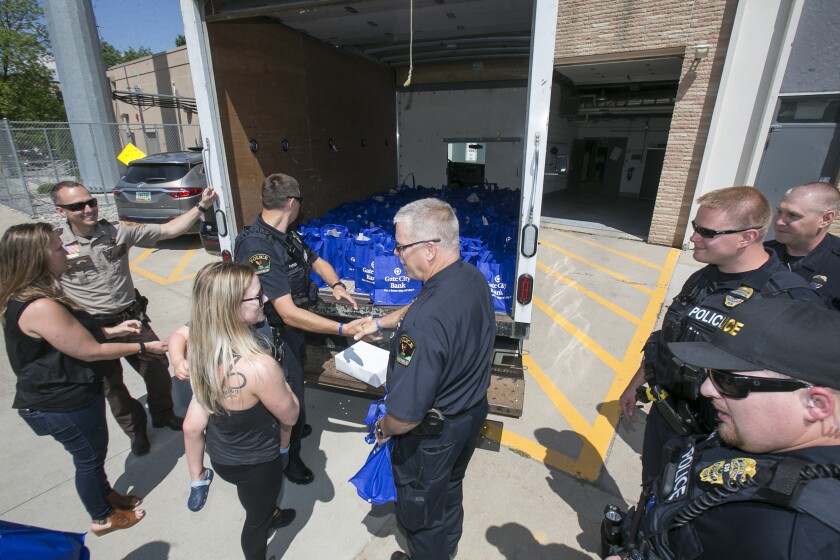 When Lauralee Tupa and Kimberly Hagen put out the word last week on social media asking community members to pen a note of support for first responders, they figured they'd get a few dozen responses.
The two Grand Forks women ended up with 10 times that many cards – more than 500 – of encouragement and enough snacks and beverages to fill 300 bags. The treats and snacks, which included bottles of water, soda, gift cards for free food from local restaurants and candy, filled several tables at Hope Covenant Church, and Tupa and Hagen had to call volunteers to help bag them.
Tupa and Hagen conceived their idea to show their support for first responders and let them know they are empathizing with the troubling cases they've dealt with during the past two weeks, Tupa said.
Cody Holte, a Grand Forks Police officer, died on May 27, while he was assisting Grand Forks Sheriff's department deputies who were being fired upon by a man whom they were serving eviction papers. Corp. Ron Nord, a Grand Sheriff Department deputy, also was injured during the confrontation at the Grand Forks apartment.
The next week, two airmen, who were members of the Grand Forks Air Base 319th Reconnaissance Wing, died in a shooting in a dormitory on the base.
"It feels like it was just something after something after something for the first responders," Tupa said "We realize the departments have been impacted by what's happened."
Meanwhile, she and Hagen also wanted to let the first responders know that community members appreciate the behind-the-scenes work, such as visiting school classrooms and comforting family members who have been involved in a tragedy, that they do, Tupa said.
Tupa and Hagen initially intended to give a few cards and snacks each to the Grand Forks County Sheriff's Department, Grand Forks Police Department, Altru Emergency Services, Grand Forks Fire Department, Grand Forks Air Force Base personnel, East Grand Forks Police Department and UND Police Department.
"We just thought our kids could color some pictures and make a personalized card to let them know we were thinking of them," Tupa said.
Within a few days, the Facebook page the women created for the event had more than 1,000 offers of donations.
"We were completely shocked," Tupa said.
Instead of Tupa and Hagen bagging up the snacks and cards at Tupa's home as originally planned, they transported them to Hope Church where they recruited volunteers to set up assembly lines.
The donations filled several tables, and they used a truck to deliver the donations on Thursday, June 11, Tupa said.
Grand Forks County Sheriff Andy Schneider, whose department is still reeling from the recent violent events, said he was overwhelmed by the Thursday delivery and by other donations of food his department has received during the past two weeks.
"Right now, the community is keeping us going," said Schneider, adding that the appreciation and support of community members reinforces to local law enforcement organizations why they do what they do.
Grand Forks Police Chief Mark Nelson said, after Tupa's and Hagen's delivery, that he is humbled by the outpouring of kindness from members of the Grand Forks community.
Nelson has long told his officers that their jobs are to protect members of the Grand Forks community. The compassion and concern community members have shown demonstrates that, in Grand Forks, respect and concern are a two-way street, he said.
"The community continues to step forward to be there for us. It really means a lot," Nelson said.