Bismarck man seeks family of his dad's World War II buddy from Grand Forks County
Scott Flach wants Carl Nelson's family to know the rest of the story of the Grand Forks County WWII veteran, who's buried in Luxembourg American Cemetery.
Flach's father, Curtis, served with PFC Nelson in the U.S. Army's 94th Infantry Division during World War II. In a 1996 memoir the elder Flach wrote about his experiences on the battlefields of Europe, he included an excerpt of why and how Nelson died.
Scott Flach, of Bismarck, reads the memoir around Veteran's Day each November, and this year decided he would try to find the family of Nelson. His late father often spoke fondly about Nelson until his own death in 2003, Scott Flach said.
Scott Flach's research has shown that Nelson was from Grand Forks County, but hasn't found if he was from a city or lived on a farm.
However, he does know how Nelson died.
In the memoir, Curtis Flach wrote that on the morning of Feb. 22, 1945, he and Nelson were among a group of American soldiers who had pushed German soldiers out of France. They were out of their foxholes, in a town near the southwest border, when a German artillery shell hit a trailer loaded with ammunition.
When the ammunition exploded, Curtis Flach was injured by shrapnel and Nelson was killed. Flach's jaw was broken and he suffered internal injuries. He was transported to a series of European hospitals for the next several months.
After World War II ended in September 1945, Flach returned to the United States, where he spent time in hospitals on the West Coast and in Missouri.
Flach spoke little of the war to his family, other than describing the countryside where he was in battles, Scott Flach said.
"Writing the book was a real healing for my dad. There were so many things in the book that nobody knew," he said.
One of the few war memories his father shared with his family was about the death of his friend Carl Nelson, Flach said.
"We had always known that name and knew he was beside Dad when they were hit. They said the Lord's Prayer together. Dad didn't know, until he was in the hospital, that Carl didn't make it," he said.
It appears that Nelson is buried in Hamm, Luxembourg. A cross in the American Cemetery there has the inscription "PFC Carl W. Nelson." Although the date of death is Feb. 25, 1945 – rather than Feb. 22, which Curtis Flach detailed in his memoir – Scott Flach believes the grave is the burial place of his dad's friend.
Curtis Flach received a Purple Heart for his injuries and was awarded a Bronze Star, two medals Scott Flach believes Nelson also would have received posthumously. His father and Nelson served together from the time they were in basic training in 1942 until Nelson's death, and Scott Flach wants to share with Nelson's family the experiences about which Curtis wrote.
"I think all of the experiences Dad wrote of in Europe, would have been the same for Carl," he said. "I would like to share with any of his family members what happened."
Scott has posted on social media, asking that Nelson's family, or anyone who knows the family, contact him. People who have information also can contact Flach on his business website: http://www.flachranch.com .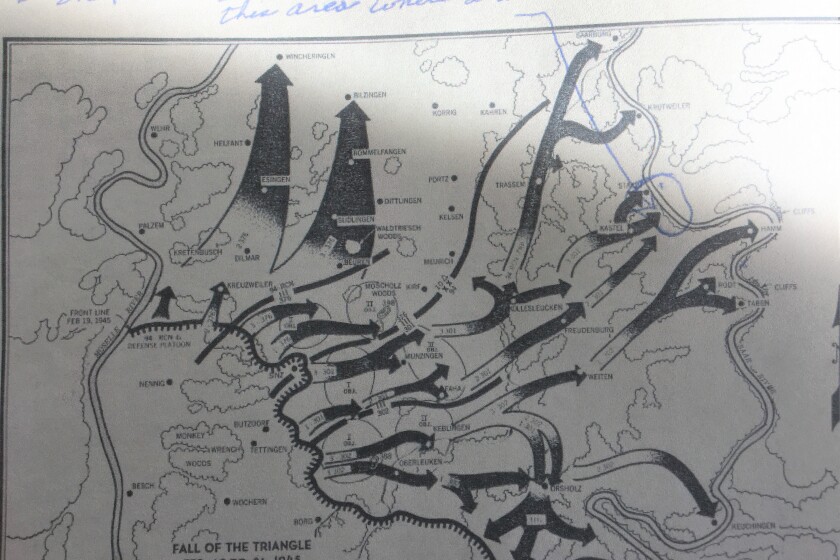 1
/
2:
Curtis Flach included in his memoir of a map of where he was when he was injured and Carl Nelson was killed.
2
/
2:
Carl Nelson was buried in American Cemetery in Hamm, Luxembourg. (Photo: Findagrave.com)