With three weeks until students return, East Grand Forks schools begin rollout of re-entry plan
The East Grand Forks School Board and District will focus efforts on education and answering questions in preparations for the first day back at school on Sept. 8.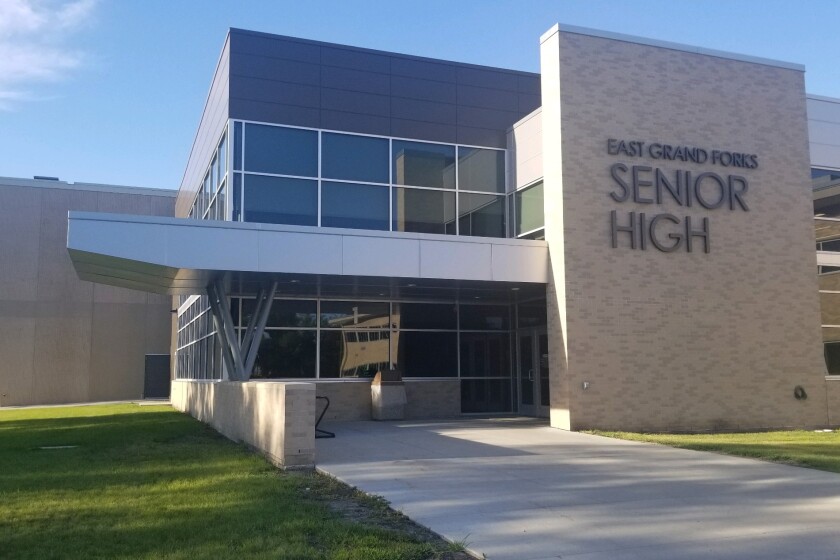 We are part of The Trust Project.
Many questions have been answered as the East Grand Forks School District begins to roll out its re-entry plan for the upcoming semester, but many questions still remain.
The district will work to answer those questions before the first day of school in three weeks, Sept. 8.
Many parents in the district are familiar with the model that will be in place on that day: Pre-K through Grade 5 students will attend in-person classes at South Point and New Heights elementary schools. Meanwhile, Central Middle School and East Grand Forks Senior High School will be kept at 50% capacity, with students attending classes in-person or at home online on alternating "Green Days" and "Wave Days." An online-only option will be available to any family who wants it.
The finer points of that plan were released to parents last week in draft form and were finalized by the East Grand Forks School Board at a special meeting Monday, Aug. 17, with an acknowledgement from the board that the document could change to reflect evolving COVID-19 numbers in Polk County.
Some of parents' initial concerns took some shape in a list of questions and answers compiled by the district and released to the school community last week. The list of 45 questions was last updated on Aug. 13, and according to a letter to parents from district Superintendent Mike Kolness, will continue to be updated as the district solicits more questions and feedback.
Of those 45 questions, five had to do with either distance or hybrid learning models, and four had to do with various COVID-19 scenarios the school community might experience. Other parents wanted to know about mental health care for students, the availability of childcare and bus routes.
Ten questions had to do with mask-wearing in the schools, which received a common answer from the district: The mask requirement is not a locally made decision. The requirement comes from the Minnesota Department of Health, which will require all students, staff and other people present in school buildings, district offices or on school transportation to wear a face covering.
Because masks are required by the state, the East Grand Forks School Board does not technically have to pass a mask requirement of its own. The board plans to do so anyway, likely at an upcoming meeting on Monday, Aug. 24.
Kolness said he believes it will help make the district's expectations clearer to the school community.
"I think after reading through all of the questions from the families as well as staff members, it would really be nice to have something solid that's in place, that's very clear," Kolness said.
At the special meeting on Monday, board members grappled with a few of their own questions. Board member Matt Foss noted that, after weeks of watching the district re-entry plan come together and evolve, it now felt like the district was in a time crunch.
After reviewing a cleaning task list for each school building, compiled by building staff this week, Foss asked whether the district had the janitorial manpower for the monumental daily sanitation regimen in addition to normal responsibilities.
"This is a huge laundry list," he said, referring to the task list.
Ron Heskin, the district's director of buildings and grounds, said he and his staff are still determining how many hours the full task lists take to complete and will have a better idea of how much staffing is needed after additional training.
The district aims to hire two additional janitors for the upcoming school year, but Heskin said Monday that, so far, there are no applicants. Kolness said the intention is to push the job postings, as well as a posting for an assistant for the district nurse, as part of the roll-out of the re-entry plan this week.
Boespflug emphasized to Heskin that if he has trouble finding applicants, he should approach the school board for help searching.
Similar staffing concerns were raised with regard to district staff who will work with students with Individualized Education Programs, or IEPs, ahead of the start of school.
Staff will need to design contingency plans for all three learning models for each child with an IEP, which is estimated to be about an extra 30 hours of work for each of the district's 20 case managers. EGFSD Director of Teaching and Learning Suraya Driscoll said English Language Learner staff would face a similar challenge for those students.
Kolness said guidance from special education directors only recently came out and is continuing to be updated. Boespflug added that, as the board works to address lingering questions, those are issues it will continue to take into consideration.
"If you need people or time, we have to know," he said.