Wilkin County officials impose taxes on Clay County property owners in spillover from diversion dispute
We are part of The Trust Project.
MOORHEAD — Property owners in Clay County will be on the hook for $1.2 million to support a Minnesota watershed board even after county officials denied the funding request.
That's because the Wilkin County Commission approved the levy, as allowed by Minnesota law, resulting in the rare situation where elected officials in one county obligate taxpayers in another.
Welcome to water politics in the age of continuing squabbles over the $2.75 billion Fargo-Moorhead flood diversion project.
Clay and Wilkin counties, along with Becker and Otter Tail counties, belong to the Buffalo-Red River Watershed District.
Property owners in all four counties are levied to pay for the watershed district's administrative costs and water projects.
Clay County, whose property owners contribute by far the largest share of the watershed district's funding, was asked to levy property owners $1.2 million for 2020.
But representatives of the Buffalo-Red River Watershed District who appeared at the Oct. 8 Clay County Board of Commissioners meeting for a routine budget request got an earful from commissioner Kevin Campbell, who also serves as vice chairman of the Metro Diversion Authority's board.
"Not everything with the watershed has been hunky dory lately, I'll start with that," Campbell said in the Oct. 8 meeting, which was videotaped and archived online.
Campbell then recited a litany of complaints against the watershed district, which once was part of the Diversion Authority but withdrew over concerns with the flood-control project.
"They had an opportunity to have a seat at the table from the very beginning," he said.
Earlier this year, the Buffalo-Red board considered a local permit for the Red River flood diversion and proposed 10 permit conditions to satisfy the watershed concerns. Campbell said. Diversion Authority officials were willing to meet those conditions.
"Yet that permit was still denied," Campbell said.
The board also voted to challenge a key permit the Minnesota Department of Natural Resources granted for the project, filing an appeal that is under review by an administrative law judge.
The flood diversion, modified to meet Minnesota officials' concerns in order to get the state permit, will provide "critical" protection for the region, Campbell said.
He recognized the diversion would protect places outside Clay County, addressing objections others previously voiced about county funds being used to protect Fargo from flooding.
"When I had my open-heart surgery, I couldn't get it done in Moorhead," he said. "I can't support this request."
Commissioner Jenny Mongeau moved to approve two resolutions that would approve property tax levies to support the Buffalo-Red Watershed District, but both motions failed for a lack of a second.
Gerry Van Amburg, the only member of the Buffalo-Red board who spoke at the meeting, said he understood the Clay County Commission's frustrations.
"I'm saddened by the decision today. It's too bad, but I understand where you're coming from," he said. "It's been frustrating. There's a lot of misinformation out there."
RELATED:
A week later, the Buffalo-Red board made its request for the Clay County property tax levy before the Wilkin County Commission, which opposes the diversion project.
"Because of differences currently going on regarding the Fargo-Moorhead (FM) Diversion Project, Clay County did not feel that they could support our taxation in this regard," Bruce Albright, the Buffalo-Red board's administrator, wrote in a memo to Wilkin County commissioners. "I truly feel that the issues are separate, but they weren't ready to support us until matters regarding the FM Diversion are settled."
The Wilkin County Commission unanimously approved the levy request on Oct. 15, County Auditor Janelle Krump said.
As a result, for their 2020 taxes Clay County property owners will be assessed $16.60 per $100,000 in market value, according to Albright's figures. That's below the $17.19 assessed this year, a decrease enabled by an increase in property valuations, he said.
1
/
2:
This is a rendering of the inlet structure near Horace, N.D., looking downstream from the dam on the Red River that would be part of the Fargo-Moorhead flood diversion project. Special to The Forum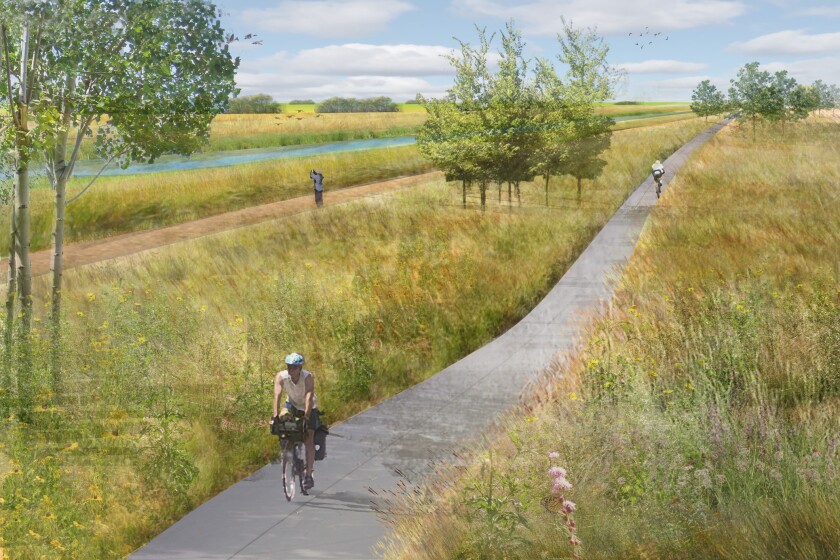 2
/
2:
This artist's sketch shows a potential recreation trail and native plant habitat that could be part of recreational activities accompanying the $2.75 billion diversion flood protection project for Fargo-Moorhead. Public input is being sought for recreation features. Special to The Forum
1
/
2:
This is a rendering of the inlet structure near Horace, N.D., looking downstream from the dam on the Red River that would be part of the Fargo-Moorhead flood diversion project. Special to The Forum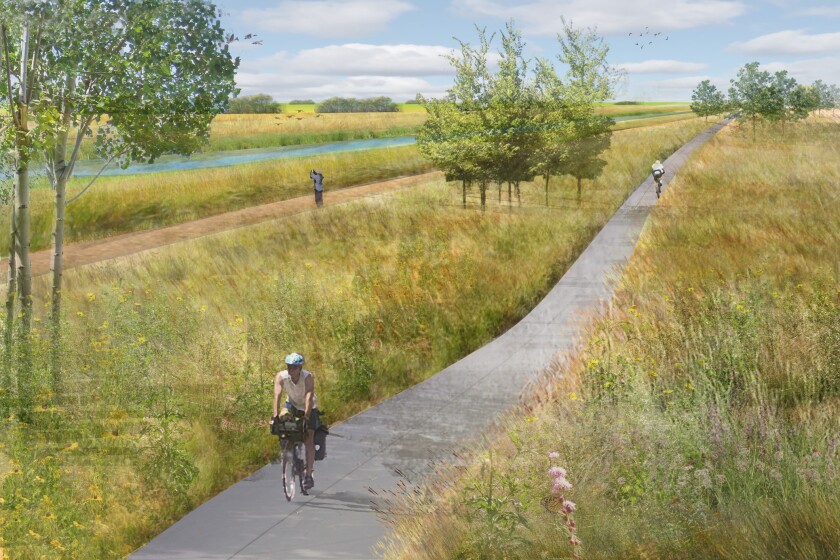 2
/
2:
This artist's sketch shows a potential recreation trail and native plant habitat that could be part of recreational activities accompanying the $2.75 billion diversion flood protection project for Fargo-Moorhead. Public input is being sought for recreation features. Special to The Forum