Wary of the financial strain of coronavirus, Grand Forks clamps down on spending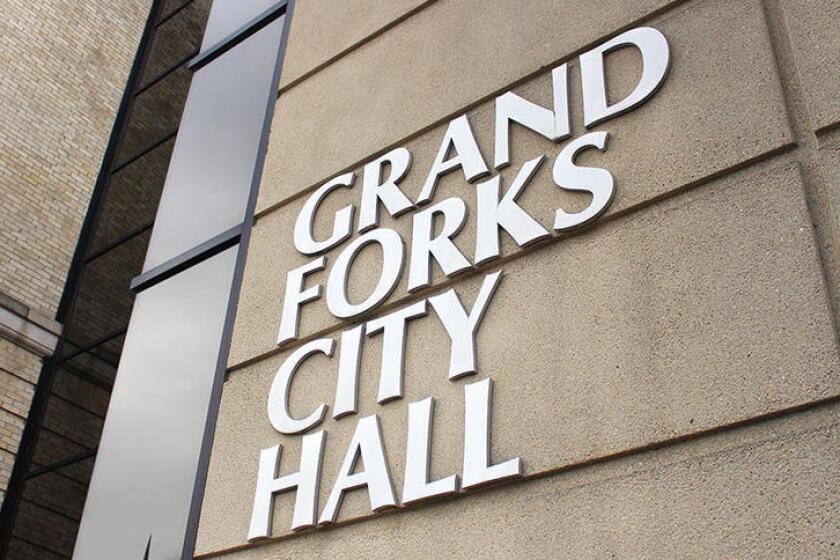 Grand Forks leaders put on hold several hundred thousand dollars worth of public spending and curtailed large-scale expenses across the board as a precaution against the coronavirus -- and the financial strain it could put on the city.
City Council members on Monday voted to table $552,000 of $3 million worth of scheduled spending on several city projects.
Held back, at least for the moment, was a $440,000 contract for Grand Forks-based Badman Design to build 10 internally lit pillars along DeMers Avenue from Fifth Street to the Red River. Workers installed the bases for those pillars when they reconstructed the avenue last summer, but the North Dakota Department of Transportation did not include the pillars themselves in that plan, which means the city is on the hook to pay for them. City staff budgeted $500,000 for them in Grand Forks' street and infrastructure fund, and the 14-foot pillars are part of a redesign of the city's downtown aesthetic -- its "streetscape" -- that is, itself, one component of a broader Downtown Action Plan.
The Council also delayed $112,000 for five city fleet vehicles: two pickups for public works, a SUV apiece for the engineering and inspections departments and a sedan for the public health department.
The amount Council members held back is about 18% of the amount city staff proposed.
"I'm concerned about spending any money. Any money in the general fund, any money in general, any nonessential cash, even if it's in our highway fund and for our roads and for whatever. I just wonder if we shouldn't sit and wait," City Council President Dana Sande said. "Of course, knowing that a lot of these projects related to construction projects are important to have those businesses working, so we need to do that, too. We need to keep businesses working in town. We're trying to be smart about holding cash, but also keep the engine running."
But the city's coronavirus wariness isn't limited to council meetings. Finance Director Maureen Storstad last week directed city department heads to halt all but the most necessary larger-scale purchases for the foreseeable future.
"If there's something that can wait, it can wait," Storstad told the Herald.
And Mayor Mike Brown told city staff members on Sunday that they may only travel on the city's dime with his say-so, but that was more of a health-minded order than a financial one.
All of that is designed to prepare the city for the presumptive financial strain coronavirus would place upon it.
City staff expect sales tax revenue -- a small but not insignificant part of Grand Forks' income that usually takes two months to reach the city's coffers -- will start to flag in May or thereabouts. They budgeted for $3.6 million dollars worth of state aid this year, and the bulk of that money comes from sales tax collections.
On the other side of the ledger, coronavirus might ratchet up some city expenses, but Storstad said she wasn't sure which ones it would be or by how much.
Grand Forks plans to forego utility shutoffs in March and is considering waiving late fees in April, but it's not clear what effect, if any, it would have on the city's bottom line.
Council members on Monday voted to move forward with $2.51 million worth of more essential purchases -- "mission critical" as City Administrator Todd Feland put it -- including three front loading refuse trucks and three salt-spreading tucks for public works, a maintenance agreement for three air circulators at Grand Forks' wastewater treatment plant and new security cameras at the city's bus garage.
As a public service, we've opened this article to everyone regardless of subscription status.