Vaccinations start up for Grand Forks teachers
Thanks to the number of vaccines available, Linsey Rood said Thursday, March 4, that it's likely a majority of teachers and staff would be getting their first dose of the vaccine this week.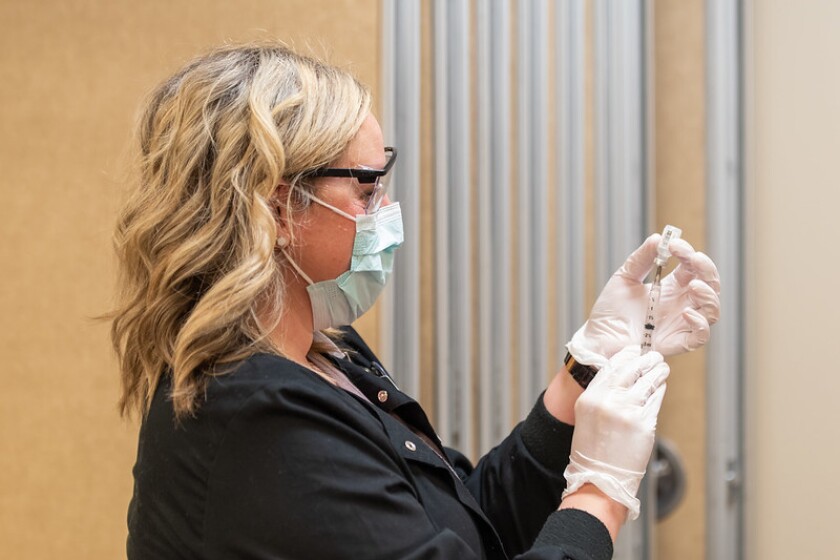 A majority of Grand Forks teachers and K-12 staff were expected to be vaccinated against COVID-19 this week.
"It's really exciting," Linsey Rood, human resource director for the Grand Forks Public School District, said. "It's a big week."
Teachers and staff were able to start going to the Alerus Center to receive their first dose of the vaccine on Wednesday, with vaccinations continuing into the weekend. Rood said the vaccination clinic adjusted its hours slightly so staff could go after school without disrupting the school day. Additionally, having staff and teachers vaccinated on a Friday or Saturday can help give them extra time to deal with any potential side effects of the vaccine so the district doesn't have to experience large staff shortages.
Thanks to the number of vaccines available, Rood said Thursday it was likely a majority of teachers and staff would get their first dose of the vaccine this week. They should get their second dose of the vaccine around Easter break, toward the end of March.
The vaccine is "completely voluntary," Rood said, adding many staff and teachers are eager to get their vaccinations taken care of. She said a small number of district employees have indicated they will not be getting the vaccine.
"We wanted to make sure that we had a smooth transition, a smooth process for them to get that vaccination, if they wanted to," she said.
Having the vaccinations done at a central location like the Alerus Center, rather than clinics at individual schools, made for an easier set-up for the district, as well as organizations like Altru, the city and public health, Rood said.
"It just logistically made more sense to work with (Altru, the city and public health)," she said. "Plus, we have over 1,700 staff, so our goal was to make sure that we could be efficient and as safe as possible. It just made sense to us to bring them to one site instead of trying to coordinate within schools."
Debbie Swanson, director of Grand Forks Public Health, said during a Grand Forks County Commission meeting Tuesday that the county will be working with rural school districts to ensure teachers and staff can get vaccinated on-site.
As of Tuesday, about 12.1% of Grand Forks County had been fully vaccinated for COVID-19.
In a city news release Thursday evening, officials announced they are vaccinating all Tiers of Phase 1B of the North Dakota Department of Health plan, which includes people 65 and older, persons 16-64 with two or more underlying health conditions, health care workers providing direct patient care, first responders, persons working or living in long-term care, persons working or living in congregate settings, child care workers, and persons working in Pre-K through 12th grade.
Additionally, those who fit into Phase 1C who are interested in receiving the vaccine are encouraged to fill out the questionnaire at MyChart.altru.org or call 701-780-6358 to be included on the COVID-19 vaccine waitlist. Grand Forks is not currently vaccinating people who fall into Phase 1C tiers, but it may begin vaccination of that group soon.
Phase 1C includes individuals who meet or work in the following areas:
National Guard, not previously covered.

Workers enabling access to human food (i.e., grocery workers), not including restaurant workers.

Public safety answering points (911).

Manufacturing related to the development or supply of COVID-19 vaccine.

Other health care/public health workers not included in phase 1A.

Free standing clinical laundries.

Public transit, including bus, taxi, ride-share.

Persons age 16-64 with one or more high-risk medical conditions.

Blood bank workers not previously vaccinated.

Information technology workers.

All other essential workers per Cybersecurity and Infrastructure Security Agency (CISA).