UPDATED: After giving OK to curbside pickup, Grand Forks set to do the same for alcohol delivery during pandemic
Mayor Brown issued an emergency order Tuesday, March 24, that allowed Grand Forks residents to order beer and wine alongside their to-go orders at certain restaurants in town. He is set to issue another one on Thursday morning that would allow the same for delivery orders.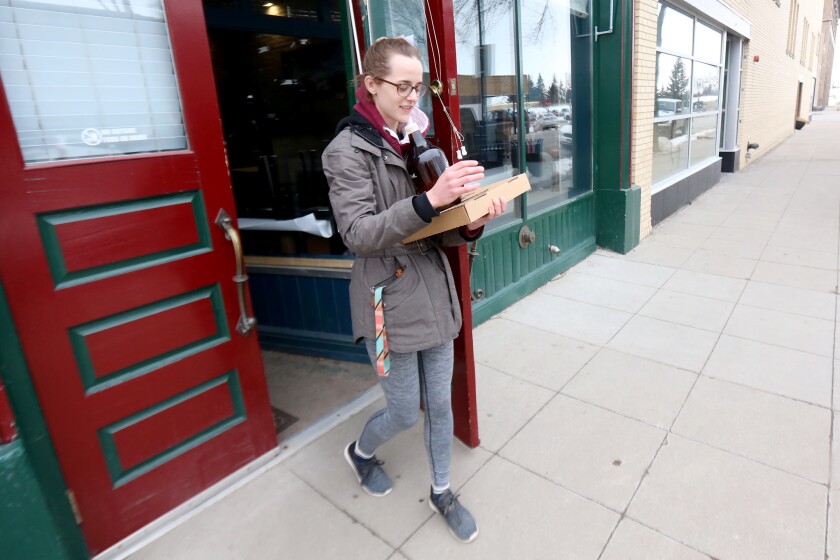 Grand Forks Mayor Mike Brown is set to sign on Thursday morning an emergency order that will allow Grand Forks restaurants to sell alcohol via delivery to customers who also order food.
The order, as described to the Herald on Wednesday evening, would mean that businesses with "Class 1" licenses, mostly bars, and ones with "Class 4" licenses, mostly restaurants, can deliver up to 64 ounces total of wine or beer in a sealed container alongside a prepared meal between 11 a.m. and 11 p.m. The person delivering the food and booze must be a certified server and an employee of the business itself, and they must verify that the person receiving the order is at least 21 years old.
The move takes a step beyond a proclamation Brown signed Tuesday that allowed establishments with "Class 4" liquor licenses, most of which are restaurants, to sell beer and wine alongside carryout orders of food. Grand Forks businesses with a "Class 1" license -- bars, mostly -- were already allowed to sell alcohol to-go.
Brown said he took that extra step after business owners and managers in town spoke to him on Wednesday.
"They expressed their concern and we thought we needed to respond," he said.
Fargo's city commission also allowed alcohol delivery alongside food on Monday, March 23.
All are temporary changes designed to help businesses that are struggling to make ends meet during the coronavirus pandemic, which has shut down most facets of everyday life across the United States.
One business dealing with the pandemic is Rhombus Guys, which owns a brewpub in Grand Forks, a pizza joint a few blocks away, and another in Fargo.
The only mail that arrived at the brewery on Wednesday was 10 sets of paperwork for unemployment claims, longtime co-owner Matt Winjum said. Workers there have started selling frozen pizzas, which has buoyed the business a little, but the brewpub has still lost about 75 percent of its typical sales, and the Grand Forks pizza place has lost about 30-40 percent. That's meant more than half of Rhombus' employees have been laid off.
Winjum said he's not sure how either of Brown's orders, or the Fargo commission's change, will play out for his business.
"It's going to be a completely new thing for us," Winjum said. "It's only going to help."
On Wednesday morning, before Brown's order came down, Winjum said he was "shocked" that Grand Forks had stopped short of allowing alcohol delivery. His tone changed later that day when the Herald told him about the impending update.
"I'm glad to hear that they've gone, now, the extra step to do what other cities like Fargo are doing to give us any possible means to generate revenue as well as take care of the population and let them stay at home while we can bring them our goods and services," Winjum said.
Winjum said he had been advocating for the move since March 13, which was six days before North Dakota Gov. Doug Burgum ordered bars, restaurants, breweries, cafes, and similar businesses across the state to be closed to on-sale and on-site patrons. Brown had been planning a similar order for Grand Forks.
The day between the to-go order and delivery one is also a function, according to City Administrator Todd Felad, of the intricacies involved in the latter.
"It's a lot more complicated than just, 'should we have delivery or not?'" City Attorney Howard Swanson told the Herald on Wednesday afternoon.
The curbside and delivery ideas came, Brown said, from the first in a series of virtual meetings he's had with area business leaders.
On Monday afternoon, representatives from Grand Forks restaurants and similar establishments asked for that leeway. City staff announced the delivery change around 6:30 p.m. Tuesday.
On Tuesday, retail leaders asked the city to reduce or eliminate fees for various licenses. Wednesday's meeting was between manufacturing businesses and city leaders. On Thursday, professional service companies are scheduled to meet, and nonprofits are set to do the same on Friday.
"We want to be ahead of the curve," Brown said.
As a public service, the Herald has opened this article to everyone regardless of subscription status.