E-bikes and more: How the e-everything transportation revolution is causing headaches for local officials
Electric bikes, scooters, skateboards and "one-wheels" are increasingly popular. Regulations, however, have not kept up with the pace of technology. Complaints are on the rise as leaders try to figure out who goes where and how fast.
We are part of The Trust Project.
SIOUX FALLS, S.D. – It's not just Tesla.
The electric vehicle revolution has changed transportation and how we think of it.
Today, with a few clicks, anybody can buy a bicycle, scooter, or skateboard with a motor capable of cruising at moderate speeds. Then there's the aptly named but difficult to describe "one-wheel." Provided you possess the basics of human balance, you stand there and go. It's that easy.
The new-found forms of propulsion are popular with consumers and a revenue source for retailers. But they are troublesome for local governments that have to regulate what can go where. From Sioux Falls to Duluth to Fargo, riders face a confusing array of rules and regulations.
It's not unusual to see someone on what looks like a bicycle cruising your local recreation path at 25 mph with little-to-no pedaling.
"We are seeing all kinds of devices on our bike trail that are not legal," said Greg Nietzert, a cyclist and Sioux Falls city councilor.
Neitzert helped develop regulations for e-bike use on the 40 miles of paved trail in Sioux Falls. Currently, only Class 1 e-bikes are allowed on the trail system.
That means the motor can only "assist" the bike so there is no throttle. The rider still has to pedal and the motor stops assisting at 20 mph.
Class 2 e-bikes have a throttle and will move without pedaling up to 20 mph.
Class 3 e-bikes are pedal assist but more powerful with a top speed of no more than 28 mph while the motor is engaged.
Everything else — the one wheels, the scooters, skateboards — if they are electric, are technically not allowed on the Sioux Falls trail system.
North Dakota, South Dakota and Minnesota have all adopted the three-class system. But what you can ride where varies by community.
The rules that are in place don't often reflect reality.
A flood of new products are hitting the market, whether that's in your local bike shop or the big box store websites. But you can also have delivered to your home a bike-looking machine that without nary a pedal stroke can have you pushing 35 mph or higher.
In these cases, it's no longer a bike, it's an electric motorcycle, subject to whatever licensing, age and safety requirements exist in your state and community.
The problem is, the average citizen knows very little about the variations of bike classes or what is or isn't a motor vehicle. They just like it, whatever it is, and they're looking for a safe place to use it.
In most cases, that's going to be a recreation trail, right next to the baby strollers, dog walkers and pedal-pushing cyclists.
It's a problem.
In Duluth, the city council approved a 10 mph speed limit for a section of a popular path along Lake Superior.
In Sioux Falls, an advisory committee is revisiting the discussion of recreation trail management three years after adopting the first set of e-bike regulations in 2019.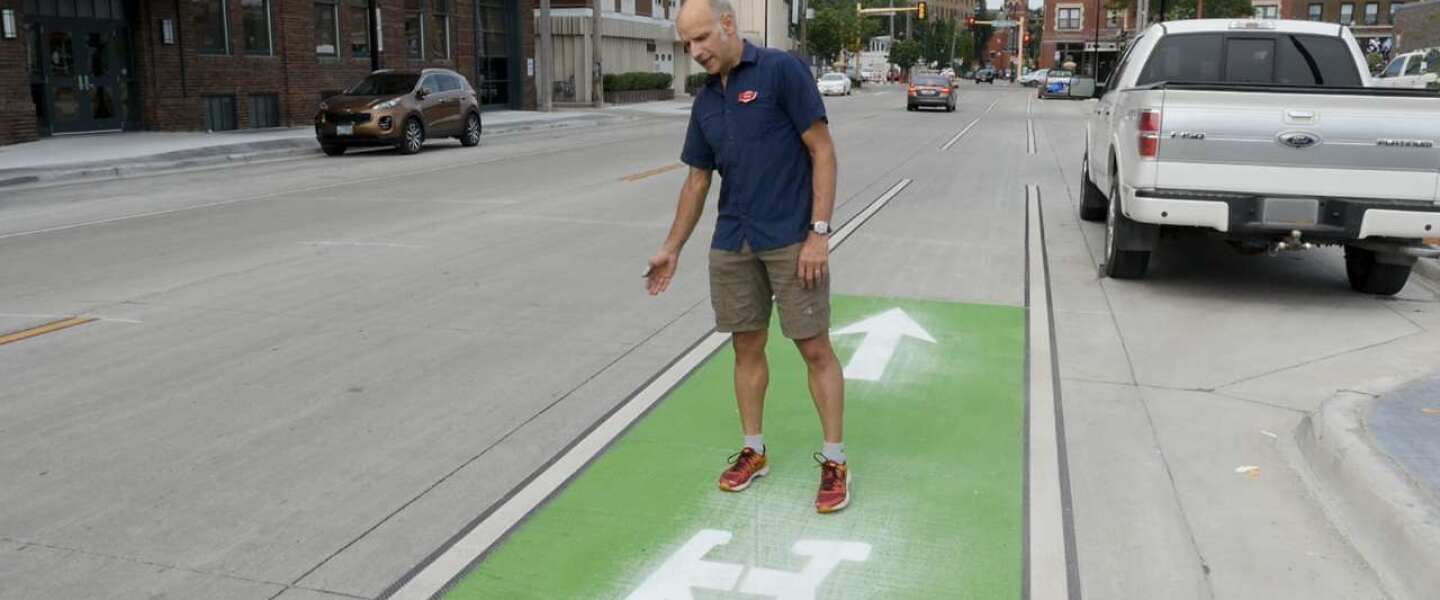 In Fargo, e-bikers are governed by state laws, which allow Class 1 bikes wherever a traditional bike can travel. Beyond that, local governments have the option to regulate Class 2 and 3 bikes but that hasn't happened in Fargo, said Tom Smith, manager of the Great Northern Bike Shop in Fargo.
"We sell almost exclusively Class 1 bikes," said Smith. "It's a bike, you should pedal it. We want to sell the bicycling experience, which you still get."
That said, Smith sees the need for continuity across the transportation spectrum, whether it's a bike or a scooter or skateboard or electric motorcycle. Each can serve a need and purpose and the difficult task for local officials is figuring out how to make it fold into a transportation tapestry, he said.
"My message is thank you and continue to work toward continuity," he said. "We know we have a lot of gaps in the system. Continuity is the only way to create an intermodal transportation network."
But when does an e-bike become an e-motorcycle?
There are two federal agencies involved in what qualifies as a bike and what's a motorcycle.
Very simply put, the Consumer Product Safety Commission oversees bikes. The National Highway Traffic Safety Administration covers motorcycles.
If what you're riding doesn't meet one of the definitions under the 3 class system, it's a motor vehicle, subject to the laws in your state.
From a practical standpoint, if it can go more than 28 mph, or can produce more than 750 watts of power, it's a motorcycle.
How old do you have to be to drive one? Depends on the state.
Helmet? Same.
Lights, permits, turning signals… check your state laws.
But it's a motorcycle, not a bike.
The states have established guidelines but it's local officials who are tasked with sorting out the particulars. A major hurdle is not so much the details of a plan, but enforcement.
Does a local police department really want to be in the business of monitoring recreational trails for Class 3 scofflaws?
Probably not.
"That's the thing, how do you enforce that, unless you have significant enforcement by radar guns," said Sam Trebilcock, a senior planner for Sioux Falls who is also the liaison to a citizen advisory committee on bike policies.
Most trail users don't know there are rules, or even what class of vehicle they may be using, said Trebilcock.
"We've talked a lot about those sorts of things," he said. "I'm sure there is a way to do it, it's just how do you make that priority. A lot of what we've talked about is that we have to start educating people to begin with."
The need for education before enforcement resonates with Nietzert, the Sioux Falls councilor, as well. The city's trail system is popular for residents and visitors. It's a transportation corridor as well as the connector for the entire Greenway parks system.
"If we get devices going at excessive speeds and there are people who don't feel safe, the bike trail is going to quickly lose its allure," he said. Accidents are inevitable and "when those collisions happen it's going to be potentially serious injuries."
Electric scooters are the main focus in Duluth, where the summer tourist season brings an uptick in traffic from rentals near Lake Superior.
Complaints were up this year and the city council is grappling with what to do. Scooters in particular are supposed to stay on streets or bike lanes, not sidewalks. But that's often not the case.
"There is nowhere for them to go," said Duluth resident Alice Tibbetts. "They go where they think they won't crash, and I don't blame them."
Which is precisely the problem, said City Councilor Noah Hobbs.
"It is a testament to the fact that we don't have a lot of infrastructure for people riding micro mobility," Hobbs said.
Melissa McCauley of Sioux Falls is a cycling enthusiast who has an e-bike and traditional models. Most people don't even know what class of e-bike they have, particularly if they bought it on the internet versus a local bike shop.
"The most common thing I run into the lack of knowledge," McCauley said. "A majority of them have no clue so it's a lack of education."
And as technology has advanced to the other electric platforms it's just brought more people to the trail system, which is great, but the city and local retailers are going to have to cooperate to let people know what they're buying, she said.
"It's not a matter of telling people they can't be on the trail. It's a matter of educating them how to ride confidently and respectfully in high-traffic areas," she said. "When you are (in low-traffic areas) you are going to go a little faster but there's not 18 families with dogs and bikes and kids and all, so OK."
It's also possible that rules and regulations about how people use a particular machine just can't keep up with the changing landscape.
"Technology is moving so quickly," said Neitzert. "If we're not enforcing it, what's the purpose of the law on the books?"
Which raises the question of whether you can. Because ultimately, what's the difference between an electric motor and a gas-powered motor? Between a bike and a skateboard?
For Trebilcock, the Sioux Falls city planner, it comes to a more specific, and decidedly human option.
"Just slow down."
Peyton Haug of the Duluth News Tribune contributed to this story.
Katee Sackhoff portrays Bo-Katan in the Star Wars spin-off series on Disney+ and many other roles. Event raises money for childhood cancer research.