School district committee tasked with predesign of proposed, north Grand Forks K-8 school
The $70.5 million school would replace West, Wilder and Winship elementary schools and Valley Middle School.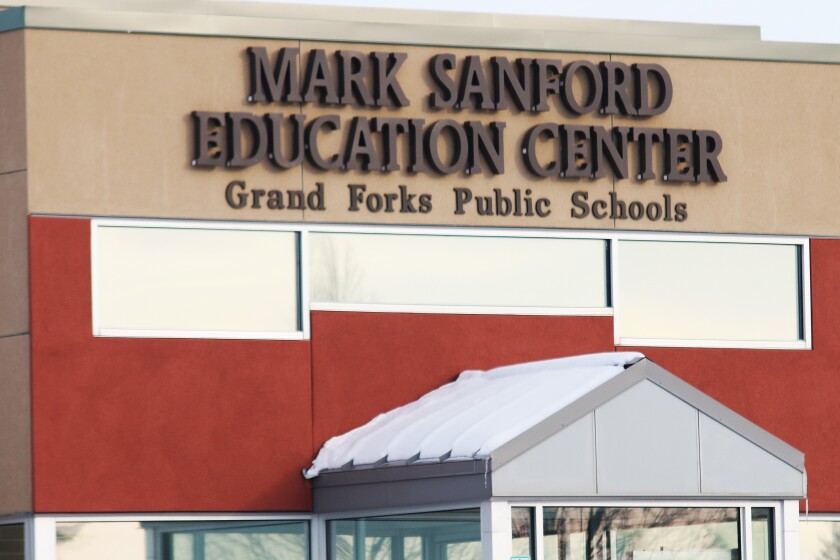 Members of a newly-assembled school district committee on Wednesday got their first glimpse of what a proposed K-8 school campus on the city's north side could look like and how it would function.
The 22-member K-8 Campus Predesign Committee, consisting of parents, teachers, school administrators, former Facilities Task Force members and a School Board member, discussed the educational impact of having K-8 students and staff all at one location, as well as current public perceptions of the project.
The K-8 school would result from closure and consolidation of West, Wilder and Winship elementary schools and Valley Middle School. The school would be built on the site where Valley stands now.
The building project, expected to cost about $70.5 million, is part of an $86 million bond referendum that the school district will put before voters June 22. The remaining $15 million would be used for high-priority infrastructure renovation, repairs and replacement projects in many of the district's other aging facilities.
At least two members of the K-8 Campus Predesign Committee have experience in designing and planning for a new school. Allison Parkinson, principal of Discovery Elementary, was part of the team that developed that school – the newest in the district – before it opened six years ago.
As the committee begins its work, she said, "I hope that we dream bigger than we even know we can dream. Think differently, think creatively."
Sherri Bilden, principal of Nathan Twining Elementary and Middle School at Grand Forks Air Force Base, was part of the consolidation of the elementary and middle schools there. Twining is the only K-8 school in the city and base school districts. She commented on how some in the base community struggled with change.
"You're going to go through growing pains, because you're dealing with passion, you're dealing with history," Bilden said, but she went on to outline the multiple benefits that have accrued to her staff and 300 students on the base's K-8 campus.
The work of the K-8 Campus Predesign Committee is being facilitated by Sara Guyette, director of development architecture, and Ben Tillman, architectural project designer. Both are employees of SitelogIQ, the firm hired by the School Board to assist with pre-referendum planning.
A final report by the K-8 Campus Predesign Committee may be presented to the School Board at its April 26 meeting.
On Tuesday, committee members shared their concerns, or concerns they have heard of, about the proposed K-8 school, including the extent of traffic around a school campus that could enroll up to 1,000 students, maintaining the culture of a neighborhood school, and – in their opinion – whether the general public fully understands the advantages that this educational model presents.
School district administrators have begun conversations with city officials concerning future vehicular and pedestrian traffic patterns around the Valley Middle School site, as well as with the Park District on potential impact on nearby University Park, said Chris Arnold, the district's director of buildings and grounds.
Committee members saw examples of a number of K-8 campuses that have been developed to gain perspective on the options or design features they could consider for the new Grand Forks school.
Reaching agreement about shared spaces – such as gymnasium, lunchroom, common areas or library – and if or how elementary and middle school students will be in contact throughout the school day will be the focus of discussion at future meetings, Guyette said. Grades could be divided by floor level or by wing, she said.
The new school will need to be a multi-story structure, Guyette said, and the size of the building will depend on factors such as whether pick up and drop-off will be on the street or on school property, as well as the size and location of outdoor play space.
A larger K-8 school is widely viewed as a more efficient and fiscally prudent model, rather than smaller, single-section schools, for educating students.
The Grand Forks School Board has been wrestling with financial issues for some time and voted in March to permanently close West Elementary because renovation is not viable, based on a recommendation of the Facilities Task Force that studied the district's properties over nine months last year. West has been closed this school year, due to unsafe levels of radon, and its students and staff were relocated to Discovery Elementary School.
The K-8 Campus Predesign Committee plans to meet at 4 p.m. Tuesdays, April 13 and 20. The meetings are open to the public.