School Board receives report on biannual youth risk behavior survey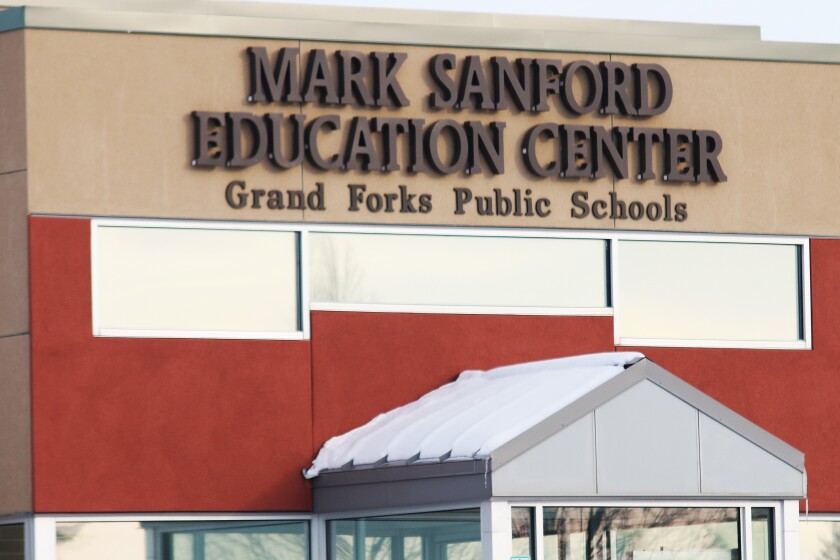 Grand Forks School Board members received some eye-opening information on health-risk trends among middle and high school students in a presentation at their recent regular meeting.
Nearly one in five, or 19.7%, of Grand Forks high school students reported that they seriously considered attempting suicide during the 12 months before taking the Youth Risk Behavior Survey 2019. That's compared to 18.6% regionally and 18.8% statewide.
One in three high school students reported feeling sad or hopeless almost every day for two or more weeks in a row in the year before taking the survey. A total of 1,143 took the survey.
At 33%, the Grand Forks figure topped the regional average of 31.1% and the state average of 30.5%.
These were among several striking results of the survey that Sarah Shimek, character education and prevention coordinator for the school district, presented at the School Board meeting Monday, March 9.
Shimek outlined the trend data and findings of the survey, which was completed voluntarily by students in grades 6 through 12 in February 2019. The survey, developed by national school health organizations and the CDC, is given to students every other year. It's designed to focus on behaviors related to the leading causes of death and disability among youth and young adults.
The survey is "a valid, thorough and ethical instrument" to assess trends in student behavior, Shimek told the board.
Middle school students took a 57-question survey; high school students took a 98-question survey, she said. Data from the high school survey was analyzed by Mark Winkelman of Winkelman Consulting, Fargo.
The self-reporting survey measures behaviors that pose health risks that fall mainly into six categories: behavior that results in injuries and violence; alcohol, tobacco and other drug use; sexuality behaviors; dietary behaviors; physical activity; and sexual behaviors that result in HIV infection, other sexually transmitted diseases, and unintended pregnancies.
Survey results are used to evaluate the district's programming, interventions, and supports that are available to students, said Superintendent Terry Brenner.
A total of 1,286 middle school students in the school district took the survey, Shimek said.
A total of 21.5% reported feeling sad or hopeless, almost every day for two or more weeks in a row – so much that they stopped doing some usual activities during the 12 months before taking the survey.
Eighteen percent reported that they have seriously thought about killing themselves, and 12.2% said they have made a plan about how they would possibly kill themselves. Both figures are lower than the regional and state figures.
A total of 7.7% said they had tried to kill themselves, compared to 7% in the region and 10.3% statewide.
About 4.5% of middle school students have tried alcohol before the age of 11, compared to nearly 5% regionally and 8.2% statewide, the survey revealed.
"The longer we can put off that age of inception, the better off our students will be," Shimek said.
More than half, or 55.2%, of students have used marijuana by smoking it in a joint, bong, pipe or blunt, compared to 50.6% regionally and 73.5% statewide.
"The good news is traditional cigarette usage is going way down but electronic cigarette usage is increasing," Shimek said.
Nearly 36% of students who reported having felt sad, empty, hopeless, angry or anxious said they would most likely talk with their parent or other adult family member about their feelings.
"I would like to see that figure higher," Shimek said.
Regional data is based on results of surveys taken by students in the schools that make up the Red River Valley Education Cooperative: Cavalier, Central Valley, Drayton, Emerado, Finley-Sharon, Fordville-Lankin, Grafton, Grand Forks, Hatton, Hillsboro, Hope-Page, Larimore, Manvel, May-Port-CG, Midway, Minto, North Border, Northwood, Park River, St. Thomas, Thompson and Valley-Edinburg.