Parent says most Grand Forks students in Snapchat controversy unfairly branded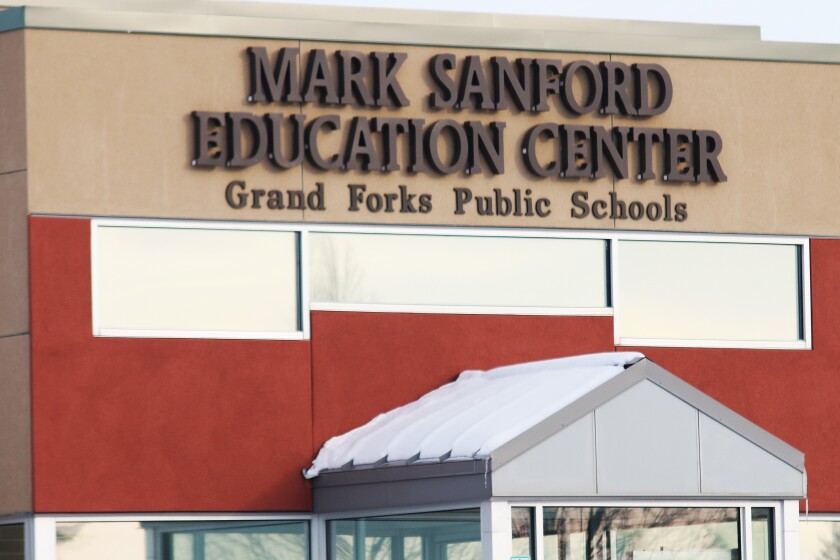 The bulk of the Grand Forks Public Schools students and recent graduates in an incendiary group chat say they had little or nothing to do with the racist messages sent within it last week, according to a parent of one of the students.
"We felt the urgent need to get their side of the story out," said Chris VanSickle, a parent of one of the original participants in the chat. "It's been pretty one-sided to this point."
What reportedly began as a group chat – a virtual room in which many people can converse and share freely among one another – filled with outdoorsy banter about pickup trucks and farming took a sharp, racist turn about an hour after a Grand Forks demonstration that was held to protest the death of George Floyd, a black man who died after he was pinned to the ground for more than eight minutes by a Minneapolis police officer. The officer has been charged with second-degree murder and second-degree manslaughter.
Screenshots of the Snapchat conversation circulated far and wide, including a video on TikTok, another social media platform, that garnered 1.2 million views, and in a Change.org petition calling for repercussions that had garnered nearly 5,900 signatures as of Friday afternoon.
Those screenshots captured racist messages, such as "one of my officers is dead bc of a [expletive]," an apparent reference to the shooting death of Grand Forks Police Officer Cody Holte; "[expletive]s are bad bad people and should burn"; and, after someone pushed back, "Well u should be with Floyd."
The chat's name was later changed to "White Power," apparently without the knowledge of many of those who originally participated. Most of those involved in the chat are current or former Central High School students.
One of the chat members added a black classmate "to insult her for supporting the (Floyd) protest (that had occurred in downtown Grand Forks)," according to the Change.org petition, which calls for the students to be held accountable and face repercussions. More people were added, and a confrontation grew.
But VanSickle said nearly all of the people in the original chat did not send a racist message, and he said several of the students left the chat when they realized what was happening.
VanSickle said those students who left are being unfairly branded and potentially have been put in a dangerous situation as the tumult grows.
"The name of the group was changed on Thursday without the knowledge of a number of group members knowing about it or the intent behind the change," VanSickle told the Herald. He said many of the students didn't know the chat had taken a turn because they were busy with work or other things, "leaving them unaware of what was happening."
Screenshots circulated through social media and sent to the Herald tend to support VanSickle's claim. Three Snapchat accounts sent racial slurs or racist messages in those screenshots – far fewer than the number of participants. For the present, the Herald has chosen to not name those involved because several have received a series of threats after the Change.org petition gathered steam on Instagram. It initially listed the full names of people in the chat, but it has since been edited to redact everything but members' first and last initials.
Other screenshots indicate that several participants left en masse as the chat, which had been renamed "BLACK LIVES MATTER" by that point, grew more acrimonious.
"A number of these kids opted to leave the group without saying a word, because they felt this
was the right thing to do. Since that time, they have been labeled as racists by many people, including new group members, because 'silence is violence' in their eyes," VanSickle said. "Unfortunately, these kids were in a lose-lose situation."
But Amal Abdi and Aisha Hassan, two 2017 Grand Forks Public School graduates who created the petition, are skeptical. Hassan said participants started to leave when Abdi's younger sister was added to the chat – and Abdi said one participant took issue with being called a "slut" but later messaged Hassan to defend some of the chat's members.
"I think that racism, for them, is just 'I don't like you, I hate a certain group of people,'" Abdi said. "They don't know it's much bigger than that."
Abdi said she and Hassan also have also been threatened, but told the Herald she is OK with their names being mentioned in this article.
The group messages topped the Grand Forks School Board agenda on Monday, June 8. At the meeting, Superintendent Terry Brenner said messages in the chat were "vile, vulgar, racist, intimidating, threatening, inexcusable, and unwelcoming" and that the district's efforts to welcome newcomers "are clearly not enough."
The district is forming a committee on diversity, equity and inclusion, Brenner said. He said the district will revamp its bullying policy.
VanSickle said the group he represents – the parents of the students who left the chat or did not post anything racist – supports the Black Lives Matter movement.
"However, we do not support dragging innocent kids into this," he said.
In the meantime, VanSickle said he might file a lawsuit because several of the students who were named in the petition are minors.
"While these young people should be thinking about all that summer has to bring," VanSickle said, "they go to sleep thinking and worrying about how our community feels about them on top of living through a pandemic."