'The good, the bad and the ugly': In Grand Forks, critical race theory bill shines spotlight on the classroom
The 2020 unrest launched by the murder of George Floyd has echoed through the national conversation for a year. Now, one of its legacies is a debate about school curriculums and "critical race theory," putting a spotlight on educators.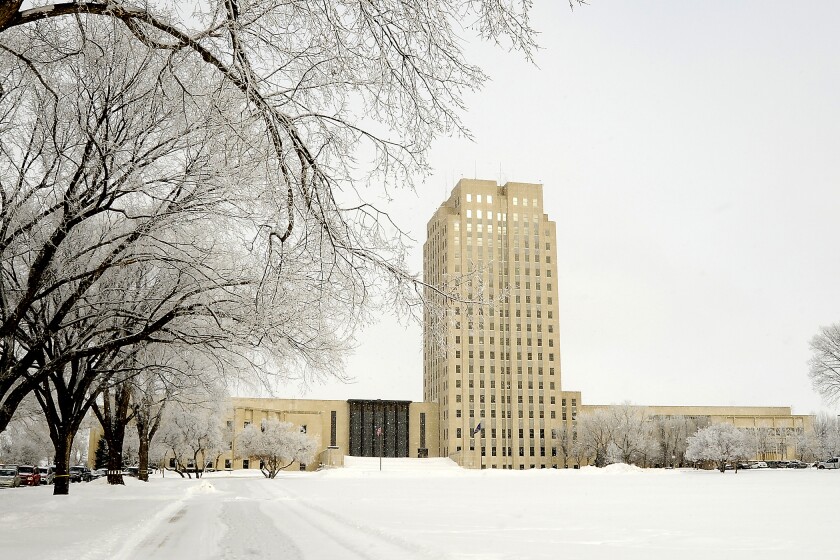 Mike Bisenius says he teaches students the facts — wherever it leads him.
He's been teaching history in Grand Forks Public Schools for decades, and this year he's standing in front of government class at Red River High School, poring over the Constitution, Alexander Hamilton, George Washington and the rest. It's a challenge in any environment, and this year is no exception.
The 2020 unrest launched by the murder of George Floyd has echoed through the national conversation for a year. Now, one of its legacies is a debate about school curriculums and "critical race theory," putting a spotlight on educators like Bisenius. Legislators in Bismarck banned teaching it in North Dakota earlier this month, with Gov. Doug Burgum's signature following on Nov. 12.
The move satisfies a demand from Republican voters about the perceived excesses of the moment. But it's launched a discussion about how best to educate young citizens about the nation's past — and about what their role is in its future.
School Board and administrative leadership are quick to say the theory isn't taught to Grand Forks K-12 students. And Bisenius shies away from giving it his own approval. But he does bristle at Bismarck's reach into the classroom.
"What they need to do is they need to trust us teachers again," Bisenius said. "We know what needs to be taught."
RELATED: North Dakota governor signs bill banning critical race theory in K-12 schools
The Grand Forks delegation split the vote on party lines, with state Reps. Corey Mock, Zac Ista and Mary Adams, all Democrats, opposed. GOP Reps. Claire Cory, Emily O'Brien, Steve Vetter, and Mark Sanford voted in favor; GOP Rep. Mark Owens did not cast a vote.
In the Senate, Grand Forks' Democratic state Sen. JoNell Bakke voted against the bill. GOP state Sens. Ray Holmberg, Scott Meyer and Curt Kreun voted in favor.
Ista pointed out that the bill could curtail difficult but important discussions in the classroom by banning more than just critical race theory. Could it make teachers hesitate to talk about racist parts of the country's past? What about redlining — the racist lending practice that barred a generation of African-Americans from homeownership?
"If I'm that classroom teacher teaching that, it gives me a bit of a chilling effect as to, well, is this what they mean by critical race theory?" he said.
The bill defines critical race theory as "the theory that racism is not merely the product of learned individual bias or prejudice, but that racism is systemically embedded in American society and the American legal system to facilitate racial inequality."
One of the difficult parts of the bill, though, is that critical race theory is hard to define in practice.
Bisenius takes a straightforward approach. He rejects that "whites are bad, that the police are bad." But he also knows the U.S. history isn't all sunshine, from the country's "attempted genocide" of Native Americans, to Japanese internment during World War II to modern holocaust deniers.
"As a teacher, I'm not going to sugarcoat it. … I give my kids the good, the bad and the ugly," he said.
Some supporters of the bill described a hard choice in supporting it or that they didn't expect much would be changing.
RELATED: Region's teachers caught in political 'push-pull' in civics classroom
"I was not on that committee," Sanford, a former Grand Forks school superintendent, said of the legislators who handled the bill prior to the House's full vote. "I was not even part of that kind of discussion, so I don't have that kind of detail on this. The way it was presented on the (House) floor from the committee was that it really wasn't changing what we were doing right now."
O'Brien said the vote was difficult and that she was won over by the bill's lack of a penalty. She said she wished the measure could have been a study on the issue, instead of a ban.
"Sometimes when you're voting on things, you wish you could vote yellow," O'Brien said, referring to the green and red colors that appear on monitors in the House chamber that tally yea and nay votes.
It's true that the theory isn't taught in Grand Forks Schools, district leaders say. Both Eric Lunn and Amber Flynn, the president and vice president of the local School Board, respectively, said educators in the district don't teach it. And Lunn points out that banning critical race theory doesn't mean banning inclusivity.
"I hope people don't mix up critical race theory and diversity, equity and inclusion. They are two totally different issues," Lunn said. "What I try to teach my daughters and my grandchildren — treat people with respect, treat people as equals, because that's what they are. And that really has nothing to do with critical race theory."
Flynn argued that the bill is unenforceable.
"Are we going to have the CRT police in every classroom, determining if a line of off-topic conversation is off-limits?" she wondered. "I think that I think the enforcers are going to be the parent whose kids come home and say there is maybe this discussion that occurred today and then the parents are contacting the school."