North Dakota Senate passes resolution to repeal property tax levy used to fund UND med school
Resolution's sponsor, supporters say general fund will account for the gap in funding should it pass, opponents concerned with removing constitutional guarantee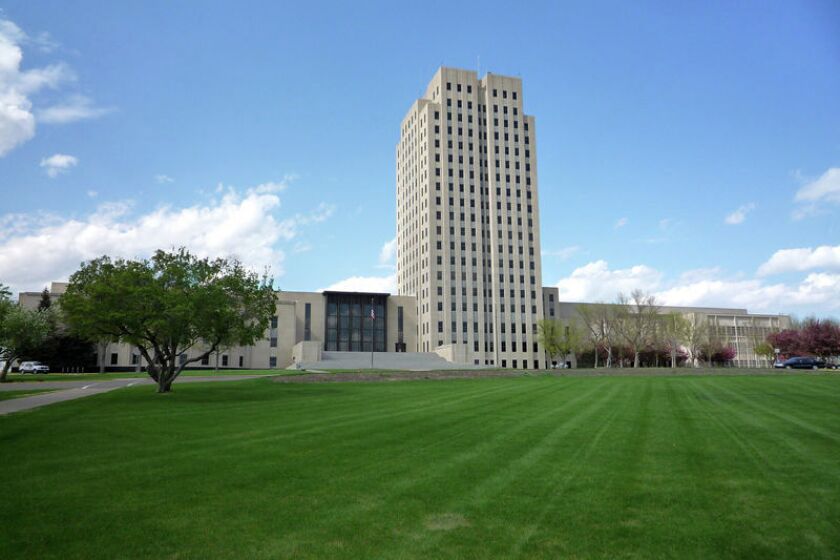 BISMARCK — The North Dakota Senate passed a resolution on Monday, which would eliminate a property tax levy that is currently used to fund a portion of UND's School of Medicine and Health Sciences budget.
Senate Concurrent Resolution 4019, which passed 29-18 during Monday's floor vote, would abolish section 10, article 10 of the Constitution of North Dakota, which imposes a statewide property tax levy of one mill or $1 per $1,000 of a property's assessed value. If passed the resolution would proceed to voters for consideration on the 2024 general election ballot.
The resolution's sponsor, Sen. Jordan Kannianen, R-Stanley, said its intention is not to defund the medical school, but rather to shift the source of funding from property taxes to the general fund.
"This is a matter of tax policy," said Kannianen. "It has nothing to do with any negative feelings toward the medical school at all, and the intent of all the sponsors of the resolution is that funding remains whole."
According to Kannianen, the levy generates approximately $5.5 million in revenue for the school each year, or $11 million per biennium.
Speaking in opposition to the resolution, Sen. Judy Lee, R-West Fargo, said although she agrees with its logic, she is concerned about the commitment of future legislators to replacing the revenue from the levy in the general fund.
"This levy has been a reliable, non-burdensome continuing means of support for the medical school for a very long time," said Lee. "Since we cannot obligate future legislators, how can I be assured that this particular level of funding will always continue in the same way it has?"
Lee also said "one mill doesn't break anyone's bank," and it is a "constant source of base funding for this budget."
In response to Lee's concerns, Kannianen said "I think it's fair to say that only in times of extreme hardship have there ever been cuts."
Speaking in support of the resolution, Sen. Kristin Roers, R-Fargo, said the issue of fairness is at play, due to the School of Medicine being the only institution of higher learning funded in part through a statewide levy.
"No other institution of higher education in North Dakota has guaranteed funding," said Roers. "I would argue that the vast majority of lawyers working in our state came out of the same university, yet they do not have this guarantee. I don't believe future legislators will defund a medical school, if the value of graduates continues to be at a high level."
Speaking in opposition, Sen. Karen Krebsbach, R-Minot, said the levy is an important means for all North Dakotans to contribute toward the benefits the School of Medicine provides for the state.
"We are very fortunate to have a medical school," said Krebsbach. "There have been many past legislators who have supported this endeavor. Without their support, we wouldn't have the medical professionals we do in our smaller communities, and even our major communities. I look at this levy as an area where everyone contributes — it's a way for everyone to have a buy-in to this great institution we have."
The resolution now awaits action from the House.