North Dakota moves to expand free school meals as more than half of US states eye universal lunches
The sponsor of a bill that would have given free lunch to all public school students in North Dakota is disappointed after the legislation was gutted.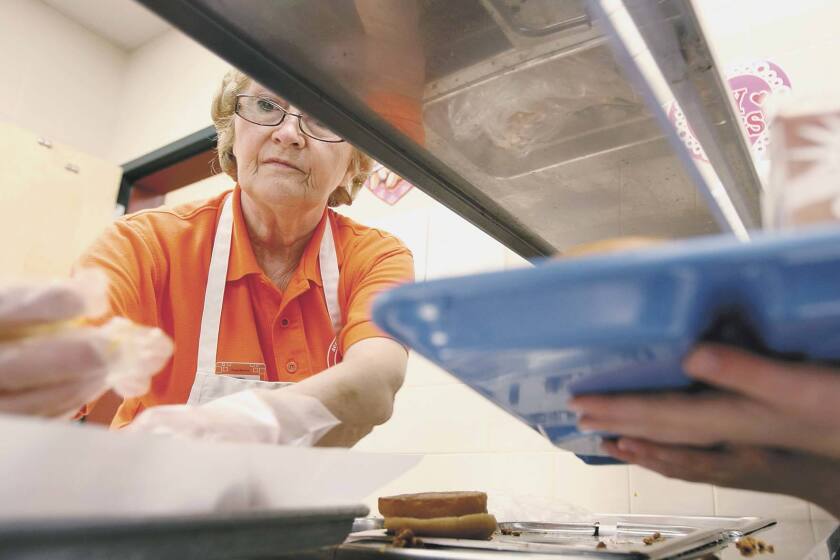 FARGO — Arguments against an already gutted bill to provide free meals to public school students in North Dakota have ranged from fiscal responsibilities of the state to a fear of enabling drug addicts.
Rep. Jeff Hoverson, R-Minot, questioned the motives behind the bill in education hearings and on the House floor before it was passed 80-11. To become law, the amended bill must also pass in the Senate and be signed by Gov. Doug Burgum.
Rep. LaurieBeth Hager, D-Fargo and author of House Bill 1491, said that since school is mandatory, the state has a responsibility to feed students. Those opposed to the bill questioned the argument, saying allocating money for free lunches was tantamount to theft.
When HB 1491 was first introduced by Hager, she asked for an appropriation of $89.5 million from the general fund to provide free lunches to students enrolled in public schools starting July 1, 2023, and continuing for two years.
During an interim between hearings, which was not recorded or made available through the North Dakota Legislative Branch website, $83.5 million was cut from the bill, and a different figure of $6 million was chosen, Hager said.
Faced with a 7-7 split from the House Education Committee, she said she knew she had to compromise.
After legislative debates, families who qualify for free meals were determined to be those at or below 200% of the poverty level. For a family of four, that's an annual income of $60,000 per year.
Under current law, 73% of families across the state do not qualify for free and reduced meals, Hager said.
Hoverson, who voted against the bill, said he worried free lunches would only exacerbate existing problems.
"It brings us down a path that we will never be able to return. We aren't accounting for the fact of what is our role versus what is the community's role, the church's role, the family's role," he said. "And I am afraid that we will also unintentionally enable people that maybe should be working, maybe getting off addictions and stuff like that. We're just enabling."
While speaking on behalf of Fargo Public Schools during a press conference at the Great Plains Food Bank on March 9, Fargo School Board member Robin Nelson said the district supported the bill's original intent and was disappointed in Hoverson's viewpoint.
"Enable lazy parents or those that are addicted to drugs? That broke my heart. No child should be deprived of nutritious meals," Nelson said. "In fact, my own family used the free and reduced meal program due to a job loss."
Talking before the Senate Education Committee on Wednesday, March 15, North Dakota AFL-CIO President Landis Larson said he has worked toward helping families pay off school lunch debt in the past. The AFL-CIO is a federation of labor unions.
"Kids in school, when they're fed, they work better, they act better," he said. "And what we found out was that it wasn't a whole bunch of deadbeats that just didn't want to pay. It was people just on the edge who were falling off the edge."
Rep. Eric Murphy, R-Grand Forks, who serves on the House Education Committee, said children need meals at school, "but also, for a lot of kids, the last meal they have with any kind of nutrition is what they eat at school on Friday until they come back on Monday. You can't effectively educate children if they're not eating."
Before the final vote on the House floor, Hoverson argued that the bill was fiscally irresponsible.
"I don't think anybody here is not concerned about children who cannot have food. Really, the question that I think we have to seriously ask ourselves is: What is the government's role? Taxpayer money, it's not ours to give, and it's not more noble or compassionate to give away someone else's money," Hoverson said.
"Now, this raises the poverty line to 200%. Are we really talking about poverty here, or is this just another way to give away free lunches? Right now, the average wage of the worker is $57,000, and we're calling poverty at $60,000," he said.
Hager said many legislators may not be aware of what poverty looks like.
"We have a chance to do good for children in our state. We're looking at ... $3 a day to help children who are hungry. I wanted to provide meals for every student that is in our care from 8 to 3 in the afternoon; that was the original plan," she said. "I believe that a child who is hungry is not going to learn."
She added that some children skip meals to help their parents' pocketbooks.
Later, during an interview with The Forum, Hager reiterated the idea that while children are in school, the state should take full responsibility for them.
"People are satisfied with this tiny step. I am even more dissatisfied now, because in the last 20 minutes I read that New Mexico is doing it for all. I just got the news. They're looking to do what I was trying to do," she told The Forum on March 13.
States working toward free school meals
Last week, two states moved to provide free meals to all public school students.
On March 12, New Mexico lawmakers passed the "Healthy Hunger-Free Students' Bill of Rights" that would provide free meals to students starting next year. New Mexico Gov. Michelle Lujan Grisham is expected to sign the bill into law.
On Friday, March 17, Minnesota Gov. Tim Walz signed the "Lunch Box Tax Cut" into law, making all students eligible for free meals, regardless of their family's income.
California, Colorado and Maine provide free school meals, according to the Hunter College New York City Food Policy Center.
Three more states — Massachusetts, Nevada and Vermont — extended free lunches this school year.
An additional 20 states are planning, drafting, discussing or negotiating universal free school meal legislation, according to the Hunter College New York City Food Policy Center.
According to the Great Plains Food Bank, a survey showed 37% of those in food insecure situations in North Dakota are children.
Hunger in the Plains is a "neighbor experience survey" administered by the food bank every four years. The most recent results are from 2023, and survey workers randomly selected 518 people who were in food lines and at soup kitchens who answered 73 questions for the survey.
"The fact there are 37% kids that need assistance, this just sheds light that the number isn't going down. In fact, it's the highest percentage we have ever had," said Melissa Sobolik, CEO of Great Plains Food Bank.
The survey consistently finds children in food insecure homes rank high, but usually about four percentage points behind what they discovered in 2023, Sobolik said.
Rising utility, transportation and health care costs were some of the most pressing issues related to hunger, according to survey results.
Almost half of those surveyed face significant transportation barriers. About 75% of the people surveyed are struggling with high rates of chronic disease, which is exacerbated by lack of access to enough food, particularly nutritious food.
For two years during the height of the coronavirus pandemic, the federal government paid for breakfasts and lunches at public schools, Nelson said, adding the program stopped in September 2022.
At the same time, the Great Plains Food Bank saw a 14% increase in the demand for food across the state, Sobolik said.
About 30,000 students across North Dakota receive free meals, and about 8,000 students are eligible for meals at a reduced cost, Nelson said. If HB 1491 becomes law, 2,000 other students may become eligible for free meals, for a total of 40,000 students.
Another reason why the issue of free school meals has become a hot topic in North Dakota is because of rising meal debt.
A recent national School Nutrition Association survey of 847 schools showed districts owed $19.2 million in lunch debt so far this school year.
In 2019, Lunch Aid North Dakota Founder Jason Boynton and others discovered that school districts were sending debt collectors to families to pay back lunch debt.
When he started soliciting donations to help pay off meal debt in 2019, Fargo Public Schools owed $26,000.
The district currently has $58,000 in lunch debt, and that number is expected to rise.
"By the end of the school year, it is projected to be $90,000 of school lunch debt. That's on par with the nation. Ninety thousand dollars is more than Lunch Aid can hope to raise," Boynton said.
Nelson said hunger and debt collecting from families have always been issues, but they weren't talked about publicly. "It was a sad part of our history," she said.
"If the nation can use any issue at all to agree and make something good happen, it is school meals," Boynton said. "Universal school lunch would attract and retain people to our state. ... North Dakota is rich. We have $8 billion in the Legacy fund; we can afford to do this, $6 million is a drop in the bucket for us."
Boynton said relying on civic organizations or volunteers for donations to help feed students is "wonderful, but is it really reliable? It's not reliable. We can only do this for so long. Burnout is real."
"It's extremely exhausting, perpetual exhaustion," Sobolik said.
"But we're going to do our best," Boynton said.