Larimore Elementary School earns National Blue Ribbon status
Larimore Elementary is among three North Dakota schools to achieve the recognition for outstanding academic performance.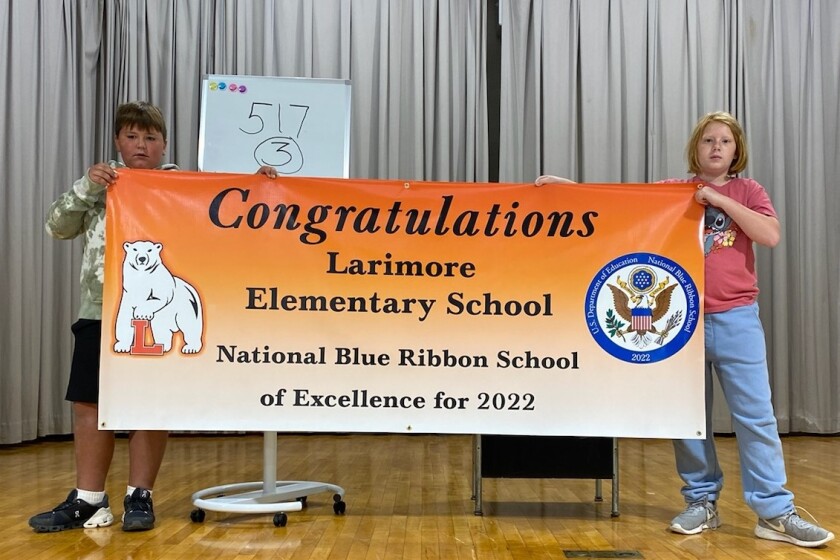 We are part of The Trust Project.
LARIMORE, N.D. — Larimore Elementary School has been named a 2022 National Blue Ribbon School by the U.S. Department of Education. The school held an assembly Friday, Sept. 16, to announce the honor and celebrate the achievement.
Larimore Elementary is one of three schools in North Dakota to achieve the designation; the others are Linton Public School and Bismarck's Roosevelt Elementary School. They are among 297 schools nationwide to receive the honor.
The recognition as a Blue Ribbon School is based on a school's overall academic performance or progress in closing achievement gaps among student groups.
"It is a great honor," said Larimore School Superintendent Steve Swiontek. "It was extremely exciting to be named as one of the best elementary schools in the United States of America."
Principal Kylie Swanson said the news was a welcome acknowledgment of the instructional efforts of the school's teachers, staff, students and parents.
"We have been working hard to make some changes in our school to promote the love of learning," Swanson said in a news release. "It really is fun to see that all of the hard work from teachers, staff and students have made an impact on student learning and student achievement."
Changes at the Larimore school over the past five to eight years have included an increased emphasis on developing reading skills, using technology to support student learning — every student at Larimore has an iPad — and identifying students who need extra instruction and support, Swanson said.
The school received the honor based on its record of increasing reading and mathematics scores significantly over a certain time period, said Swiontek, who is starting his sixth year as school superintendent in Larimore. The school has not received this honor in the past, as far as he knows, he said.
The reading and math scores data, maintained by the state Department of Public Instruction, "gives you the nomination," Swiontek said. Then the school personnel must complete an application — detailing students' academic performance, teaching strategies, curriculum, school culture and test results — which is forwarded by DPI to the U.S. Department of Education. The application process took 35 to 40 hours to complete, Swiontek said.
About 30 educators teach 190 students in grades pre-K through sixth at Larimore Elementary School, he said.
"The principal (Swanson), the teachers, students and parents deserve the credit" for the school's designation as a National Blue Ribbon School, Swiontek said.
Five North Dakota schools have been honored twice with the National Blue Ribbon School designation, including Grand Forks Phoenix (formerly Belmont) Elementary School in 1992 and 2005 and Sweetwater Elementary in Devils Lake in 2014 and 2020.
New larger facility would accommodate school's growing student enrollment