'Justice for Jupiter': Jury finds Fargo man guilty of killing 14-year-old girl
The jury decided Arthur Kollie was criminally responsible for the death of Jupiter Paulsen and pushed aside defense arguments that he suffered a psychotic break when he attacked her outside Party City in Fargo. Prosecutors will ask for a life sentence.
We are part of The Trust Project.
FARGO — A jury has found a Fargo man guilty of murdering a 14-year-old girl , brushing aside arguments that mental illness overtook his sense of reality during the attack.
Jurors deliberated for about two hours on Thursday, Sept. 15, in Cass County District Court before finding 24-year-old Arthur Prince Kollie guilty of felony counts of murder, robbery and aggravated assault in the death of Jupiter Paulsen.
Jupiter's family members hugged each other after the verdict was read. The girl's mother, Antonia Johnson, called the guilty verdict a relief, saying it allows the family to start healing and moving forward.
"We got justice for Jupiter," she said.
The verdict came after an eight-day trial detailing the events surrounding the early June 4, 2021, attack on Jupiter in the Party City parking lot in south Fargo.
Prosecutors argued that Kollie followed Jupiter through the north side of the parking lot as she traveled from her dad's house to her mother's home.
Once they rounded the northeast corner of Party City, Kollie stabbed, kicked and strangled Jupiter in a nearly 30-minute assault, police said. The 25 stab wounds were not fatal, and doctors said strangulation resulted in a lack of oxygen to her brain and caused her death.
After being declared brain dead, Jupiter's family took her off life support. She died June 13, 2021.
The defense argued that Kollie lacked criminal responsibility in the case. His attorney, Eric Baumann, claimed Kollie suffered a psychotic break when he attacked Jupiter.
Kollie told police he didn't remember what happened during the attack, though he recalled details from before and after the assault. He also claimed that at the time of the attack, he was high on meth he ingested the day before the attack.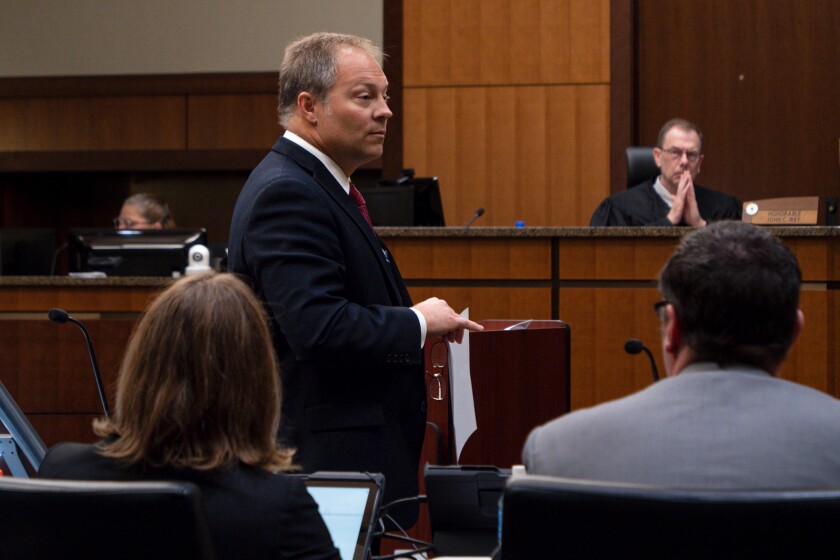 Prosecutors said Kollie made efforts to cover up the assault. That included taking a shower at a gas station, dumping his bloodstained clothes and other evidence, changing clothes and trying to get out of town.
Prosecutor Ryan Younggren insinuated in closing arguments that Kollie robbed and killed Jupiter to fuel a meth addiction. Kollie took some of her belongings before throwing one of her bags into an apartment dumpster near Home Depot, authorities said.
Her cellphone and wallet were never found, Younggren noted.
"The contents of her backpack were worth her life (to Kollie)," the prosecutor said, calling the attack brutal and inhumane.
Younggren told Forum News Service he plans to ask for the maximum punishment, which would be life in prison without parole.
"It's just a significant case," Younggren said when asked about sentencing. "This is the type of case that deserves everything that the law has."
Baumann declined to comment after the verdict. It's unclear whether Kollie will appeal the ruling.
A sentencing date will be set later. Officials must conduct a presentence investigation to determine guidelines for how much time Kollie should serve.
Psychotic break or malingering?
Kollie showed little emotion as the verdict was read. During the trial, he sat quietly, mostly looking down or at his attorney. At times, he seemed tired, yawning and stretching during testimony.
During the trial, Fargo city sanitation worker Patrick Peterson testified that he saw Kollie standing over Jupiter before the defendant fled the scene.
A forensic scientist testified that she found Jupiter's blood on Kollie's clothing, which was found in the apartment dumpster and in a trash can at a Walmart.
The defense noted that a counselor gave Kollie a "provisional diagnosis of unspecified psychosis" days before the attack. The counselor acknowledged she could not say for sure whether Kollie had a mental illness, but she suggested he be evaluated for diagnosis.
Kollie talked to himself, struggled with alcohol and drugs, and had hallucinations about someone trying to kill him, according to other witnesses, including his sister. Baumann also noted that Kollie repeatedly said he was "walking in the woods" after police left him in an interview room the day of the attack.
"There's something going on in that person's mind," Baumann said.
The psychologist lied about providing services to at least 29 members of the Shakopee Mdewakanton Sioux Community, resulting in more than half a million dollars in losses to the tribe.
Prosecutors suggested that Kollie exaggerated or faked a mental illness to get services and housing through a nonprofit group that helps homeless people. A State Hospital psychologist who was ordered to perform a competency evaluation on Kollie determined he was was malingering, prosecutors said.
The defense opted not to call an expert to testify in its lack of criminal responsibility defense. If the defense had called an expert, North Dakota law would have allowed prosecutors to call their own expert to dispute the insanity claims.
Baumann's move to not call his own expert kept the prosecution from calling the State Hospital psychologist who believed Kollie was malingering.
Witnesses who saw Kollie within hours of the attack said he appeared to understand what they were saying and seemed to know what he was doing.
"This is not someone so high out of their mind that he doesn't know what is going on," Younggren told jurors.
Baumann argued that people can slip in and out of a psychotic break, so it is possible Kollie realized what he had done was wrong after the attack. Peterson testified that Kollie didn't respond to the sanitation worker, Baumann noted in suggesting Kollie was not present in reality.
Jupiter's parents were barred from most of the trial because they were sequestered as witnesses. People who are sequestered to testify in a trial must stay out of the courtroom to prevent other witness statements from influencing their own.
Johnson and Jupiter's father, Robert Paulsen, both took the stand during the trial. They were later allowed in the courtroom for closing arguments and the reading of the verdict.
Having a fast and swift deliberation from the jury was perfect, Johnson said.
Peter Tefft , a man who took part in a 2017 white nationalist rally in Charlottesville, Virignia, also was in court Thursday. He had been listed as a potential witness, possibly because he spoke with Kollie in jail, but ultimately Tefft was not called to testify.
The conversation between Kollie and Tefft happened about a month after Jupiter's father announced that he partnered with Tefft and white supremacists to seek justice for his daughter.
Kollie is Black. Jupiter's father is white, and her mother is half-white and half-Hispanic.
Jupiter's father declined to comment after the verdict was announced.