Heartview Foundation plans 16-bed drug and alcohol treatment center in Dickinson
The North Dakota Department of Human Services' Behavioral Health Division has awarded a $1.6 million contract to the Heartview Foundation, based out of Bismarck, to establish licensed residential
We are part of The Trust Project.
DICKINSON — With a $1.6 million contract from the North Dakota Department of Human Services, the Heartview Foundation plans to open a 16-bed treatment center in Dickinson for adults with substance use disorders.
Heartview Foundation, which is based in Bismarck with another location in Cando, North Dakota, will develop the program that will provide short-term services.
Kurt Snyder, executive director of Heartview Foundation, said they plan on renovating the fourth floor of St. Joe's Plaza, which used to be known as the labor and delivery floor of the old St. Joseph's Hospital.
"The people that would go into a residential setting need a safe, supportive place to be. Many of them will have mild to moderate withdrawal (and) have also other co-occurring medical issues. They're pretty beaten up by their use of drugs and alcohol," Snyder said. "People tend to stay in our residence anywhere from three to six weeks. What's important about developing those outpatient programs is that once they step out of that real secure, safe environment of the residential program, they have the support they need as they get their feet back under them in the community."
Over the years, Snyder has attended meetings in Dickinson, gathered input from Heartview Foundation patients and reviewed community needs assessments from area hospitals. A steady issue on the Western Edge remains the use of alcohol and drugs.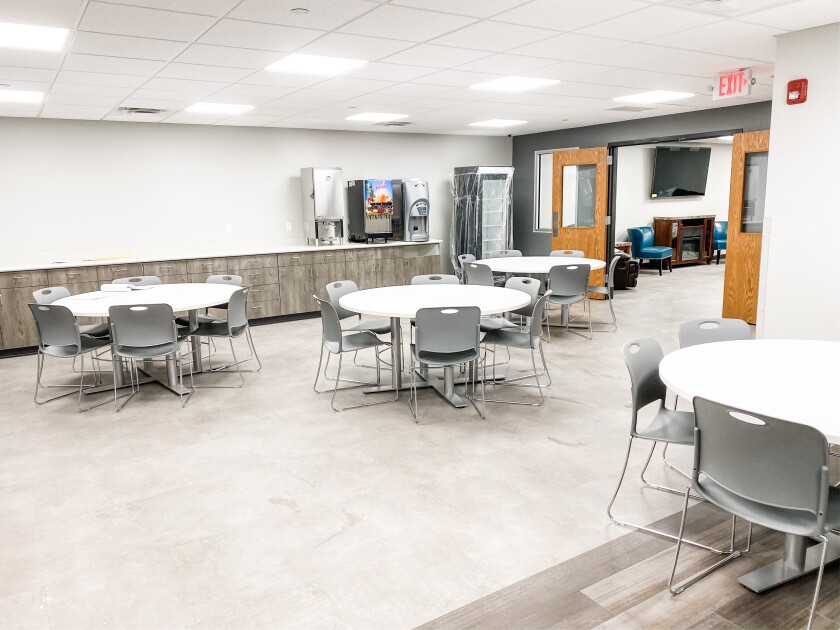 "I think that for many years, Dickinson has had a disparity of behavioral health services that go back to the (oil) boom and maybe even before the boom," he said, noting that many people also have far to travel for drug and alcohol treatment.
Oftentimes, 40-50% of patients seeking services from the Heartview Foundation in Bismarck are from western North Dakota, he said.
"It's disruptive for them to go into a residential program and even twice as disruptive to travel halfway across the state to do so. So to really be able to help Dickinson with providing health and wellness services that really are going to impact the community, they need to happen with the area within the city of Dickinson," he added.
Though there is a critical need to fill those gaps of services in southwest North Dakota, Snyder said finding people to provide those services — nurses, addiction counselors, mental health professionals — also is a challenge.
"My biggest concern and the barrier that I foresee the most is workforce," Snyder said. "So how we expand to include other services like outpatient day treatment, intensive outpatient aftercare services, whatever we would add to it — which are really important services — but that development and implementation of those services would definitely be driven in some degree by the workforce that we would be able to secure."
Renovations at the site will cost an estimated $950,000. The rest of the $1.6 million would help with start-up costs such as purchasing furniture, beds, equipment, computers, etc. Snyder has worked with an architect to begin the design process.
He said they hope to complete renovations in December, and if all goes according to plan, they would hire staff in January 2023 and possibly take in their first patients in spring 2023.
During the 2019 legislative session, North Dakota lawmakers appropriated $2 million to the North Dakota Department of Human Services' Behavioral Health Division to establish up to two new residential substance abuse treatment programs. And during the Legislature's special session in November of 2021, lawmakers appropriated an additional $3 million to establish four total residential substance abuse treatment programs in the state. Behavioral Health Division Director Pamela Sagness noted her enthusiasm for this project in an official announcement Tuesday.
"We are excited about this new opportunity to expand access to vital treatment services," said Pamela Sagness, director of the department's Behavioral Health Division. "Residents in the southwest region of North Dakota will soon have expanded access to addiction treatment services reducing their need to travel far from home and creating opportunities for family support."
As a nonprofit organization established in 1964 with a board of directors, Heartview Foundation is currently looking at rewriting its bylaws and board memberships to include three Dickinson members on the board, Snyder said.