Enigmatic billboards mystify North Dakota travelers
New York-based ad agency source of cryptic phrases, off-the-wall images
JAMESTOWN, N.D. — Kelly Hagen was driving on Interstate 94 near Jamestown about a year ago when he did a double-take.
Did that billboard really say: "Courage, you unremarkable snake."?
It did.
And to this day, Hagen hasn't the foggiest notion as to what it means; though it did inspire him to write an online column, speculating that the mysterious words may have been a message from his late mother.
"I like to believe that my mom acts now as a guardian angel for me and my family during times of distress. And I'm always on the lookout for signs that mom's looking out for me," Hagen said in his column, adding:
"Whether it's a sign so simple as noticing it's 11:11 on the car radio, or it's a gigantic billboard outside of Jamestown urging me to be courageous, I know my mom's OK, and so am I."
A bit of checking revealed the actual source of the billboard to be a tad less cosmic, but it's still a little out there, according to Jim Englund, outdoor advertising operations manager for Newman Signs in Jamestown.
Englund said Newman Signs was approached about a year ago by an advertising agency called Droga5, which has offices in New York City and other places around the world.
The agency wanted to know whether Newman Signs had any billboards in the area of Sydney, N.D., and would it accept some unconventional ad copy?
Droga5's first submission was the "Courage, you unremarkable snake" line that so mystified Hagen.
Englund's initial reaction was, "That's a weird one."
To which the Droga5 folks replied, "Well, it's going to get weirder."
In addition to cryptic statements, Newman Signs started putting up off-the-wall imagery from Droga5, including a hotdog served Salvador Dali style and an ad promoting "The Caesar Salad Museum."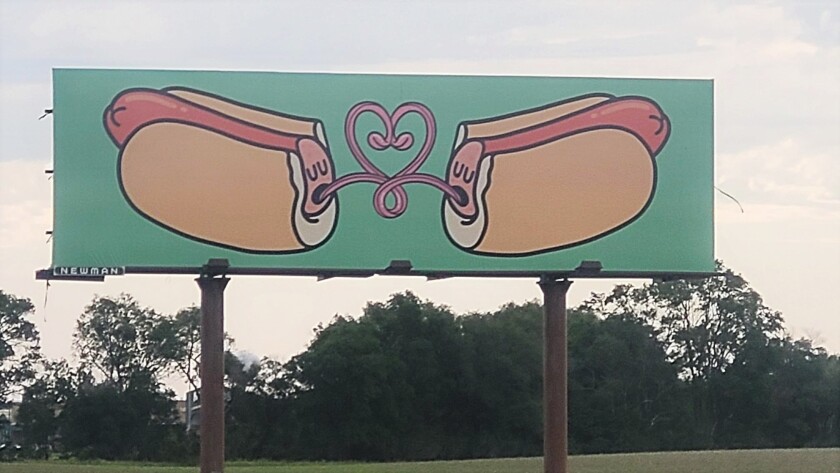 There is never an explanation, leaving passersby to ponder for themselves what they might mean.
"We get lots of calls on it and when we start getting the calls we reach out to the agency and say, 'Hey, what are we supposed to tell them?'" Englund said.
He said the agency usually replies with, "Just direct 'em to us."
Curious about who he was working with, Englund did some online research and discovered that Droga5, which has a website touting work that includes Super Bowl commercials , was founded by David Droga, a native of Australia.
Englund said David Droga's ties to Australia likely explain the agency's interest in a North Dakota town called Sydney, a community of about 100 souls located south of Jamestown.
According to online sources, Droga has stated he was the fifth of six children in his family and the ad agency's name — Droga5 — was the label his mother stitched inside his clothes to mark them as his.
A message left with the company seeking comment was not returned at the time this story was published.
So, what are the billboards all about?
Englund doesn't know for sure. But he has a theory.
"I think they're just doing it as their own art project, or something," Englund said, adding he periodically takes images of the billboards for Droga5 so they can do "a time lapse thing" with the photos.
It turns out, however, that Droga5-themed creations aren't the only Newman Signs billboards to garner attention for their whimsy.
Drivers traveling across North Dakota often encounter billboards encouraging them to "SMILE," or "BE KIND."
Kari Newman Ness, CEO of Newman Signs, said feel-good messages began springing up during the era when her late father, Harold, ran the business .
She said the sentiments are placeholders, of a sort, and they are revealed whenever an ad campaign concludes and the vinyl ad that was used in the campaign is peeled away.
The messages remain visible until a new vinyl advertisement is plastered over them, then they return to hibernating.
Sometimes an old advertisement is exposed unintentionally.
That happened recently when an outdated ad for a defunct Jamestown Grizzly's restaurant was exposed after Mother Nature blew the billboard's concealing advertisement away.
Someone named Jessica took to social media to remind Newman Signs that Grizzly's is no longer open and Newman Ness said a billboard is planned that will let Jessica know she was heard.
It will read something like, "Now we know Jessica looks at billboards," Newman Ness said, adding, "We're going to have some fun."
After being informed that an ad agency was behind the cryptic "courage" billboard he noticed last year, Hagen said he still finds the episode interesting.
"I turned the message into one that helped comfort me in a time of grief, so I suppose it was helpful in that sense. I do like the idea of obtuse messages that can mean different things to different people, especially if those messages can be uplifting during a time when a lot of us are in pain," Hagen said.
He added, however, he could have done without the snake reference.
"I would caution against name-calling. We all get enough of that on social media; please just let us have our drivetimes in peace," Hagen said.