Cramer, Hoeven call for feds to review Fufeng deal
The letter specifically asks for a close federal review of the land purchase made earlier this year in northern Grand Forks that makes way for the company's arrival — which is still being vetted by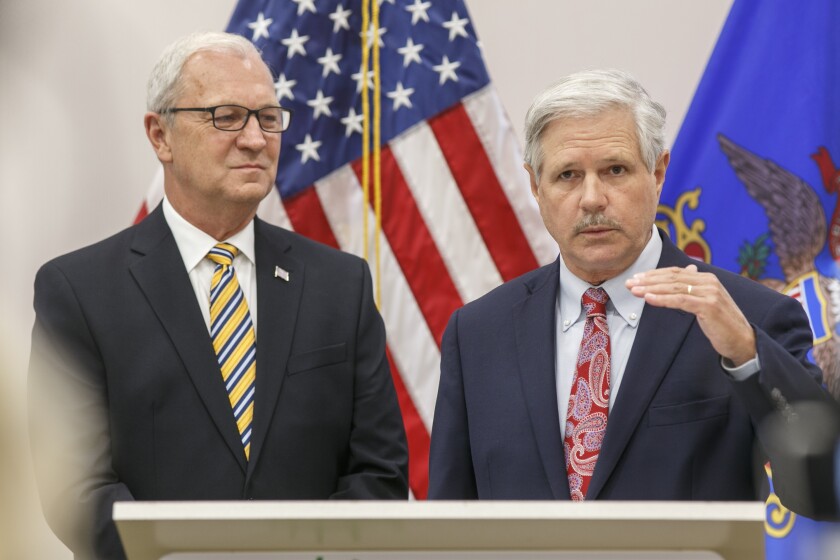 We are part of The Trust Project.
GRAND FORKS — North Dakota Sens. John Hoeven and Kevin Cramer sent a letter to Treasury Secretary Janet Yellen and Defense Secretary Lloyd Austin on Thursday, asking for close federal scrutiny of a planned Grand Forks corn milling plant from Fufeng Group, a China-based agribusiness.
The letter specifically asks for a close federal review of the land purchase made earlier this year in northern Grand Forks that makes way for the company's arrival — which is still being vetted by City Hall. But Fufeng Group's ties to China have drawn significant criticism.
"This property is approximately 12 miles from Grand Forks Air Force Base, which has led to concern that Fufeng operations could provide cover for (People's Republic of China) surveillance or interference with the missions located at that installation, given Fufeng Group's reported ties to the Chinese Communist Party," the senators wrote, requesting a full review by the Committee on Foreign Investment in the United States. Sen. Marco Rubio, R-Florida, also signed the letter.
In a statement, Eric Chutorash, COO of Fufeng's American subsidiary, said that the company has "decided to go forward with a voluntary declaration CFIUS filing to get final resolution on this issue."
"Fufeng maintains and agrees with the city's CFIUS counsel that our transaction in Grand Forks does not require a CFIUS filing due to lack of jurisdiction," Chutorash said. "However, given some of the questions raised and blatant incorrect statements regarding national security being made about our project, Fufeng has decided to go forward with a voluntary declaration CFIUS filing to get final resolution on this issue."
Chutorash said that by law, the information submitted within a CFIUS filing is strictly confidential. He added the company will not be making any further comment regarding it.
The letter comes less than two weeks after city leaders said they would ask Fufeng leaders to voluntarily submit for review by CFIUS. However, the committee will likely find the project will not fall under its jurisdiction, an attorney specializing in CFIUS review told the city.
RELATED: Grand Forks' Fufeng deal — expected to bring hundreds of jobs — runs up against anxieties over China
It's unclear how much Hoeven and Cramer's letter could change that. But if CFIUS does review the matter, it could put to rest a long-running debate about the project and its threats to national security.
No evidence has yet emerged that Fufeng Group will engage in espionage in Grand Forks, and Chutorash has repeatedly said that his company is not an espionage threat and is not owned by the Chinese government.
An April memo, written by an Air Force major based in Nevada — acting on his own initiative, Air Force officials have said — sketches out an espionage danger from the company. The memo cites the Fufeng Group chairman's ties to the communist party and the high value of information on Grand Forks Air Force Base.
But the memo was also highly speculative, and did not appear to have come after a significant investigation into the matter. At one point, city leaders say it misstates the distance between the plant and a nearby natural gas pipeline; in another, it wonders whether Fufeng USA, the American subsidiary, has access to the "agricultural wet lab" at the UND Center for Innovation (the company is not licensing access to the lab, a Center official said this week — only office space).
"Some (of the memo's ideas) are plausible, some are less," Grand Forks Air Force Base commander Col. Timothy Curry said in an early June email to City Hall. "And at this time, I still do not have any leadership relaying a clear security threat."
RELATED: Grand Forks Air Force Base's Col. Curry tamps down Fufeng memo worries
Curry has since referred questions on the matter to law enforcement and federal officials.
That means CFIUS is in a position to make the debate over the plant's security risks much, much clearer — putting it to rest or helping the city mitigate any risks.
"(People's Republic of China) investments in the United States demand scrutiny," the letter states. "We therefore urge you, through CFIUS, to determine whether this project has national security implications and inform us when such a review is completed."
City Administrator Todd Feland said the city welcomes a CFIUS review of the project, and noted Grand Forks' previous meeting with the FBI and discussions with Air Force officials on the matter.
"We're really satisfied that Fufeng USA has come to the same conclusion (as the city) of voluntarily submitting" to CFIUS, Feland said, calling them a good partner. "We have heard from them — they are completing the filing, and we anticipate within the next week or so they will have the information submitted to CFIUS."