North Dakota bill would prohibit state, local mask mandates
The bill also would prohibit making a face covering a condition for entry of a building, education, employment or services.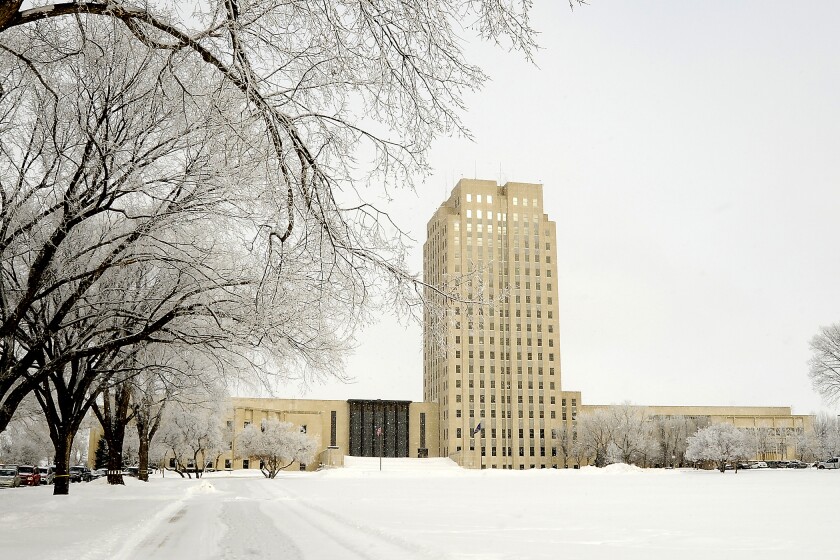 A small group of legislators have introduced a bill that would keep state and local governments from mandating the wearing of masks.
House Bill 1323 , introduced by Rep. Jeff Hoverson, R-Minot, would keep state or local officials from mandating that individuals wear a face mask, face shield or other face covering. The bill also would prohibit making a face covering a condition for entry of a building, education, employment or services.
North Dakota has had a mask requirement since mid-November as coronavirus cases were hitting a peak in the state. Shortly after, case counts began to fall, as did hospitalizations.
The state's southern neighbor, South Dakota, also saw a drop in caseloads around the same time. However, South Dakota did not (and has yet to) institute a mask requirement.
At the time, the Dakotas were among the worst spots in the nation for the virus.
Minnesota and Montana have each had mask requirements since July and have experienced ebbs and flows in their case numbers.
Hoverson indicated that is a sign that mask mandates don't work.
However, doctors and public health officials have asserted that there are a variety of factors that come into play on the viability of mask mandates, and there's not one set explanation as to why one state succeeds in knocking down their case numbers compared to another.
In December, Dr. Paul Carson, an infectious disease specialist at North Dakota State University, said that, with such little information available , he believes more precautions are better in the long run.
Hoverson also questioned the role of government when it comes to mask requirements and expressed concerns about why it seemed everyone was getting all of their information from the Centers for Disease Control and Prevention.
"I think the best thing is, at this point, if the government just pulled out and just said, OK, the doctors, epidemiologists, people, you guys are going to navigate this a lot better than a bunch of government entities that are just listening to one federal source anyway," he said.
House minority leader Joshua Boschee, D-Fargo, said the bill is "another example of the majority party continuing to try to take away local control."
"Regardless of what one feels about masks or not, this is a tool for local communities to make decisions that are best for them," Boschee said.
While there's a number of legislators who are frustrated with some of the requirements and restrictions that have come during the pandemic, Boschee noted that case numbers, hospitalizations and deaths have decreased since the mask mandate was put in place. He doesn't envision the bill going far at this point.
Hoverson also introduced legislation that would prevent vaccinations from being required as a condition for entry, education, employment or services.
"If a state or local elected official, the state or a political subdivision of the state recommends an individual in this state receive a vaccination, the official or entity shall provide notice the recommendation is not mandatory," the bill reads.
Rep. Jeff Magrum, R-Hazelton, is also a co-sponsor of the bills. He said he signed onto the bill because he feels similarly to Hoverson.
"If a mask works, then if you want to wear one, then it should work and protect you. You shouldn't have to force one on anybody else," he said. "And same with the vaccine. There's nothing wrong with if you want to get a vaccination. That's fine."