North Dakota bill offering health insurance to families of fallen first responders heads to governor's desk
House Bill 1435 passed the North Dakota Senate 43-4 on Thursday, April 1. It will now head to the governor's office for his potential signature.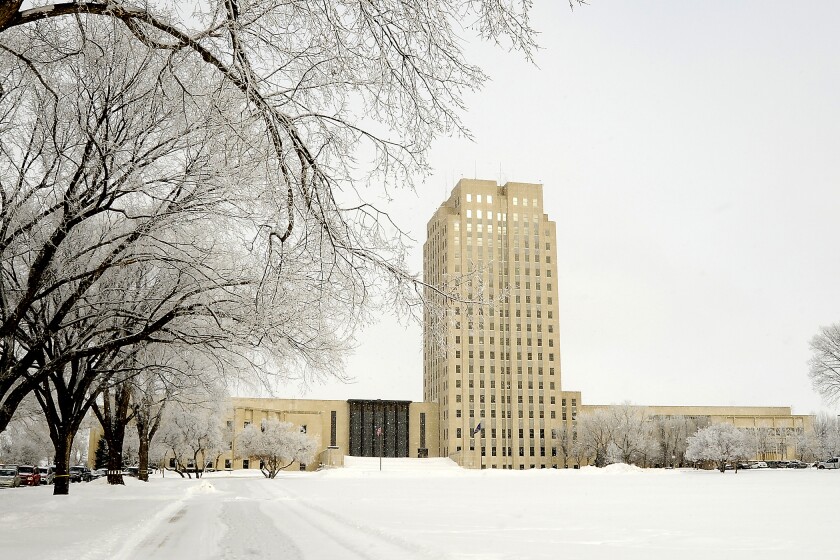 A bill that will offer health insurance to the spouses and dependents of first responders killed in the line of duty passed the North Dakota Senate Thursday, April 1, in a 43-4 vote.
House Bill 1435, introduced by Grand Forks Rep. Zachary Ista, allows the spouses and children of fallen police officers, corrections officers, EMS personnel and firefighters to enroll in the State Health Employees' Plan. It applies retroactively to any eligible family whose loved one has been killed since 2010.
Currently, 17 other states have similar laws in effect.
"It's time that North Dakota join these states, recognizing that we owe the families of fallen heroes both a debt of gratitude and actual tangibility protections that help them through what surely would be the darkest times of these families," said Sen. Richard Marcellais, D-Belcourt. "This bill will hopefully take one of the small burdens off a family's plate in its hours of need."
A number of amendments were introduced prior to the passage of the bill. With those changes, the legislation will not apply to people who serve as first responders on a voluntary basis; it will not apply to first responders who were killed while engaging in unauthorized action; beneficiaries would not be responsible for premiums but would still be responsible for copayments and other expenses; coverage will continue until a spouse reaches age 65 or until a dependent reaches age 26, and a spouse's remarriage would not terminate the coverage; and the state is not obligated to reimburse beneficiaries for insurance costs incurred prior to the passage of the bill.
Sen. Oley Larsen, R-Minot, one of four senators who voted against the legislation, said his hesitance came from the fact that the burden on taxpayers would significantly outweigh the cost of some health insurance policies on the marketplace -- a difference between a $33 plan and a $1,200 to $1,400 plan, by his estimate.
"It's a good idea, but the problem with these good ideas is that sometimes the back end of it isn't such a good idea," Larsen said. "As much as I like the idea, I think the $34 -- or even a person could get even a better deal -- it's hard to make a $300 payment there, because I'm looking out on the marketplace, which they would qualify for. So reluctantly I have to vote no for this bill."
The bill passed the House of Representatives last February in a 75-18 vote, and now awaits Gov. Doug Burgum's potential signature.