No changes planned yet for East Grand Forks schools as Polk County surpasses state criteria for hybrid learning at elementary level
There are eight confirmed active cases of COVID-19 in the East Grand Forks School District as of Monday, Oct. 12, and there were 85 COVID-related absences in the district last week.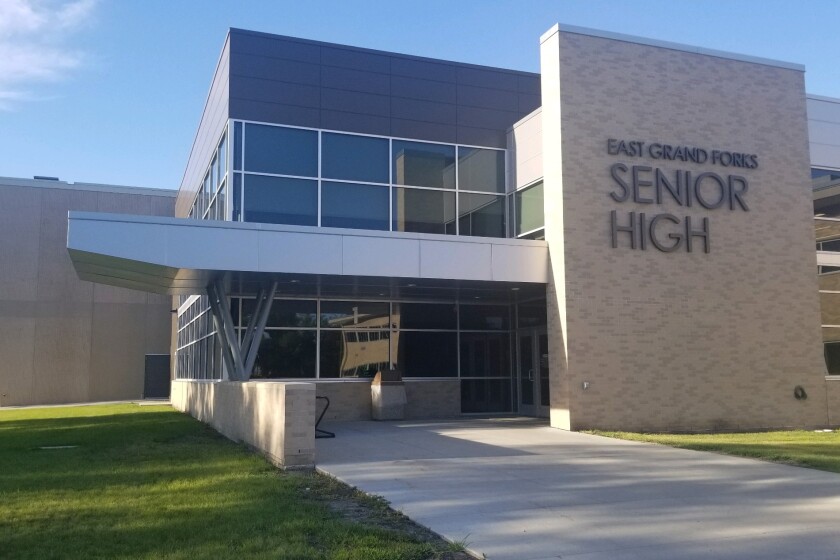 We are part of The Trust Project.
As expected, Polk County has surpassed the 14-day average of 20 COVID-19 cases per 10,000 residents needed to meet the state's criteria for transitioning elementary school students to a hybrid learning model. However, Polk County Public Health Director Sarah Reese has not yet recommended that the East Grand Forks School District make the change.
"She knows where the cases are," East Grand Forks Schools Superintendent Mike Kolness told the School Board Monday night, Oct. 12. "There's no doubt about it, we have more cases in our community than we did probably two months ago. She keeps very close track of that, but I also want people to be aware that it's not an automatic trigger (to transition to hybrid learning)."
The announcement didn't come as a surprise, since it was discussed – and predicted – at the last School Board meeting, on Sept. 28.
At present, high school and middle school students in the district use a hybrid model, attending in-person classes and distance learning classes on alternating days to keep their school buildings at 50% capacity. Elementary school students attend full-time in-person classes. That is the model the state recommends for districts with a 14-day average of 10 to 20 cases per 10,000 residents.
The latest 14-day average in Polk County is 24.69 cases per 10,000 residents. Kolness reported that Reese believes that number will hover around 25 for some time.
He also noted that Reese's reasoning doesn't only have to do with where Polk County's active COVID-19 cases are located.
"She makes a very good point that when those young ones are in school, we know the classmates they're with, their cohort," Kolness said. "Where if they're going to have to be home every other day, you don't always know. They might have to be in childcare, they might have to be at grandma and grandpa's, or wherever."
There were 85 COVID-19-related absences in the East Grand Forks school community last week, Kolness reported. Of those, 78 were students and seven were teachers. He explained that a COVID-related absence could be because that person was showing symptoms or had been identified as a close contact of someone who had tested positive.
He also reported that there are eight confirmed active cases of COVID-19 in the school community, up from five earlier this month. He urged parents and students to remain diligent with their symptom screenings, and reminded parents not to send their children to school if they are sick.