New UND Memorial Union will feature Chick-fil-A, Starbucks, Panda Express
There will be expanded space for student organizations, a large ballroom and a study stairwell, where students will be able to sit and study or just hang out.
The interior of the new Memorial Union is beginning to take shape on the UND campus.
"Just to know that students had an idea for something like this (is exciting)," UND Associate Dean of Students Cassie Gerhardt said. "To see it this close is very exciting."
Construction is going well thus far and the project is expected to be completed in early summer, according to Brian Larson, UND's director of construction management. After construction is complete, staff will spend the remaining summer months transitioning into the new Memorial Union. Everything should be set to go by the fall semester, he said.
The new student center will feature a Chick-fil-A, a Panda Express and a Starbucks. The Starbucks may be among the largest in the state, Gerhardt said. Restaurants like Starbucks and Chick-fil-A are both highly requested and highly profitable on college campuses, Gerhardt said, thus one of the reasons they were included in the new building.
Additionally, there will be expanded space for student organizations, a large ballroom and a study stairwell, where students will be able to sit and study or just hang out. Ultimately, Gerhardt said, the building is designed to bring students together.
"There are so many spaces that used to be separate," she said. "We used to have an International Center building (in one part of campus) and multicultural (in another part of campus) and this brings people together. It's access to services, the food court, all of those things. It's about students. That's why it's so exciting."
UND Student Body President Matthew Ternus said although he will be graduating at the end of the semester and likely won't get to fully experience the new Memorial Union, he's excited to see more than two years of work coming to fruition.
"It's really all coming together," he said.
Larson took several UND administrators and student leaders on a tour of the building earlier this week as construction continues on the interior. Some work remains on the exterior, too.
The new building will be 158,351 square feet, about a 9% increase in total square footage compared to the old building, Larson said. The old Union, which was built in 1951, was torn down in July 2019 , with construction starting shortly after.
Larson added that the new building is designed to function much more efficiently, and due to the focus on energy efficiencies and sustainability, the new building is more economical to operate. That should result in lower utility costs for UND, Larson added.
The building features long windows around most of the exterior, meant to bring in more natural light. Natural lighting was a top request for students during the design phase, Gerhardt said.
"When you can't be outside in the winter, it's still all about the light that comes in," she said. "So, to be in the building and be able to feel the light, that was a priority throughout the design process with the architects.
Several of the windows in the building will be able to darken or dim slightly depending on the amount of light coming in. That will reduce glare while students are studying and also reduce the hassle of dealing with blinds not working properly, Gerhardt said.
Students voted in late 2018 to increase student fees to pay for the new building, which is estimated to cost around $80 million. A vast majority of the building is being paid for by student fees, with UND chipping in $250,000 a year for operating expenses in addition to covering the overhead and direct operating expenses for non-student use.
1
/
3:
An exterior view of the new UND Memorial Union under construction. Photo by Eric Hylden/Grand Forks Herald
2
/
3:
Tyson Gass, an employee of Forks Lath and Plaster, works on the second floor of the new UND Memorial Union Wednesday. Photo by Eric Hylden/Grand Forks Herald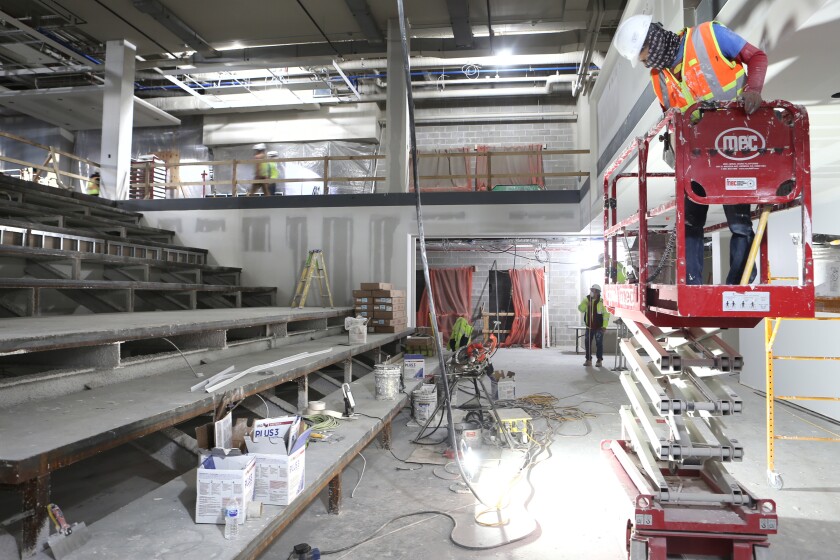 3
/
3:
Contractors work in a lower-level area of the new UND Memorial Union this week. Photo by Eric Hylden/Grand Forks Herald