More refugees resettled in Fargo area than anywhere else in North Dakota
FARGO -- By a wide margin, the Fargo area takes in more refugees than any other place in North Dakota. Fargo, West Fargo and Moorhead, Minn., have received a total of 6,220 refugees since 1997 --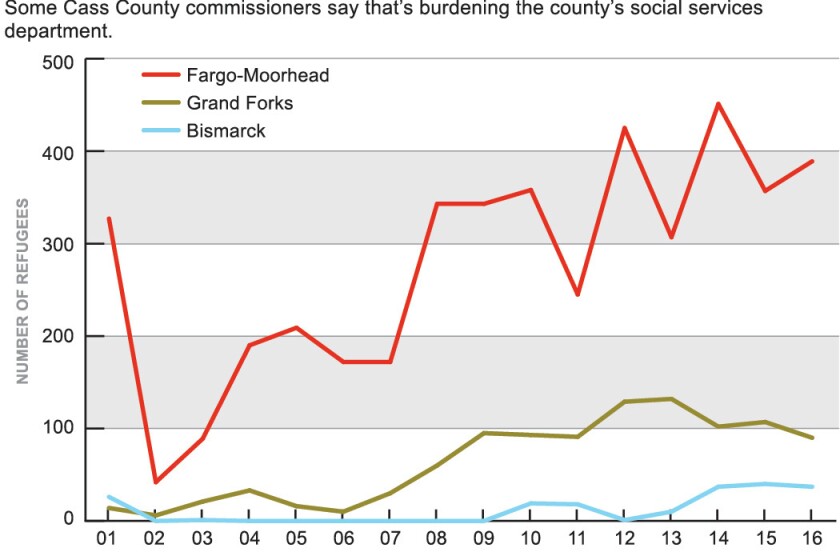 We are part of The Trust Project.
FARGO - By a wide margin, the Fargo area takes in more refugees than any other place in North Dakota.
Fargo, West Fargo and Moorhead, Minn., have received a total of 6,220 refugees since 1997 - over three times the number who arrived in Grand Forks and Bismarck combined, according to Lutheran Social Services of North Dakota (LSS), the nonprofit group hired by the federal government to resettle refugees in North Dakota and Moorhead.
Cass County Commissioner Chad Peterson brought up this discrepancy at a meeting of refugee resettlement officials on Thursday, Sept. 8. He told the group he'd like to see refugees spread more proportionately across the state, given that Cass County's social service system doesn't have enough money to meet their needs.
"Right now, our social services is overburdened to the nth degree," he said. "There is a substantive burden spent when we have folks in this quantity coming in that make the lower salaries."
Cass County represents 23 percent of North Dakota's population. But the county has taken in 72 percent of the state's refugees in fiscal year 2016, which ends this month, according to LSS.
Shirley Dykshoorn, who oversees refugee resettlement for LSS, said one reason so many refugees land in the Fargo area is the availability of housing and support services, as well as job and education opportunities.
Another factor is that the Fargo area has the state's biggest ethnic community, and a large amount of LSS resettlement work involves reuniting incoming refugees with relatives already living here. "Family ties help remove or reduce isolation, and support the families," Dykshoorn said, noting that refugees without ties are mostly being sent to Bismarck.
County Commissioner Mary Scherling, who also attended Thursday's meeting, said she embraces having refugees in the community, but she believes resettlement needs to be done in a fiscally sound way.
"We want to make sure that we have the resources to support people when they come here as well, and maybe other communities could share that responsibility with us," she said. "It shouldn't be a burden to Cass County taxpayers only."
Peterson said he expects oil extraction in western North Dakota to eventually ramp up again, at which point communities there could benefit from refugee workers.
"If you have a new group of folks coming in, let them establish themselves in Bismarck or Minot or somewhere out west because they will need workers out there," he said. "Make them earn tons of money and let them experience capitalism at its greatest."
Scherling agreed that western North Dakota could offer opportunities for refugees. Though, she acknowledged that finding affordable housing there is difficult and added that the same issue exists in Cass County. "Affordable housing is tough everywhere," she said.
North Dakota has three refugee resettlement sites authorized by the U.S. Department of State: Fargo, Grand Forks and Bismarck. Dykshoorn said there are no plans to add other sites.
She said LSS has tried to keep the number of refugee arrivals at a manageable level. In this fiscal year, 389 refugees have been resettled in the Fargo area, 90 in Grand Forks and 37 in Bismarck. In fiscal year 2017, it's projected the Fargo area will receive 313 refugees, 110 in Grand Forks and 50 in Bismarck, but those numbers could increase as much as 10 percent, according to LSS.
In recent years, the refugees arriving in North Dakota have primarily been from Bhutan, Iraq, Somalia and the Democratic Republic of the Congo. That trend is expected to continue in fiscal year 2017, Dykshoorn said.