Mayville State students to choose learning model for after Thanksgiving
Options include in-person classroom attendance and distance learning.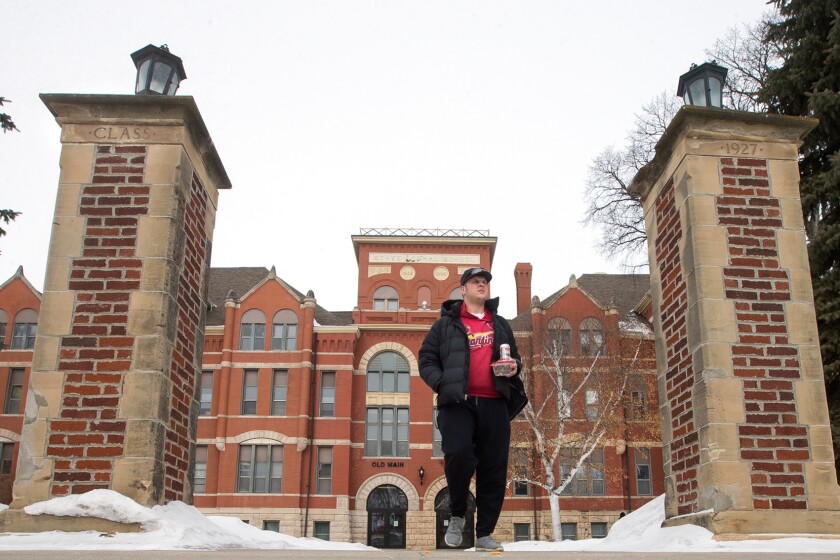 We are part of The Trust Project.
Mayville State students are headed back into the classroom this week after a surge in coronavirus cases shutdown in-person learning for two weeks this month.
On-campus operations and on-campus course delivery resumed Monday, Nov. 16, at Mayville State, President Brian Van Horn said in a recent message to campus. The campus had moved to online-only learning at the beginning of the month after the small eastern North Dakota campus saw a spike in COVID-19 cases that left some COVID-positive students sleeping in the campus wellness center.
The campus had been in online learning mode since Nov. 2 and had planned to return to in-person learning last week, but a delay in test results from a mass testing event on Nov. 6 slowed the return to on-campus operations. All faculty and staff who have recently been working remotely will return to work on campus.
However, soon students will be able to choose how they want to continue learning after the Thanksgiving break.
Van Horn said that "in support of heightened mitigation requirements" for North Dakota announced by Gov. Doug Burgum Friday, Mayville State students will be given the flexibility to determine whether they wish to attend classes in person on campus or to participate online for the remainder of the fall semester.
The new option, known as Comets Choose, will begin Monday, Nov. 30.
"We recognize the seriousness of the current COVID-19 situation in the state and in our communities, and the decision to offer flexibility for students supports the mitigation efforts of the greater community by reducing the population density in classrooms," Van Horn wrote. "Further, we recognize that some students will travel a distance for the Thanksgiving break. This will provide them the flexibility to stay in place in their home communities through the Christmas break, if preferred by the student."
Van Horn said it also will reduce "potential opportunity to bring the virus back to Traill County during the current particularly difficult time of the pandemic."
"Faculty will continue to accommodate the needs of students, providing on-campus classes and meetings by request and, as arranged, for students enrolled in their on-campus classes," Van Horn said of the final weeks of the semester.
Residence halls will remain open and dining services will continue to provide meals. All campus offices will remain operational.
"It is the student's choice as to whether they wish to remain on campus and make use of these services," the message said. "There will be no refunds of residence hall or dining services fees if a student chooses to be away from the campus for the remainder of the semester."
Mayville State will host a mass COVID-19 testing event from 10 a.m. to noon Saturday, Nov. 21, in the Wellness Center gymnasium. Continued testing of students, faculty and staff is encouraged.