Mayville State asks students to 'stay in place' amid coronavirus surge on campus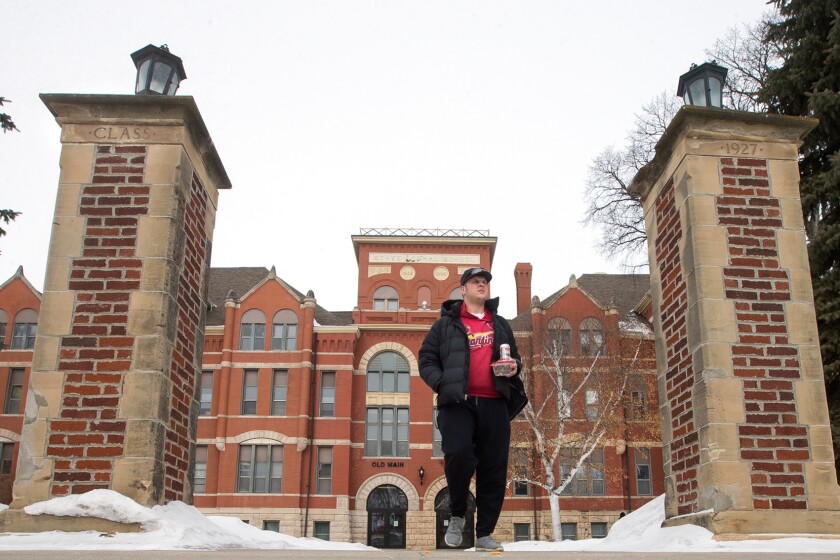 We are part of The Trust Project.
Students at Mayville State are being asked to "stay in place" this week as the small eastern North Dakota campus continues to deal with a surge in coronavirus cases.
In a letter to campus Sunday evening, President Brian Van Horn said that, in response to the "evolution of the contact tracing process" following the latest testing event Tuesday, Oct. 27, university officials are asking students to stay in place Monday, Nov. 2, through Sunday, Nov. 8. Essential campus operations will continue throughout the week, the letter said.
"Staying in place means that students who live on campus should stay in their residence halls or apartments as much as possible and not come and go from the campus," Van Horn wrote. "Students may pick up meals at the university dining center and participate in on-campus COVID-19 testing events that are currently in the planning stages."
Students who live off campus and attend classes on campus are asked to stay in their residences as much as possible, as well. They are asked to refrain from coming to campus, except for COVID-19 testing or to pick up meals at university dining services, if needed.
Saturday, the university announced it would be housing students who have tested positive for COVID-19 in the campus wellness center.
In a letter to the campus sent Saturday, Oct. 31, the university said it will be implementing the campus emergency operations plan, which establishes that housing be provided in the Wellness Center gym. Cots and bedding are being provided by the American Red Cross.
"Moving positive cases to the Wellness Center will free up available housing space needed for those who are identified as close contacts," the Saturday letter said.
University officials announced Sunday that courses will now be held online-only for the next week.
Students who are involved in off-campus student teaching or other internship-type activities should continue to do so.
Additionally, there will be no athletic activities, including practices. Mayville State already had announced last week that it would be canceling two weeks' worth of football games, including a Saturday game against Dakota State in Madison, S.D., and Valley City State in Mayville on Nov. 7.
RELATED: Mayville State to house COVID-19 positive students on cots in wellness center
Nonessential staff will be working remotely this week. The letter said that essential staff will be expected to work on campus, as was the case when the campus moved to remote-only instruction in March.
On-campus services, including dining services, will continue throughout the week. Essential offices will remain open.
The announcement comes as the campus of around 1,100 students experiences a sharp increase in active COVID-19 cases. The campus dashboard shows there are 25 on-campus residents who have tested positive for the virus, plus an additional 18 students who live off campus and 13 MSU employees, as of Sunday morning. The campus has a total of 37 close contacts.
However, the contact tracing process is not complete, according to the campus message.
The campus is planning to have an on-campus testing event later this week. Details regarding the event will be made available as soon as possible.
"All on-campus operations, including full face-to-face class meetings and full office coverage, will resume at 8 a.m. Monday, Nov. 9," the letter said.
Traill County has 116 active cases of COVID-19, as of Sunday. The county has seen a steep increase in cases this week. On Tuesday, Oct. 27, the county reported 57 active positives; since then, the numbers have only grown.