The politics of Grand Forks' 1997 flood, remembered after 25 years
A quarter-century after the flood, former Grand Forks Mayor Mike Brown, the longest-tenured mayor in city history, remembers residents' anger when they looked to city leaders for answers about recovery.
GRAND FORKS — To call the Flood of 1997 — and the long road to recovery that followed — stressful would be the most grandiose of understatements.
Any Grand Forks or East Grand Forks resident old enough to remember the mid-April disaster that year, and the lengthy process of moving from evacuation to cleanup and eventual recovery, has their story to tell. A quarter-century after the flood, former Grand Forks Mayor Mike Brown, the longest-tenured mayor in city history, remembers residents' anger when they looked to city leaders for answers.
The flood led Brown into his 20-year tenure as mayor. He decided to run in 2000, against the wishes of his wife and brother-in-law — they found out about his candidacy when they read about it in the Herald. He said they didn't speak to him for two weeks.
But he said it was the community's overriding anger that prompted him to run, and residents had plenty to be angry about — homes destroyed or damaged, lost personal items and worries about money to rebuild and where to do it. Brown said civility needed to return, even before questions could be answered.
"(People) were frustrated by the disaster, they were frustrated by the mud, frustrated by the river, frustrated by just everything," Brown said. "That's what made me run for mayor. It's like somebody needs to stand up and say 'Hey, let's get to the answer, let's get to where we need to be, together.'"
When dikes in parts of Grand Forks and East Grand Forks broke on April 18 that year, Brown, like so many others west of the river, went to Grand Forks Air Force Base in the largest civilian evacuation in the country since the Civil War. He slept on the floor of a dentist's office, next to an exercise bike. When he returned, he saw people's anger first hand, at City Council meetings held on UND's campus.
"(Former Grand Forks City Council Member) Art Bakken was sitting in the Chester Fritz Auditorium and people would line up for the microphone and yell at him," Brown recalled. "You don't have the answers as a single council person. It has to be a process."
Bakken, who spent a decade on the council in two separate stints, recalled that some people were angry at the city because the dike failed. He said it was necessary to be understanding after the flood, because so many people lost so much.
"I understood what they were going through because I got to see their houses, I got to see them evacuating," he said.
City Council reduction in size
The flood changed the physical landscape of parts of the city. More than 1,500 homes and other structures were deemed to be damaged beyond repair and were demolished. Hundreds of other structures had to be relocated to make way for floodwall construction.
The flood paved the way for the changing of the city's political landscape as well. Voters approved a measure in 2000 to reduce the size of the City Council from 14 to seven members. The measure went into effect after a two-year period of reorganizing. Brown recalled that post-flood, 14-member council meetings would run late into the evening, until 11:30 in some cases, so councilors could offer their input on the issues. He said the late meetings drew the ire of some, and were a source of comedy for others.
"I understand we were great entertainment in Bismarck, on their TVs in the bars," he said.
The difficulty back then was ending meetings when everyone wanted to get in the last word, Brown said. And, he said, with 14 council members "that's a lot of last words."
Longtime Grand Forks businessman Hal Gershman was on the committee that worked to hammer out how a seven-member council would function. Gershman served as council president from 2000 to 2014. He said a smaller council meant members had more stake in their work.
"When we went to seven (members) we had to be focused and attentive to what was going on because you couldn't just sit back and say 'ah so-and-so will do it," he said.
Bakken said it was probably a good thing the council had 14 members right after the flood. Each council member could assist a different department head with reorganizing efforts. Bakken said he and his family members oversaw the donations that came pouring into the city. For about three months he used trucks from his own company, Pro Transport and Leasing Inc., to ferry boxes of supplies around the town to be distributed to people.
"We were just trying to help out," he said.
Praise for initial efforts
But Brown, Gershman and Bakken remember all of the groundwork toward recovery and the vision of the future put in by the councils of 1997, 1998 and 1999, including downtown redevelopment plans, and putting the proposed Alerus Center up for a vote.
They also remember the assistance of the state's federal delegation — then Sens. Kent Conrad and Byron Dorgan, and Rep. Earl Pomeroy — in securing federal funding for recovery. Without those efforts, rebuilding would have been far more difficult, if not impossible.
Bakken said books could be written about the efforts of John O'Leary, then-director of the Urban Development Office; Ken Vein, former city engineer and current council member; and John Schmisek, then-finance director of the city. The "tri-chairs," Bakken said, worked on a number of different initiatives, including plans for the water treatment plant.
Gershman said he believes the public should reflect on the efforts of those who were in local government immediately after the flood.
"We tend to get a lot of the credit when we got elected in 2000," he said. "That's very nice, but the fact of the matter is we inherited some very, very good things to work with."
Pat Owens, who Brown defeated in the mayoral election in 2000, was widely considered a hero, and the face of the city's suffering during the flood. She worked with federal leaders, including President Bill Clinton, with whom she shared the stage when Clinton spoke to evacuees at Grand Forks Air Force Base in late April 1997.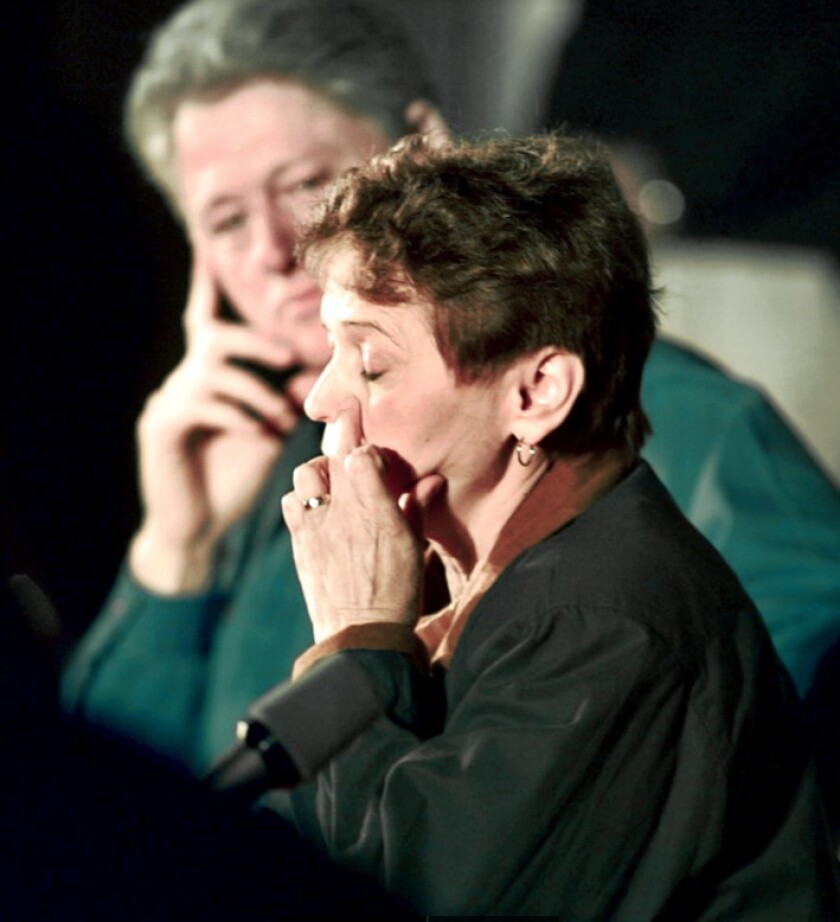 But change is not uncommon after a disaster, Brown said, adding that he was lucky to be the beneficiary of residents' desire to heal and move on with flood recovery.
"I got tired of people fighting," he said.
His sentiment at that time: "Let's work together. We can fix this. We can get through this."
Brown said he knew the city was well on the mend when the flood of 1997 stopped being a singular topic of conversation, as though Grand Forks residents had gone through psychiatrist Elizabeth Kubler Ross' five stages of grief — denial, anger, bargaining, depression and acceptance.