Supporters, opponents of proposed wind farm address Grand Forks County Commission
Opponents concerned about radio interference at Grand Forks Air Force Base from turbines, developer's investments in China.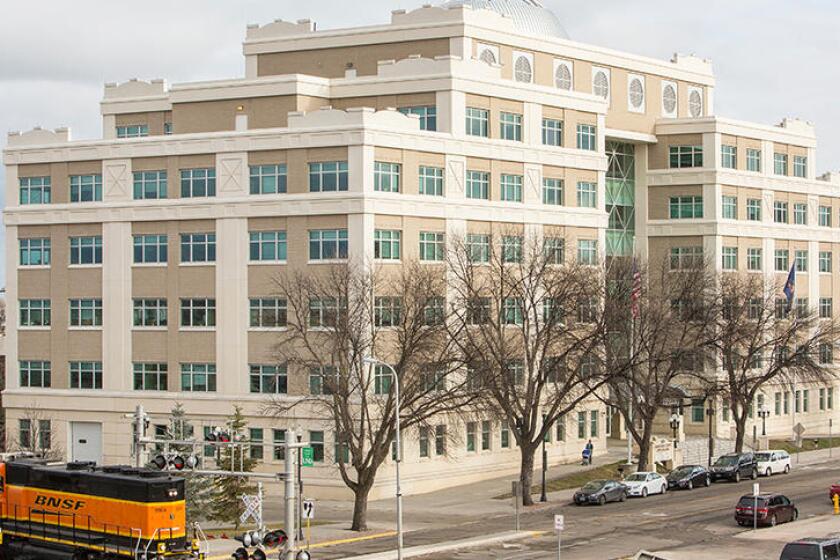 GRAND FORKS – Supporters and opponents gave their opinions about a proposed wind power development during Tuesday's regular meeting of the Grand Forks County Commission.
The proposed development is from Whiskey Creek LLC – a branch of Engie SA, a French multinational utility corporation. The proposed development site would encompass western Grand Forks and eastern Nelson counties.
According to Tom Ford, county director of administration, representatives from Whiskey Creek have been reaching out to landowners in the area, gauging their interest in providing leases for construction.
Tom Paulson, of Larimore, spoke in favor of the project. According to Paulson, approximately 25 landowners near the proposed development site have expressed interest in granting Whiskey Creek leases to use their property.
"This is not a bad thing for us from a revenue standpoint," said Paulson. "We expect $850,000 a year in property tax revenue for the county. This is nothing against you guys (commissioners), but the eastern side of Grand Forks County forgets about the western side. I have to believe some of that money will come back to the west and fix the culverts and bridges, put gravel down and invest in schools. We have to look forward – as a county and a state. It's not 1950 anymore. I believe we need to be progressive and do what we can."
Todd Leake, vice president of Leake Rocke farms in Emerado, expressed concerns about the proposed development's proximity to Grand Forks Air Force Base.
"The escarpment of western Grand Forks County holds one of the highest potential for wind energy generation in the United States," said Leake. "That said, it is also 12 miles from the air traffic control radar located at Grand Forks Air Base. Wind turbines on the escarpment will interfere with air traffic control radar, and also with the National Weather Service radar located in Mayville."
Leake also raised concerns about Engie SA's investments in China.
"Engie has extensive investments and engagements with the People's Republic of China," said Leake. "As a foreign entity investing in the U.S., it may be subject to review. It will be crucial to ask Engie and Whiskey Creek LLC if they have engaged with the Air Force's director of foreign investment, and if they intend on filing with the Committee on Foreign Investment in the United States (CFIUS)."
Ford said any development would require Whiskey Creek to obtain letters of endorsement from the air base, UND's John D. Odegard School of Aerospace Sciences and the Grand Forks Regional Airport Authority. Following the procurement of these endorsements, the proposal would then undergo review from the county's planning and zoning committee, followed by a full commission vote.
In other news from Tuesday's commission meeting:

Commissioners approved a request from Mandy Iverson, 2023 winner of Mrs. North Dakota International and community mental health coordinator for Grand Forks County, to designate April 30 as National Therapy Animal Day. Iverson spoke of the benefits these animals have had on the mental health of herself and others.
Kari Goelz, Grand Forks County emergency manager, spoke of the urgency of finding a new home for the county's emergency operations center. According to Goelz, the county has been without a permanent home and has been operating virtually for the past three or four years.