Molly Yeh receives honorary degree, Space Force leader tells UND grads to invent their future
President Andrew Armacost presided over the first in-person spring commencement since 2019 Saturday afternoon.
GRAND FORKS – Nearly 2,000 UND graduates received their diplomas on Saturday, May 14, in two UND commencement ceremonies that brought a senior U.S. military leader and a television food show host to the Alerus Center.
President Andrew Armacost presided over the first in-person spring commencement since 2019 Saturday afternoon, after having conducted the ceremony for graduate students that morning. Giving the keynote addresses at both ceremonies was Gen. John W. "Jay" Raymond, chief of space operations for the U.S. Space Force.
"Congratulations to the graduating class of 2022, here today, to receive their bachelor's degrees," Armacost said. "We are certainly so proud of your accomplishments, and are happy to be here to celebrate with you."
Prior to the start of the ceremony, Armacost, not yet wearing his graduation regalia, met with students in the staging area to offer words of encouragement. Meanwhile, thousands of parents, other family members and friends made their way to their seats, nearly filling all that were available at the event center.
The afternoon ceremony for undergraduates also included the conferring of an honorary degree to Food Network show host Molly Yeh, along with two other notable Grand Forks residents, while two UND faculty members were presented as Chester Fritz Distinguished Professors that morning.
Among the graduates on Saturday was a student who had a long road to recovery — and graduation — after being involved in a serious car crash, and another who achieved unique academic honors while in high school and at UND.
In 2015, when Shayna Monson was 21, the vehicle she was driving was struck by a drunk driver in Bismarck, shortly before she was set to graduate. The crash left her with a traumatic brain injury that took years for her to recover from. In August 2021, she was able to return to UND to finish the remaining courses for a bachelor's degree in biology.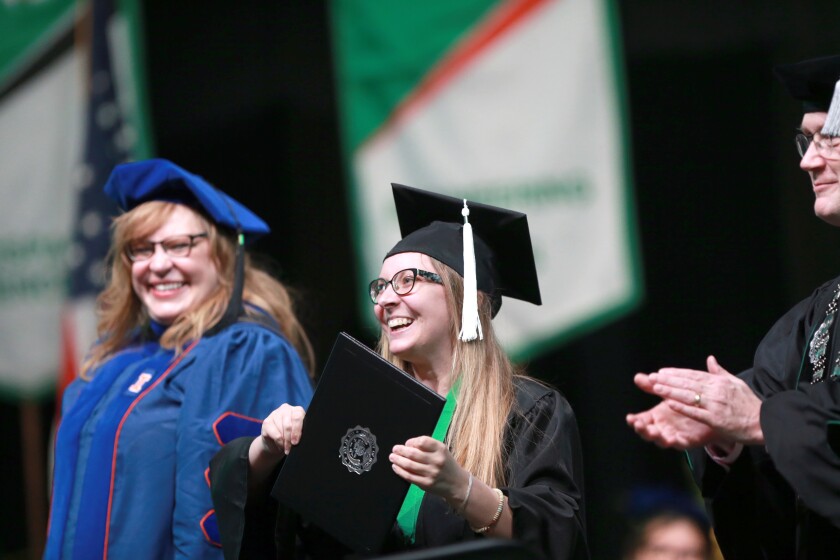 After having her graduation delayed by seven years, Monson said she was happy to walk across the stage Saturday. The Dickinson native said she will return home for a while, and seek work in a medical lab, but only for so long — she's thinking about returning to UND for graduate school.
"It feels amazing," Monson said. "I'm just so happy and thankful to be back here."
Taylor Roehl, of New Leipzig, N.D., came to UND after scoring a perfect 36 on her ACT exams. According to UND Today, she graduated with degrees in both German studies and forensic science, along with minors in pre-medicine, chemistry and biology. This summer, she plans to apply to medical school with hopes of eventually specializing in anesthesiology.
Roehl continued her tradition of excellence while at UND, and recently was selected for the Fulbright German English Teaching Assistant Program. A few weeks prior to that, she received the 2022-2023 Congress-Bundestag Youth Exchange for Young Professionals. She chose to participate in the latter, however, as the two programs run concurrently.
Molly Yeh, host of the Food Network show "Girl Meets Farm," business leader Henry Herr and Delore Zimmerman, founder and president of Grand Forks-based Praxis Strategy Group, each received an honorary doctorate of letters , which was conferred by Armacost.
Speaking before the afternoon ceremony, Yeh said when she moved to the region her husband, Nick Hagen, told her it was like the fictional town of Stars Hollow, the backdrop of the TV show "Gilmore Girls," but "with an incredible university and it gets a little bit colder." Over her years living in the region, Yeh said her ties to the community and UND have deepened. Students there have worked on the production of her show and they test out recipes for her cookbooks. She's a university hockey fan, and her husband plays with the UND Trombone Choir. She said receiving an honorary degree takes those ties further.
"I've just formed all these great relationships with community members (and) of UND," she said. "It's an honor to officially be a part of this community."
Yeh said her husband cryptically told her to expect a call from an unknown number, but he didn't tell her why. She was worried, she said, about scam calls, but when that call came from Armacost, informing her about the honorary degree, she was delighted.
"It was completely unexpected, and I was thrilled and so honored," Yeh said. "I was also relieved that I didn't have to be mad at my husband."
On stage, Herr, who helped found medical companies Healthways — now Tivity Health — and AmSurg, thanked the graduates for allowing him to celebrate alongside them, and told them they can find opportunities in challenges they will encounter.
Zimmerman said the graduates will encounter a world of rapid change. He urged the students to seek solutions to national issues, at companies where they will work and in their communities.
"As you go forward, be resolved to do the things you want to accomplish and be resourceful," he said.
Raymond, the chief of space operations for the U.S. Space Force, told the graduates to invent their future. He noted that so many jobs, his own included, did not exist when he went to school, but today he leads "the most high-tech military service in our country."
Raymond said the Space Force values of courage, commitment, connection and character can serve them well in their future endeavors. Concerning character, he said to always do the right thing, no matter the circumstance, and even if no one is watching or applauding.
"You will be defined by your character," he said. "Nobody can take that from you, you can only give it away. I would encourage you not to do so."
Also recognized at the ceremony was Raymond's wife Mollie, whom he met when she was a student at UND, and when Raymond was stationed at Grand Forks Air Force Base. Mollie Raymond was recognized by Armacost for her advocacy efforts on behalf of military families and spouses, to make sure they have the necessary resources to be successful. For those efforts, she received the President's Medal, the highest honor the President of UND can confer on their own authority.
Armacost and Raymond took the time to speak with the Herald prior to the commencement. Raymond said he was honored to be invited to speak at the ceremony. Throughout his career, he said he has heard of the programs at UND, including its Space Studies program.
In August 2021, Armacost signed an agreement with the Space Force to become the first university in the nation to collaborate on training and technology issues. Raymond said his branch of the military requires highly-trained individuals, whether they be military or civilian.
"To have graduates that are educated in science and technology, specifically with the space focus that UND has, is really beneficial to us," he said. "It really helps us make sure that space is always accessible, and that Americans always have the space capabilities that they need."
And those needs, he said, aren't immediately apparent, but most people rely on some form of space-based technology before their morning coffee.