Merrifield interchange, courthouse security and Fufeng project top commission's agenda
Town hall scheduled for Oct. 20 to discuss Fufeng's implications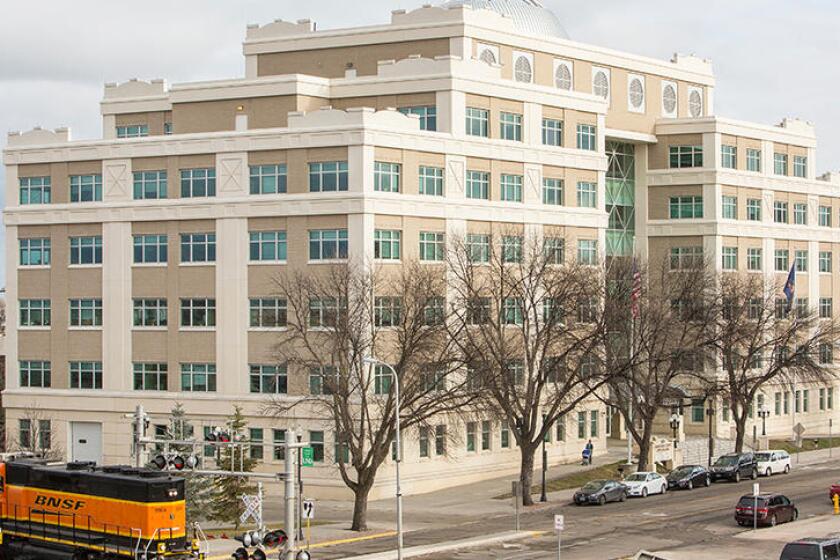 We are part of The Trust Project.
GRAND FORKS – Grand Forks County Commission members on Tuesday discussed two items of particular relevance to the county's safety – a proposed interchange at Merrifield Road and Interstate 29, as well as security upgrades to the county courthouse.
The interchange would alleviate truck traffic in Grand Forks by routing traffic onto I-29 directly at Merrifield, rather than the current reality of traversing city streets such as 32nd Avenue.
Referendum to rebuild Valley would have $61 million price tag, include a new central kitchen facility for the district
Nick Brown, a Grand Forks resident, said tenants at his business park deal with truck traffic on a daily basis.
"We've been needing this interchange for quite some time. It's been over 25 years since we've been working on it," Brown said during Tuesday's meeting. "We have well over 100 trucks that go through town that don't need to. It's a safety issue."
Sheriff Andrew Schneider said the Merrifield overpass is among the most dangerous in the county, especially in the winter.
"It's whiteout conditions, and with the angle the overpass is at, snow drifts perfectly and causes very dangerous conditions," said Schneider. "I can see the need to completely replace that."
Commissioner Bob Rost said the project would require federal funding, as it entails constructing entrance and exit ramps to the interstate. The commission approved a motion to advance the interchange project to environmental review.
Schneider then spoke of improvements to courthouse security, at a cost of $231,715, of which the county would pay $57,930. The proposal would create a fully secured entrance into the courthouse, a restricted exit-only door and an X-ray machine to screen visitors' bags more expeditiously.
"The improvements would also include a P.A. system throughout the entire courthouse," said Schneider. "If there is an active threat situation or a medical emergency, all floors could be notified at the same time, instead of the notification system in there now, which is two-way radios."
During the committee reports session, members discussed the need for more public input on Fufeng, the controversial proposed corn milling plant planned for Grand Forks' northern edge. The Committee on Foreign Investment in the United States is conducting an independent review on the project. However, according to Tom Ford, county director of administration, this review may not be complete until late November.
Also Tuesday, Commissioner Diane Knauf expressed concern over the potential impact of Fufeng for Grand Sky, an aeronautics-focused business park near the Air Force base, which houses tenants such as defense contractor Northrop Grumman. Many believe Fufeng, which has its roots in China, would be a security risk, considering its proximity to Grand Forks Air Force Base.
"Do we want to risk losing missions at our base? Do we want to risk losing tenants, or not getting tenants at Grand Sky?" asked Knauf. "CIFIUS can say it's OK, but we're still going to see and have ramifications from that."
Commissioner Tom Falck said he was cognizant of Knauf's concerns, but urged reticence until the committee's report is released.
"We're not the scientists who can determine whether or not there's a security risk," said Falck. "It strikes me as frightening that there could be a security risk. But we need to know what Air Force and (Department of Defense) experts have to say about this, and I'll go with the science."
In order to appease concerns, and garner more public input prior to CIFIUS' report, Falck scheduled a town hall meeting for 10 a.m. Oct. 20, at the county governmental center.
In other news, Tuesday:

Commissioners approved a request from the Sheriff's Department to renew a North Dakota Department of Transportation contract, allowing deputies to expand their hours for targeted enforcement on violations, including driving under the influence and speeding. This enforcement is part of the state's "Vision Zero" initiative to reduce and ultimately eliminate traffic fatalities.
Grand Forks county received approximately $12,000 in funding from litigation against opioid manufacturers. The funds will remain in savings until their agreed upon manner of appropriation is determined.