Incoming Grand Forks council members, municipal judge sworn into office
Council newcomers Rebecca Osowski, Ward 2, and Tricia Lunski, Ward 4, newly elected Grand Forks Municipal Judge Kerry Rosenquist and reelected council member Dana Sande, Ward 6, were sworn in on Tuesday night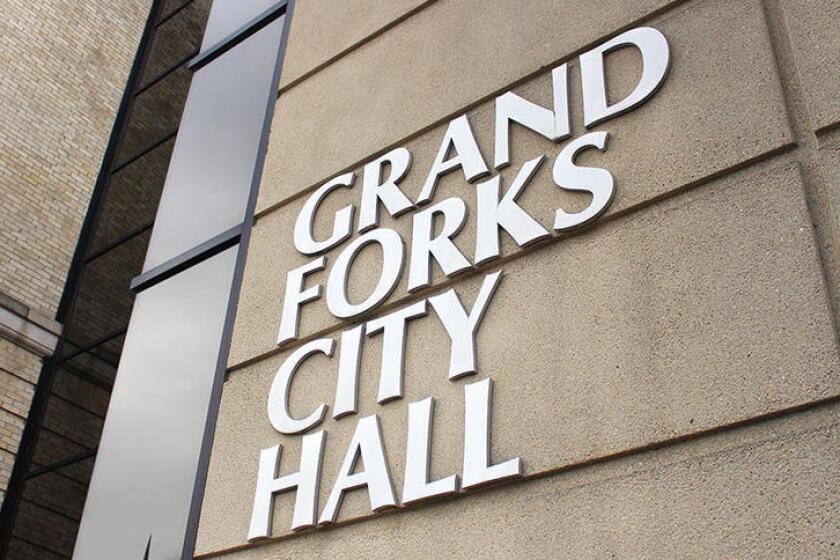 We are part of The Trust Project.
GRAND FORKS – Incoming Grand Forks City Council members Rebecca Osowski, Ward 2, and Tricia Lunski, Ward 4, along with newly elected Grand Forks Municipal Judge Kerry Rosenquist, were sworn in on Tuesday night after winning elections June 14.
Dana Sande was also sworn in as he continues to represent Ward 6, which he has done for 12 years.
Rosenquist was administered into office by departing Municipal Judge Alvin Boucher. Osowski, Lunski and Sande were then administered into office by Rosenquist.
Osowski, who was running against Matthew Ternus for Ward 2, won with 58.8% of the vote. Lunski, who was running against Harry Samuelson and Ward Johnson for a Ward 4 seat, won with 46.5% of the vote.
Rosenquist edged Larry Richards for the municipal judge position.
Departing council members Katie Dachtler, Ward 2, and Jeannie Mock, Ward 4, shared comments on their time serving the community.
"As the 12th women to serve since 1941, the second person of color to serve since 1976 and as the first woman of color to serve since the city's incorporation in 1881, I am truly fortunate to have been given the trust of community members who allowed me to help them make their community more reflective of their experiences, wants and needs," Dachtler said.
Some of the changes Dachtler reflected on included the resolution in Grand Forks to annually recognize Indigenous Peoples Day, implementing the Welcoming Community Roadmap, collaboration on improving rental ordinances and the adoption of hate crime ordinances.
Mock, who served as vice president of the council, said she is proud for "stepping up and taking the chance" to serve as a council member.
"I've learned a lot about myself, a lot about public discourse and a lot about the challenges and opportunities of local government," Mock said. "It's intimidating to put your name on a ballot and to be in the public eye, but I appreciate having grown in my abilities to ask questions, listen to ... opposing viewpoints and working with people in times of agreement and disagreement."
A discussion Monday by the Grand Forks Committee of the Whole could lead to changes for public comments at city meetings.
Sande, who has served as council president for eight years, will continue in that position following a motion by council member Danny Weigel.
"Sometimes he and I disagree, sometimes others disagree, but I always know that he is as focused on what he feels is best for the city. I think that's important as we move forward addressing a lot of the issues we have coming up," Weigel said.
Bret Weber was elected council vice president after a motion by Kyle Kvamme.
"I think one of the most important things that we need on a council is different perspectives. We we need different perspectives to make sure that we are making decisions based on the way our community truly feels ..." Kvamme said.
Current City Attorney Dan Gaustad also was reappointed during the organizational meeting.