Grand Sky looks to future growth in 2022
This past fall, Grand Sky celebrated the opening of its new 18,000-square-foot Multi-Tenant Building 1, which will support future growth at the site.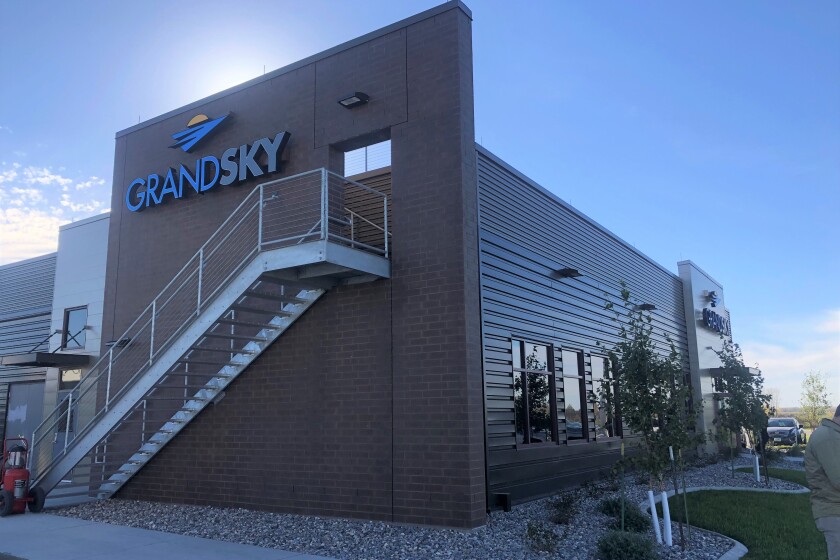 We are part of The Trust Project.
GRAND FORKS – On the list of new things to watch for this year at Grand Sky, an unmanned aerial systems business and aviation complex, is the possibility of additional tenants.
Grand Sky, located on 217 acres at the Grand Forks Air Force Base, provides space for Northrop Grumman and General Atomics, but the complex could see up to three newcomers in 2022, according to Grand Sky President Thomas Swoyer.
The primary area that Grand Sky is developing is around a 17-acre piece of concrete that used to have bombers on it and, he said, more recently, KC-135 tankers. The site has attracted Northrop and General Atomics, both aerospace and defense technology companies.
"Now we're starting to attract some other groups as well," Swoyer said. "We went from zero to just under 190 employees who report there every day."
This past fall, Grand Sky celebrated the opening of its new 18,000-square-foot Multi-Tenant Building 1, which will support future growth at the site. The facility's tenants include General Atomics, InnoVets Aerospace, Grand Sky Airfield Operations and the Northern Plains UAS Test Site's Vantis, the statewide Beyond Visual Line of Site network.
"Grand Sky is the place to be for all things UAS and this new expansion, which is already fully leased, proves just that," Sen. John Hoeven said in a statement at the time of the grand opening in October. "The multi-tenant building enables companies of all sizes to be part of the incredible UAS ecosystem we've worked to develop in Grand Forks."
Grand Sky received support from the state of North Dakota, which, through the Department of Commerce, appropriated money to invest in infrastructure at the complex. The tenant buildings are privately funded. To date, the state has spent $21.5 million on Grand Sky with another $7 million ready to spend, Swoyer said. The private sector has put $90 million into the complex.Swoyer said he expects growth to continue. "We've got a bunch of other companies that have raised their hand and expressed interest in having smaller footprints, but footprints nonetheless, out at Grand Sky," he said. "I expect two or three new companies to sign up and be out there over this next year, with construction starting on one or maybe even two of their facilities. I think that'll continue to grow."
Nothing yet has been signed regarding additional tenants, but he said there also continues to be expansion efforts by General Atomics and Northrop Grumman.
"I get the question a lot: 'How many more tenants are you going to have?' But every time we turn around General Atomics and Northrop Grumman keep taking more space," Swoyer said. "That's great that they continue to invest in the community, that they continue to find value in operating in Grand Forks, because, frankly, for their businesses, it is a great value. And so they keep expanding their programs. It changes the ebb and flow a little bit, but we can work with that and it's great to see them growing at Grand Sky."
Northrop Grumman said the Grand Sky facility is especially important to its development, prototyping, production and testing of military aircraft systems, both manned and unmanned. From conducting Firebird flight operations to supporting the Department of Defense Test Resource Management Center task order to reconfigure four EQ-4 Block 20 Global Hawk aircraft to be used for the SkyRange program.
"Grand Sky's 35,000-square-foot, state-of-the-art hangar is an ideal location to undertake the system modifications necessary to optimize the Global Hawks for the SkyRange mission," said Jane Bishop, vice president and general manager, global surveillance, Northrop Grumman. "The SkyRange program encapsulates Global Hawk's core abilities – high-altitude, long-endurance with extensive mission and system flexibility."
Mike Fridolfs, site director at Grand Sky, Northrop Grumman, said there are a lot of talented people at the Grand Forks site, who help to turn enterprising ideas into innovative reality. Northrop Grumman welcomes interns and full-time employees through partnerships with University of North Dakota and Northland Community & Technical College. According to Northrop, because of this patronage, North Dakota will have a continued role to play not only in building its high-tech industry forward, but also in shaping the future of autonomous air.
"The talent we have in North Dakota allows us to be successful in the state. Areas of work include engineering research and software development, pilot, operator and maintainer training along with operations and mission analysis, and ultimately aircraft maintenance," Fridolfs said. "Our commitment to helping place students and graduates in the local unmanned aerial system industry remains steadfast."
Additional developments at Grand Sky this year may include weather monitoring capabilities, improved security to better support tenants, and using drones to deliver lunches to people at the complex. Swoyer said the latter will be in preparation for other types of drone deliveries in the future.
"We are trying to use a drone for every single task that can be done with a drone," Swoyer said.