Grand Forks School Board wrestles with, but rejects, mask mandate
Wide-ranging discussion reveals complexity of the issue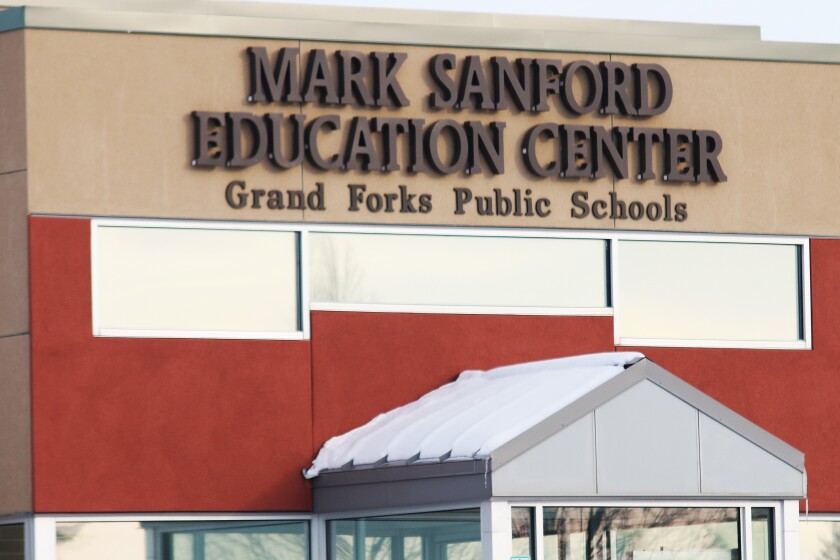 The Grand Forks School Board came close to a mask mandate for everyone in its facilities this coming school year, but the motion failed after nearly two hours of discussion during a special meeting Monday, Aug. 16.
If it had passed, the motion would have reversed last Monday's decision by the board to recommend, but not require, masks in schools.
It means that for now, masks only will be recommended in Grand Forks public schools. However, the question could still come up at a future meeting.
The motion to require masks be worn inside Grand Forks schools until Oct. 20, or until the district brought a request to change the requirement, failed after a tie vote -- four yes, four no. Voting in favor were Jacqueline Hassett, Cynthia Shabb, Shannon Mikula and Amber Flynn. Voting against the motion were Jeff Manley, Bill Palmiscno, Doug Carpenter and Chris Douthit. Eric Lunn was absent.
Much discussion ensued about the steps necessary to keep students safe and in the classroom. The district is not providing distance learning in the next school year, as it had from April 2020 and through May 2021, due to budget constraints.
"I feel the public health professionals are practically begging us to mandate masks," Flynn said. "The notion that this (virus) doesn't affect kids is false. We've seen that around the country. We have a duty and an obligation to keep kids in school and keep them learning."
Palmiscno and Manley questioned at what point would the requirement to wear masks be lifted.
"The goal post seems to be moving all the time," Palmiscno said.
Flynn said the board has the authority to put parameters in place for the district to follow in regard to masks.
Mandating masks will discourage vaccination, Carpenter said. "There will be great resistance to this in the community because we will have kids come to school without masks."
If masks are mandatory, "we would have to enforce that," Superintendent Terry Brenner said, noting that students "could not enter the building without masks."
Earlier, the board weighed in on a motion made by Hassett to require masks for the first semester, but others felt that was too long a time frame. That motion was defeated by a vote of seven to one, with the sole favorable vote cast by Hassett.
Carpenter offered an amendment that would have required students and teachers up to grade six to wear masks, but recommend masks for those in grades seven and higher. That motion was defeated six to two, with the only favorable votes being cast by Carpenter and Manley.
In reviewing the district's draft document regarding how to handle COVID cases that are identified among students or teachers, there was confusion among board members regarding close contact tracing and quarantine requirements.
Those questions will need to be ironed out in a meeting scheduled for Tuesday, Aug. 17, between school district administrators and Grand Forks Public Health employees, said Linsey Stadstad, the district's human resources director.
In a survey of the Grand Forks Education Association members, of those who responded, 66% favored keeping the mask recommendation in place for adults and 42% favored keeping it in place as a recommendation for students, said Melissa Buchhop, association president. Thirty percent want masks to be mandated, she said.
"Some buildings are ridiculously hot," Buchhop said, noting that she has heard the comment from teachers, "I got vaccinated so I don't have to wear a mask at school anymore."
Mikula requested that the district administration provide a report to the board, for its next meeting Monday, Aug. 23, that outlines the cost that resulted from shutting down the schools and going completely to distance learning for 17 instructional days beginning in November.