Grand Forks School Board approves Fufeng plan, sends Olive Ann proposal back to committee
For the Fufeng project, the school district, city, Grand Forks County, and Grand Forks Park District would, for the first 10 years after the plant is built, receive 10% of the taxes the company would otherwise pay on that new value.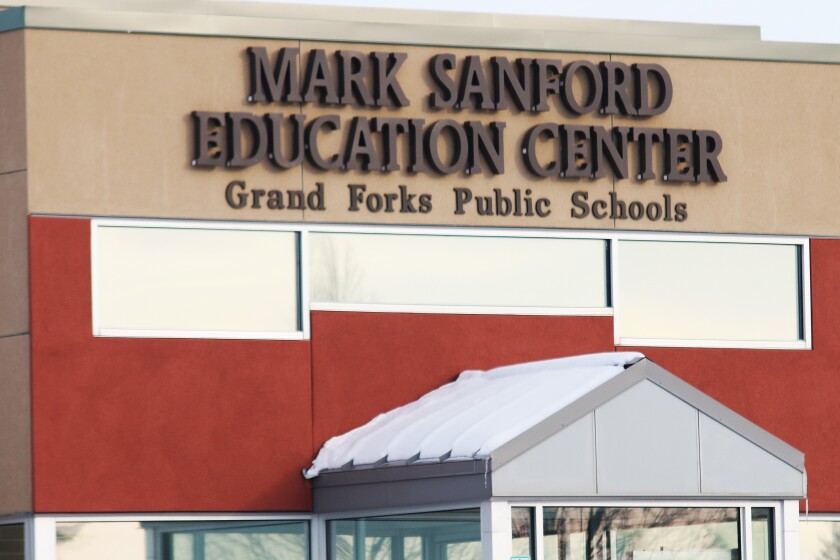 GRAND FORKS – Grand Forks School Board members approved one "once-in-a-lifetime" tax break and sent a second, "once-in-a-generation" one back to a committee.
Board members voted 8-1 on Monday night to approve a "payment in lieu of taxes" plan for the Fufeng Group's proposed corn milling facility north of town for which business and city government leaders have pushed, largely behind the scenes, for more than a year. But they were considerably more skeptical of a similar tax break for a proposal to renovate the Edgewood Corporate Center building in downtown Grand Forks into the Olive Ann boutique hotel . Board members voted unanimously to send that proposal back to the school district's finance committee for further review and consideration.
In a "PILOT" plan, the school district and other local governments would only tax a portion of the additional value a redevelopment project tacks onto a property. Often, this means a developer continues, for years, to pay property taxes as if they hadn't touched a parcel of land, even as its value skyrockets.
For the Fufeng project, the school district, city, Grand Forks County and Grand Forks Park District would, for the first 10 years after the plant is built, receive 10% of the taxes the company would otherwise pay on that new value. That percentage would increase to 25 for the 10 years after that.
The Olive Ann plan is more complicated because it accompanies a fundamentally similar "Renaissance Zone" tax break, but the net result, according to documents supplied by city staff at Monday's meeting, is that Grand Forks Public Schools would continue to receive between $18,000 and $39,000 worth of property taxes from that building through 2038, even as the property's value rises from an estimated $3.5 million to $19.4 million.
Board member Cynthia Shabb was the lone vote against the tax break for the Fufeng plant. She raised questions about its long-term effects on the environment, whether there are enough workers in Grand Forks to staff the 233 jobs the company claims it will need to staff the plant, and whether the company treats its workers ethically.
Shabb and other board members were much more skeptical of issuing a tax break for the hotel project. Some questioned the longterm viability of an upscale hotel and event center, while others wondered if its economic benefits would be too narrow.
And Board Vice President Amber Flynn noted that district leaders have had a tough time justifying the tax breaks the board has OK'd in the past while simultaneously asking for voters to approve property tax hikes to pay for building maintenance and other district projects.
"That's a hard sell to our community," Flynn said.
She and other board members took issue with an email sent by Phil Gisi, who owns the Edgewood building and is the CEO of Edgewood Healthcare. The email is addressed to City Administrator Todd Feland, who distributed it to board members and district staff.
"If the GFK School Board denies the PILOT request," wrote Gisi, who noted that he personally donated $250,000 to the district's emerging Career Impact Academy , "it is essentially telling everyone it is not willing to support local entrepreneurs, businesswomen and businessmen to the degree that it supports outside investors in our community, or to the degree other communities support their businesses."
Gisi, in his email, said the vibrancy of downtown Grand Forks depends on an upscale boutique hotel and claimed the company that would run it has identified 19 events to pursue that are not normally held here, including ones organized by the North Dakota Hospital Association. He also said that the project wouldn't happen at all if the company's request for a tax break was scaled back any further.
Board President Eric Lunn said he disliked that the school district has to worry about economic development in the first place.
"It's not as clear cut as Fufeng. That was a no-brainer kind of thing," he said of the tax proposal for the hotel. "If it has to go back to the finance committee for people to review further, that's fine, but I think this is a project that is a mistake if we don't approve it because this is good economic development 101."
The finance committee is set to take another look at the Olive Ann tax break on Tuesday, Feb. 1.
In related news, board members:

Were briefed on a handful of programs at South Middle School, including a student media effort and "Sources of Strength," which aims to boost student mental health.
Were briefed on the often-striking disparities between white and non-white students at the school district. White students graduate at a much higher rate – 91% – than their counterparts in other racial demographics. And students who identify as Asian, Black, Hispanic, American Indian, Pacific Islander, or as two or more races make up 33.96% of the student body this year, according to district staff, but comprise a larger proportion of Grand Forks Public Schools' special education enrollment and the ranks of students who are suspended in a given year.
Accepted the resignation of Scott Berge, the school district's business manager, who said he's headed to Altru Health System to be a controller. Berge was the hospital's finance and budget director from 2015 until he was hired by the school district three years ago. School district staff said no complaints or grievances exist against Berge, and district leaders hope to have a recommended replacement for the school board to consider by mid-March.