Grand Forks residents among the honorees at annual Prairie Business recognition event
Garth Rydland and Steve Burian received Leaders & Legacies recognition, while a number of others from Grand Forks were among the honorees in the 40-under-40 and Top 25 Women in Business categories.
We are part of The Trust Project.
FARGO – Several business leaders from Grand Forks were among those honored by Prairie Business on Thursday evening at the magazine's annual awards ceremony in Fargo.
The awards event, which has been held since 2016, celebrated winners in the magazine's Leaders & Legacies, 40 Under 40 and Top 25 Women in Business award categories.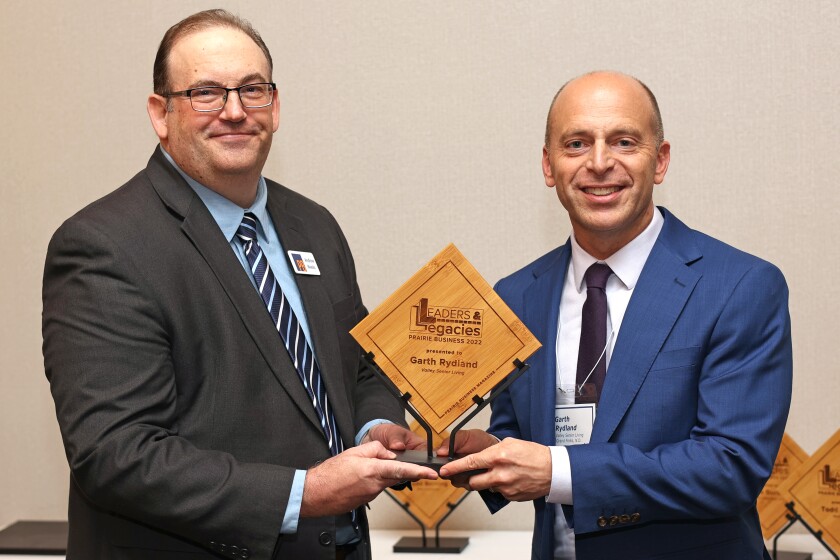 Two from Grand Forks were named recipients of this year's Leaders & Legacies , the publication's highest honor given to top executives in the region: Steve Burian, president and CEO of Burian & Associates; and Garth Rydland, president and CEO of Valley Senior Living.
About 100 people, including award winners and their guests, attended the evening ceremony held at the Radisson Blu. Not every award recipient attended the event, but each was named during the ceremony. Leaders & Legacies recipients in attendance were invited to give a short acceptance speech.
"First of all, thanks to Prairie Business," said Rydland, who then made the audience laugh when he continued: "And thanks for everyone getting together on my birthday."
Rydland said he turned 48 on Thursday, but when the laughter quieted he turned to the more serious topic of his profession.
"Long-term care kind of flies under the radar," he said. "We have 10,000 employees in North Dakota. We care for over 8,200 people – for a lot of your friends and family – in our state, and we've had a really tough few years, as you might imagine. As a profession, I think we've been tested to the limits, and if you have any long-term care or health care folks in your lives, please reach out to them. Whether they're in the acute care side or the long-term side, there are a lot of really damaged folks in health care right now and they really need your support. And so I think if there is anything I can reach out and say today it is please support those folks."
He also gave a nod to his wife, Chris, and the other award winners in the audience, noting "A lot of you today are being honored because you have passion and you have persistence; I think that's what landed you here."
The audience then sang "Happy Birthday." They did as Rydland stood, award in hand.
Other L&L recipients in the audience took to microphone to share a few thoughts, including Dan Conrad, president and CEO of Blue Cross Blue Shield of North Dakota; Jodi Duncan, president of Flint Group; Jeff LeDoux, senior adviser and former president and CEO of Houston Engineering, all from Fargo; and Trent Sorbe, president and founder of Central Payments in Sioux Falls, South Dakota.
Winners also were recognized in two other categories: The Top 25 Women in Business and nine 40 Under 40 .
In the Top 25 Women in Business category, four are from Grand Forks, including Kristi Hall-Jiran, of Altru Health System; Katie Lorenson, of Alerus; Becky Mindeman, of Gate City Bank, and Janell Regimbal, of Insight to Solutions LLC.
Heather Hoyt, of Mayville State, also was among the winners, as well as Brenna Grossbauer, formerly of Grand Forks but now at Starion Bank in Bismarck.
In the 40-under-40 category were nine from Grand Forks, including Maggie Brockling of Evolve Grand Forks; Becca Cruger, of Grand Forks Region Economic Development Corp.; Blake Christianson, of Greenberg Realty; Derek Goebel, of Altru Health System; Jarda Solc, of AE2S; Jill Nelson, of the Grand Forks Park District; Jon Rentz, of Alerus; Lance Monson of Construction Engineers; and Lauralee Tupa, of Circle of Friends Animal Shelter.
Brandi Nelson, of Lake Region State College in Devils Lake, also was among the 40-under-40 honorees.
The event saw all award-winners announced, and those in attendance came to the stage to receive recognition and a framed certificate.
At its conclusion, Prairie Business Publisher Korrie Wenzel, who emceed the event, spoke directly to all of the honorees.
"Thank you not only for attending tonight, but for being so good at what you do and for contributing so much to business in our region," Wenzel said. "We've all had challenges, including the COVID pandemic, rising costs of supplies and the labor shortage that has affected so many of us. But you've persevered. You've pushed ahead. You've not only survived, but excelled. These are the stories we like to tell and we sincerely commend you for all that you have done and will do."
Prairie Business is a free magazine, based in Grand Forks, that is distributed throughout the Dakotas and western Minnesota.