Grand Forks region likely to lose a legislative district, drawing concern about rural representation
North Dakota Legislature expected to finalize new districts next month.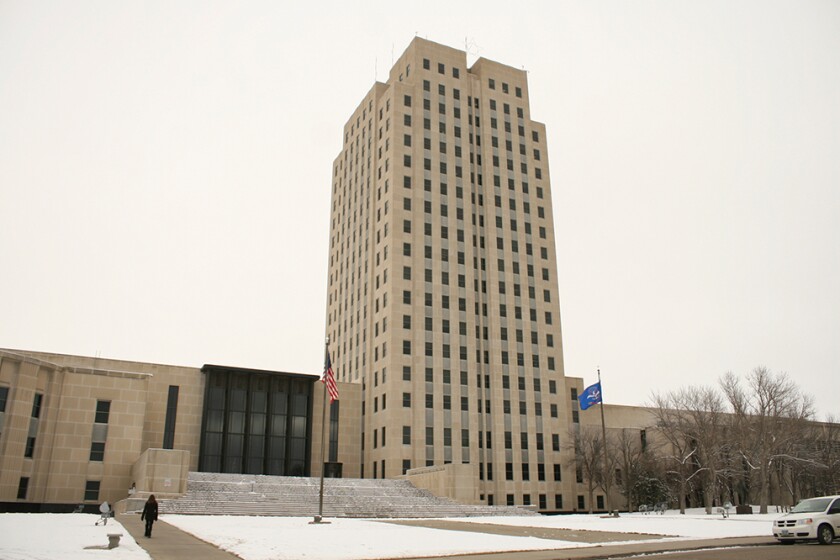 We are part of The Trust Project.
The Grand Forks region looks set to lose a rural legislative district, drawing down the area's political power in Bismarck and raising the possibility of a contested 2022 election.
New maps, set for approval next month by the full Legislature, show that the two rural districts surrounding the city of Grand Forks have essentially been merged into a single district — raising tough questions about the future of local party leaders and the six politicians — four representatives and two senators — who currently represent the area in Bismarck.
Of those representatives, two have said they're interested in reelection — Reps. Mike Beltz, R-Hillsboro, and Jared Hagert, R-Emerado — while Rep. Wayne Trottier, R-Northwood, said he had previously decided not to do so. Rep. Gary Paur, R-Gilby, did not respond to multiple requests this week for an interview.
The two senators in the merged district could be headed toward a 2022 election. Sen. Randy Lemm, R-Hillsboro, said he'd like to stay in office; Sen. Robert Fors, R-Larimore, said he's still considering his options and waiting to see any changes the Legislature makes to the maps before they're finalized. There's also the question of how local parties will merge and operate in the years ahead.
"(Those are) some of the things we need to talk over and decide who's in and who's out, and who's going to run and who's not going to run," Fors said. "It's going to take some getting together and talking about it."
A draft bill, set for consideration by the Legislature alongside the new maps, will set the rules for how new elections in 2022 will work. Right now, the Legislative Council's population calculations suggest that it's likely it will see a new election in 2022, rather than waiting until 2024, after three of those legislators' terms will have already lapsed. But Claire Ness, a staffer with the Council, said those population numbers are still being refined.
"I don't know how happy they are with the plan," state Sen. Ray Holmberg, R-Grand Forks, said of big rural-area changes. Holmberg, a leader in the redistricting process, noted the state's process was guided by the need for equal-sized districts in a shifting state. "You've got to go with the number of people you have."
It looks unlikely that any major changes to the districts will occur before the Legislature approves the new maps. That's expected as soon as early November, when Bismarck leaders are already set to meet and spend a federal COVID-relief windfall. Emily Thompson, a Legislative Council staffer who has been closely involved in this year's redistricting process, said that previous redistricting cycles in 2001 and 2010 only saw relatively minor changes once the maps were officially introduced before the Legislature.
A review of available addresses for legislators in the city of Grand Forks did not immediately reveal any lawmakers drawn into new districts. Of the city's 12 delegates to Bismarck, Rep. Mark Owens, R-Grand Forks, was the only one the Herald was unable to contact that did not have an address listed in the most recent Legislative roster — but a 2017 version of that same roster lists an address that is still squarely inside his district.
The new districts could bring big political changes in Grand Forks. The city is represented in four separate zones: its south end, its suburban heart, UND's campus and a district that includes downtown and the industrial north end.
Some of those districts have historically had to stretch well into rural Grand Forks County in order to include an equal amount of residents. But because of significant south-end growth during the last 10 years — and because of surprisingly low census counts near UND — the city's political center of gravity has shifted southward.
That's made the new, proposed southern district more compact and more centered in the city's wealthier south end. It also means that the UND district, which has been centered on campus, is proposed to expand westward, including large rural areas and Grand Forks Air Force Base as well. The likely approval of those maps could easily scramble the politics of the city's delegation.
The disappearance of a rural district means a headache for the six men now drawn into the same district, but it's also disheartening to see the loss of rural representation, they said. Though they don't see farm power dimming at all in North Dakota politics, they are sad to see fewer rural politicians in Bismarck.
"That's my biggest concern about this whole redistricting (process) — that the rural areas don't get left out, and we still get a voice for the rural areas," Trottier said.