Grand Forks Public Schools moves ahead with athletics rework
A new athletics and activities structure is set to cost the school district an estimated $21,000 more each year.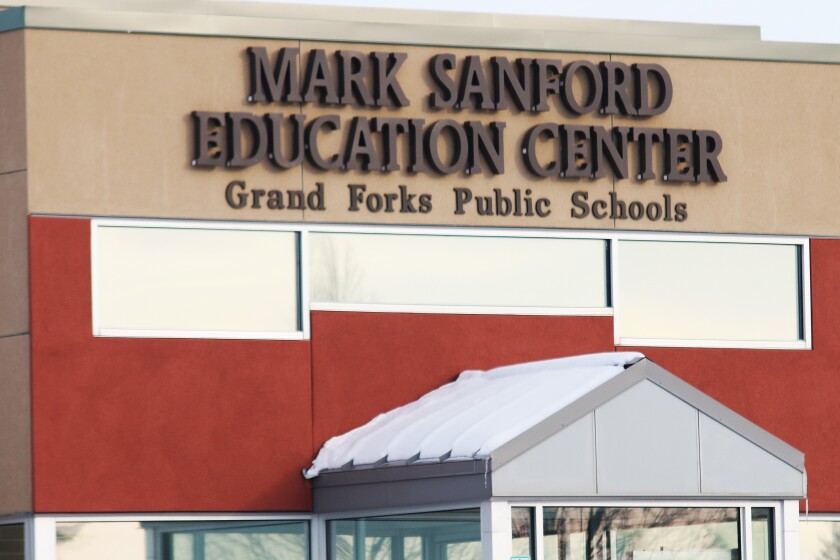 Grand Forks Public Schools leaders are poised to rework the way the school district administers its athletics.
Aside from a handful of technical questions and worries about budget implications, School Board members on Monday didn't object to Superintendent Terry Brenner and other staffers' proposal to " dissolve " a districtwide athletics director and two high school-level activities director positions, spending an estimated $21,000 more each year to replace them with a districtwide activities director and two high school athletics directors – one each for Central High School and Red River High School.
"We'll start putting wheels in motion," Brenner told the Herald shortly after the meeting. The move did not require a school board vote.
Catherine Gillach, the school district's assistant superintendent of secondary education, said students and parents can expect more figuratively visible athletics directors at Central and Red River.
"You will have relationships built with that person. You will have access to that person, that person will be there championing for the programs, recruiting kids to participate, building leadership amongst the students, providing ongoing evaluative feedback for the coaches," she said Monday. "Right now … we have a person who's been serving and supervising all of these coaches and all of the athletes across the district. One person trying to cover and to be in attendance at games and activities and practices. That's been the breakdown, right? There's not that relationship that's been able to be built because of the model."
District administrators could begin the reorganization as soon as next week, when they're set to begin soliciting applications for the new districtwide activities director job. The newly minted athletics directors at Red River and Central High Schools are set to be advertised the last week in January. Those jobs' current occupants, including current Athletic Director Mark Rerick, can apply alongside anyone else, according to district staff.
The soon-to-be-old arrangement costs the district $371,000 each year, according to documents supplied to school board members on Monday. The new setup would cost approximately $393,000 annually, but that figure is based on the salaries other comparable districts in North Dakota pay their high school athletics directors. The new plan would cost an estimated $21,849.20 more than the current one.
"I am still disappointed that this is going to cost us more," board member Doug Carpenter said Monday. "It may be a better model but, when we have budget issues, to spend even $22,000 more doesn't make me very happy."
Board member Cynthia Shabb presumed the reorganization will mean the district needs to free up $21,000 to pay for the reorganization.
"We are going to have to make budget cuts, I'm assuming," she said.
Board member Chris Douthit, who said he's not planning to run for re-election this summer , asked other board members to trust Brenner and other district administrators' judgment.
"I'm going to stay at 10,000 feet," Douthit said, referring to the metaphorical altitude from which officials make broad strokes decisions. "I'll respect their leadership."
The reorganization is a step back from a plan district staff floated in the fall, when they considered, in essence, eliminating Rerick's job and spreading its responsibilities to the existing activities directors, Gillach and, possibly, a middle school activities director.
That plan, Gillach told the Herald, would have saved the district money, but she and Brenner on Monday said they weren't sure what those savings would have been.
Looser mask requirements, HVAC and an elections agreement
In related news, school board members:
Were briefed, but did not vote on, a plan they approved last November to loosen Grand Forks Public Schools' districtwide mask mandate. The new policy is set to go into effect Jan. 17, and it recommends – rather than requires – students to wear masks while they're in school. The more lenient policy still requires masks in programs that include students or employees with weakened immune systems, in Head Start classrooms, and on school and city buses.

Agreed to apportion toward a renovation of the heating and ventilation systems at Ben Franklin Elementary School $4 million of the $18.49 million the district is set to receive from a third round of funding via the federal Elementary and Secondary School Emergency Relief Fund – commonly referred to as " ESSER III ." School district administrators estimated that the project would cost $3.6 million, but they produced that figure before construction costs began to spike last fall. Earlier rounds of the same funding are generally referred to as ESSER I and ESSER II, and they meant about $2.5 million and $8 million for the district, respectively.
Reupped a "joint powers agreement" with Grand Forks County that spells out how the county will administer school district elections through the end of 2022. The agreement automatically renews each year unless officials at the county or school district object to it. The new agreement stipulates that the county government will pay for joint elections, but the district will exclusively pay for any special elections it asks the county to administer.