Grand Forks leaders huddle to plan response to legal suits over Fufeng project
After the council met in executive session, council members voted on multiple planning measures that help prepare for Fufeng's arrival.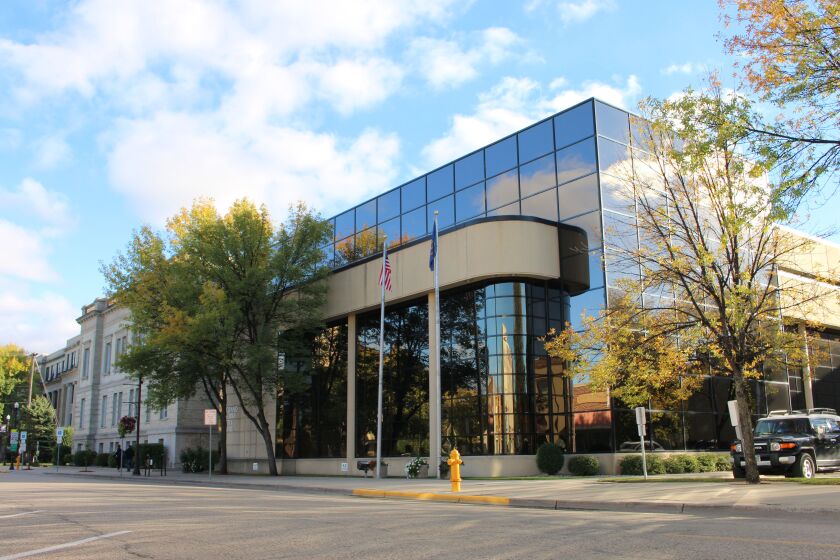 We are part of The Trust Project.
GRAND FORKS — Bringing a major Chinese agribusiness to Grand Forks takes a lot of work — managing development deals and finances and more.
And now it takes managing lawsuits, too. During their meeting on Monday evening, Grand Forks City Council leaders met privately to discuss two cases brought by a local group attempting to force a vote on the future of the corn mill proposed for the north edge of Grand Forks. Petitioners gathered nearly 5,000 valid signatures earlier this year, but had their petition thrown out by the city for technical reasons, ranging from the petition document's formatting to the legal nature of the city's decision, which city leaders said wasn't subject to ballot referral.
One case seeks a court order reversing City Auditor Maureen Storstad's rejection of the petitions. The other is an administrative appeal of that decision. Both are brought by Ben Grzadzielewski, a leading petitioner, and a "People for the Vote" group.
Grand Forks leaders on Monday evening met behind closed doors for roughly an hour in a meeting format known as "executive session," which allows city leaders to clear council chambers to hold private discussions with legal counsel.
The cases are only just beginning, but could bring a sense of finality to a long-running community debate over Fufeng Group – the company hoping to build the plant. The conversation has been centered around residents' worries about alleged odor, traffic, national security and the plant's ties to China.
"If (the court rules) the vote is legal, it goes to the voters and they vote and then we're done with this," City Council President Dana Sande said on Monday prior to the meeting. But if the city wins in court, then the debate likely lingers, he added.
"If (the court) says the petition wasn't legal, and then at some point after that — I don't know what that would take" to end the community's long-running debate, Sande added. "Perhaps — yeah, actual construction of the facility, right? I have no idea."
After the council reconvened in public session, council members voted on multiple planning measures that help prepare for Fufeng's arrival.
City leaders wrestled at length on how to manage a rezoning plan for Fufeng's future site, and whether it was the right moment to jump into concerns like the plant's potential smell. But the conversation quickly turned to the development agreement that city leaders inked months ago, which calls for close study of the plant, focusing, for example, on odor, traffic and wastewater.
"It's often been said that the city is moving forward with this project," council member Bret Weber said, "when in fact, what we have is a development agreement, which is just the opening phase of exploring (a deal)."
The zoning changes passed 5-1, with members Katie Dachtler dissenting and Jeannine Mock absent. A measure that redraws internal property lines on Fufeng's land passed unanimously.
Both votes are final.
And, just like they have for months, council members heard a stream of comments from speakers unhappy about the plant.
One man brought up his worries that Fufeng will consume too much water in a drought. Another called for the City Council to back a city referendum on Fufeng's arrival. One speaker, who said she was with the North Dakota Sons of Liberty, said the group backed opponents of the project.
"There's nothing more frustrating than having your elected officials not listen to you. … We are here, we are watching, and we are here to support every single one of these people," she said. "We are here to help their voice get louder and stronger."
The council also signed off, via a 5-0 vote, on a financial plan for the annexation of the land upon which Fufeng will be built. It's a move that also absorbs a strip of nearby businesses along Highway 81 north of Grand Forks. Dachtler, who had been present for previous votes, had left the meeting before the vote.
When those businesses join the city, they'll be asked to pay city taxes, plus a range of "special assessments," or costs for neighborhood infrastructure improvements spurred by Fufeng's arrival.
But the new agreement, negotiated with S&S Transport and affiliated businesses, cuts annexation costs for numerous property owners on Highway 81.
The negotiations could help decrease protests from property owners against the annexation. That could be crucial for city leaders, who hope to avoid a larger legal battle — which could happen if more than 25% of property owners by land area force it into mediation.
Curry's email comes as the Herald investigates the origins of a memo written by United States Air Force Maj. Jeremy Fox, who is posted at Nellis Air Force Base in Nevada.