Grand Forks high school students gain valuable hands-on experience, building house on city's south side
Students benefit from significant contribution in materials, tools and manpower through Lowe's Heroes Program
We are part of The Trust Project.
About two dozen Grand Forks high school students are building a 3,100-square-foot, split-level house on the city's south side, with significant contributions from Lowe's Heroes Program.
The students began working on the house at the start of this school year, and expect to have it ready to sell this spring. Students usually build one house each year as part of a class offered through the school district's building trades program.
Recently, Lowe's employees came onsite as volunteers, helping with the construction work and teaching students how to use tools and equipment the company donated for the project.
Students have been framing the house, located at 3127 44th Ave. S., and installing sheeting on the floor and tongue-and-groove plywood, said Ben Moen, a teacher in the school district's building trades program.
Lowe's has made a "very important" donation of equipment and materials, including various tools and four pallets of fasteners, Moen said. The donation included nails, staples, screws, a new miter saw and stand, flashing, house wrap, drills bits, hand tools, power tools and tool batteries.
"My guess, it's worth $10,000," he said.
In addition, Lowe's employees have provided manpower, helping with construction work and instructing students, Moen said. "We really appreciate that. There's a lot to learn in the construction business."
The contributions save the schools money, said Austin Engen, a Red River High School senior. "It helps us get things done quicker, and we can have more guys in the area to get things done. We're more productive, more efficient."
Valuable knowledge, skills
While building the house, students "are learning an incredible number of skills," said Nick Krump, flooring supervisor at Lowe's. Most recently, they've been installing the upper level subfloor and applying house wrap and underlayment for the roofing.
"They gain a lot of real-world skills in the class," Krump said. "The knowledge and skill base are applicable to real-world work applications."
The fact that some of these students "can make a career out of this (experience) is fantastic," he said. Gaining basic knowledge of tasks, like how to cut and measure lumber and use hand tools and power tools, gives students "a lot of confidence," regardless of their eventual career choice.
Beyond that, "it's teaching these kids a good strong work ethic, which is absolutely invaluable," Krump said.
At this point, when the walls are constructed and stood in place, "you can start to see what the house is going to look like. That's really the fun part of the project," Krump said.
"One of the primary goals of the company is building trades education and veterans service organizations," he said, noting that four of the eight Lowe's Heroes projects he's led have benefitted local schools and at Grand Forks Air Force Base.
Krump and his Lowe's colleagues realize that, in the school district, "certain needs get set aside because of budget constraints" and replaced with other pressing needs, he said. School personnel "have wish lists that can't be granted."
Lowe's sends out notices to schools about the Heroes Program, and various groups, including nonprofit organizations, submit project requests throughout the year, said Krump.
He and his colleagues evaluate the requests in light of the criteria outlined in the company's annual guidance on how Heroes Program funds should be awarded, he said.
"We look at how we can maximize our effectiveness," Krump said. "We try to do a project in a day."
The Lowe's Heroes Program "is a service project program rather than a donation program," Krump said, explaining that employees take an active role, volunteering their time, labor and expertise for the project.
His employees built an outdoor classroom at Valley Middle School and "buddy benches" for elementary schools in Grand Forks. The benches are a way to encourage kids to connect with others who may be feeling left out.
Employees also have built octagonal picnic tables for about five elementary schools and rolling backpack carts for Ben Franklin Elementary.
Brianna Reimer, who has worked for Lowe's for 18, including 10 at the Grand Forks store, said she's been involved in about nine Heroes projects, including the buddy benches, Valley's outdoor classroom, and a fence and interior paint project at Circle of Friends Humane Society.
Students in the school district have built about 30 houses in Grand Forks, Eric Ripley, director of career and technical education for Grand Forks Public Schools, estimated.
In the past, students built a house each year in the Red River High School parking lot and then moved it to the buyer's lot, Ripley said. But shortly after the Flood of '97, they started building them out in the community, first in Congressional I and II, west of I-29, as the community worked to rebuild and recover from the devastating effects of the flood.
In recent years, the crews have been building on the city's south end, and especially after Discovery Elementary School was built, Ripley said.
Building on site yields important educational advantages, he said. "(It) allows students to see the entire construction process from a lot, to foundation, to construction, et cetera."
This spring, the house will be listed once the majority of the project is completed, he said. The school district lists the house on the Multiple Listing Service as "for sale by owner" and at fair market value.
1
/
3:
Ethan Dockter, a Red River High School senior (right), nails a plank of lumber, while Robert Sevigny, a Lowe's employee (right), holds it in place at the house the students are building on 44th Avenue South in Grand Forks. (Photo by Pamela Knudson)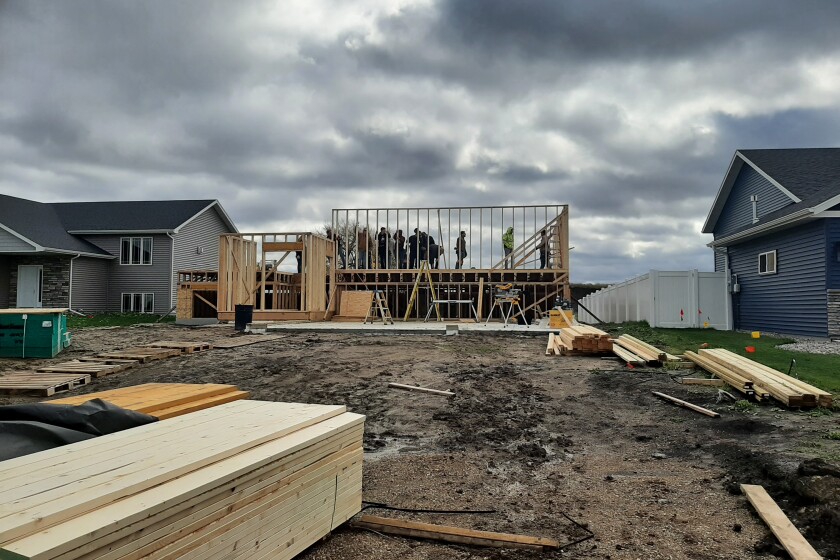 2
/
3:
Grand Forks high school students work with their teacher Ben Moen and several Lowe's employees recently to gain valuable experience building a 3,100-square-foot house the Grand Forks school district will sell next spring. (Photo by Pamela Knudson / Grand Forks Herald)
3
/
3:
Grand Forks high school students work on framing the upper level of a home they're building on the city's south side, as part of the school district's building trades program. (Photo by Pamela Knudson / Grand Forks Herald)