Grand Forks-East Grand Forks Chamber of Commerce, university host annual Wake Up to UND breakfast
Event was most attended in Wake Up to UND's history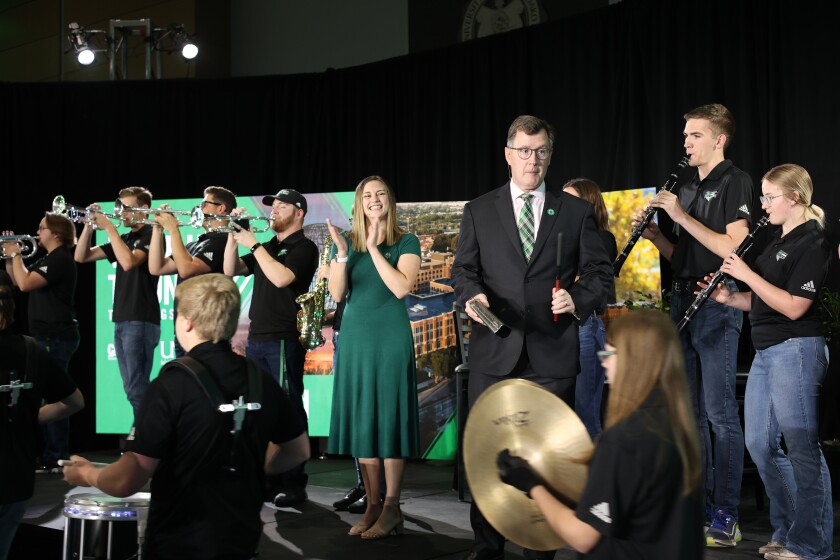 We are part of The Trust Project.
GRAND FORKS — In front of a sold-out banquet hall of more than 400 attendees at UND's Memorial Union, university administrators outlined major developments for the upcoming academic year.
Longtime employee is closing his final chapter as director of ceremonies and university events.
"It was a tremendous turnout," said Barry Wilfahrt, president and CEO of the Grand Forks-East Grand Forks Chamber of Commerce. "It was our best-attended, most-sponsored breakfast ever."
Thousands more joined in for a video broadcast of the Tuesday morning Wake Up to UND breakfast, according to UND Vice President of Marketing and Communications Meloney Linder. Last year, upwards of 6,000 streamed the event, she said.
The breakfast is a joint production of UND and the chamber, and this year included 22 business sponsors.
The event's format followed a typical television news broadcast, right down to a weather broadcast from Blake Rafferty, a UND Atmospheric Sciences student and intern at KVRR News Fargo.
UND President Andrew Armacost served as anchor, interviewing students and faculty about issues that ranged from new academic programs and new buildings to distinguished students.
Amy B. Henley, dean of the Nistler College of Business and Public Administration, spoke about the college's new academic building. She said students and faculty alike are enthusiastic about the opportunities the new space affords.
"We had one long-tenured faculty member mention a few weeks ago that it was like he had a brand new job," said Henley. "It is so refreshing and humbling to see how many people truly enjoy being in this space."
Although students already are learning in the building, a grand opening and ribbon-cutting ceremony will take place at Nistler building at 11 a.m. Friday, Sept. 30.
Armacost listed academic programs that recently have received accreditation. These include engineering and computer science, athletic training, occupational therapy, nutrition and dietetics, commercial aviation, air traffic management, UAS operations and counseling psychology.
He also discussed a university partnership with Grand Forks Air Force Base, which students and faculty to work at the base's North Spark defense laboratory.
"The lab is an innovative tool for our airmen," said Lt. Col. Mike Dunn, who joined Armacost on stage for a brief discussion. "We also partner with local businesses through the small business innovation research program, to bring innovative technology from the business sector to the Air Force base."
Armacost also announced a new bachelor of science degree in Esports. The degree prepares students for a career in gaming, along with providing the opportunity to compete on the university's varsity team.
Later, UND student and member of the university's drone club Jerry Fuller discussed his research in the field. These drones are used for various applications, including remote climate research, a project Fuller undertook last spring in Nome, Alaska. Fuller and Armacost later treated the audience to a demonstration of drone flight.
Lastly, Armacost honored Merrick McMahon, a 2022 UND graduate. McMahon, a member of the Turtle Mountain Band of Chippewa, is pursuing dentistry as a means of giving back to his community.
"Growing up, I spent a lot of time on the reservation," McMahon said in a video message. "I noticed that the standard of health care wasn't always top of shape. I've always wanted to give back to my community there."
Faith Wahl, student body president of UND, and co-anchor of the event, praised the level of engagement between the community and the university.
"We're very fortunate to be in such a connected community," said Wahl. "Between UND and the Greater Grand Forks community, we have a great relationship, and access to internships and the workforce development center. I'm looking forward to the future we have together with such a connected group and dedicated team of leaders."