Grand Forks County leaders outline needs for new facilities, explain 'misconceptions'
The $38 million plan is for wide-reaching upgrades and refurbishment of the existing adult correctional facility, along with building a new juvenile detention center.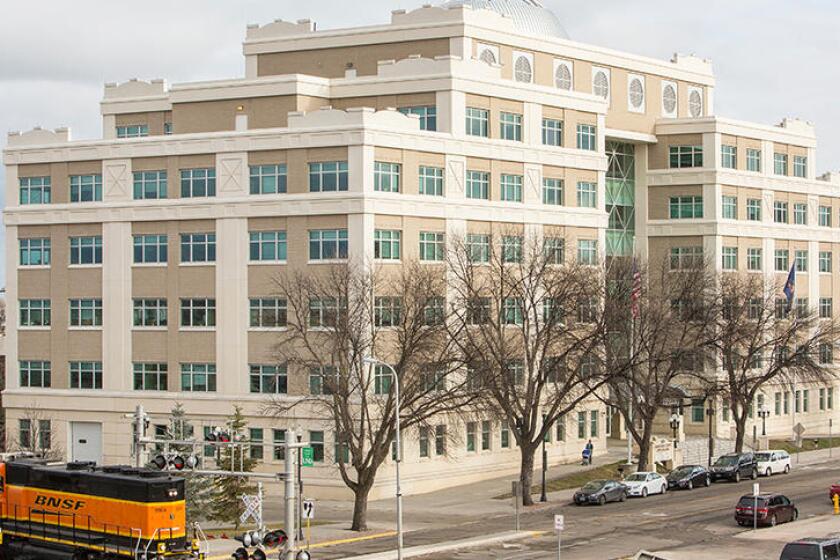 GRAND FORKS – The need for a new juvenile detention center and upgrades to the Grand Forks County Correctional Center are pressing, according to the administrators of those facilities.
With groundbreaking planned for later this year, it appears the county is on the way to solving what they say are crowded, outdated conditions and decaying infrastructure that needs to be addressed.
"We've had leaks and we have a (faulty) ventilation system. … Our maintenance people have done an excellent job but we've worked through the problems to maintain that area for the safety and security of the kids," said Bridgie Hansen, the county's juvenile administrator and training director. "The expansion now will allow … for us to take care of all the kids within our community.
"We have waited a long time for this place to happen."
Hansen was among six county leaders who spoke recently with the Grand Forks Herald's editorial board, outlining their issues with the existing buildings and their hopes for the $38 million building project.
The plan is for wide-reaching upgrades and refurbishment of the existing adult correctional facility, along with building a new juvenile detention center.
First, some county officials say, is the goal of clearing up what they say are misconceptions and rumors about funding sources for the project . In hopes of doing so, they asked to speak to the Herald.
It appears to have started with comments at a December County Commission meeting, at which Commission Chairman Bob Rost said the state is not paying its share for inmates housed at the correctional center.
During the Feb. 22 meeting with the editorial board and in subsequent interviews, Rost clarified that the state is indeed paying for locally housed inmates.
"The people didn't give me a chance to delve into this and discover that we were getting reimbursed by the state," he said.
Following is a transcript – edited for brevity and clarity – of the Feb. 22 editorial board meeting, which included three Herald employees along with Hansen; Rost; Tom Ford, the county's director of administration; Bret Burkholder, Grand Forks County Correctional Center administrator; Robin Spain, the county's juvenile detention administrator; and Grand Forks County Sheriff Andy Schneider.
HERALD: You said there were some concerns you wanted to address. Can we start with that?
FORD: There are some misconceptions, or maybe rumors that have been floating around the community. They involve everything from why the county is building on to the jail, to the county getting reimbursed from the state for holding state inmates.
One of the most frequent false narratives we've been hearing … is that during the home rule process, when county officials were going out to town halls, going out to other city council meetings, they are stating that county officials are basing the jail expansion project on not receiving revenue from the state for holding state inmates.
That's important to address because that's just false. The other thing that needs to be said is this project isn't just about expanding the correctional facility, it's about a new juvenile detention center. And really, with adding the juvenile detention center to the project, we're not addressing all the space issues in the correctional facility.
So the majority of the focus is on the juvenile detention center. And that seems to be getting lost in the narrative that's out in the community.
The commission was consistent throughout their talking points (in various meetings), which was we need a new juvenile detention center, because the current one is the old jail and it's falling apart. It's obsolete. And we need to expand beds in the correctional facility, because we are reaching functional capacity.
HERALD: Are you hearing it from multiple places?
FORD: No, it seems to be coming from folks that are listening to a local radio station here. Or calling a commissioner. And the other issue is, we've even heard it from state legislators that the commission deceived the community. That really concerns me when I have state legislators calling me saying — with the wrong information — the county lied or deceived the people by saying we're not receiving revenue, and that's why we're building on to the jail.
ROST: I think a lot of the tone is … distrust in government. People are just running rampant with that, saying officials are not listening to the community. … No matter what you tell them, they don't believe it. I was called a liar I don't know how many times. The people didn't give me a chance to delve into this and discover we were getting reimbursed by the state. Instead, somebody else ran off to Bismarck and started talking about this. And that's how it all happens.
HERALD: Tell us a little bit about the money involved with housing inmates. Who pays when it's a Grand Forks County resident? Who pays if it's a Pembina County resident, for example?
BURKHOLDER: If the individual arrested and is held in our facility is the responsibility of Grand Forks County, the holding authority is Grand Forks County, then Grand Forks County is responsible. That would include someone right now on a warrant – and they don't have to be a Grand Forks County citizen for us to be responsible for them.
HERALD: But an arrest?
BURKHOLDER: Exactly. If someone from the Sheriff's Department arrests someone on a Burleigh County warrant, then Grand Forks County is responsible for them – we arrested them, we're responsible for them.
If someone is arrested in Pembina County, as you mentioned – I have contracts with 15 different organizations. Every one of them, if we hold for them, it's their responsibility. All the per diems, all medical, everything, nothing to Grand Forks County. I do our best to protect Grand Forks County from anything like that.
So if someone's from Pembina County, I'll use females for an example. The Department of Corrections requires that if you're going to hold females, you must have female corrections officers on staff all the time. ... So this became a really big issue for some of the smaller facilities.
I'll use Walsh County for example, because I've entered into a contract with them and for the most part, we assist them when they have females. Their female count is very small, one or one and a half, at most, per day is probably average. But it helps our neighbors, you know, and when we hold for them, they're responsible for all costs.
HERALD: So in Walsh County, if they've got a female inmate but they don't have female staff so they can't hold her, they bring her over here?
BURKHOLDER: Either here or Lake Region (in Devils Lake).
SCHNEIDER: Bret, maybe you can give them some clarification as well regarding the Police Department in Grand Forks, because it is a county correctional facility. So when the Police Department brings somebody in on municipal charge, the Police Department gets billed for that.
BURKHOLDER: Correct.
SCHNEIDER: But if it's a charge that's going to district court, is it transferred after they appear in court or is it initially right away?
BURKHOLDER: After they appear. Well, the city's going to move everything to district and then at that point, Grand Forks County. Prior to that, we have a contract with the city.
SCHNEIDER: So the Police Department also pays for our services. The county is not paying for those either. Until, like you understand, higher level charges are transferred to district court. Municipal can only handle so many.
HERALD: What about a male inmate? If you get a male prisoner from Traill County, for example, why is he here?
BURKHOLDER: Traill County is a great example. They had a facility and that facility needed to be completely rebuilt and such and they had no place to hold people. So for a period of time, Sheriff Hunt, I have a good personal relationship with him, and I told him "we're here for you." To me, it's that neighbor thing to do. When we have the capacity to hold people, I like to help our neighbors when we can and we help a lot of people that way. And that brings money to Grand Forks County because they're paying for it.
HERALD: Do we make a profit on that?
BURKHOLDER: Define profit.
HERALD: Any money more than what it costs to house the person. So if it costs $300 a day to house them, do you charge $350 a day?
BURKHOLDER: Define then, for me, what is included in the cost? Am I including the bond payment on the building? Am I including everything? I do an actual cost of what it costs to run that facility per person. And yes, we're getting paid for quasi-profit. But that's a part of business. If it's not making us money, I'm certainly not going to be holding people for other jurisdictions.
HERALD: Why do this, then? If we're not turning 7, 12 or 25% profit on it, then why bring someone in from Traill County and allow them to be housed here if it's crowding people for our spots?
BURKHOLDER: Very simple. In this room (where the group met), we have a dozen people in here. How many more can we fit in here? At least another dozen, right? What's our cost to put that dozen more people in here? Absolutely nothing. We're not changing the heat, we're not changing the water, nothing. If I can put more people in those empty beds that Grand Forks County is not using, that's all profit.
I've always used a business-model approach to try to bring in what we can safely hold to make as much money as we can for Grand Forks County. And in the course of these years, it's been over $24-point-some million. And then when you add all the ancillary income that we get from them, from commissary and such, from them using the phones and texting and so forth, it's over $28 million.
So one of the questions asked to me at one time, is that net? It really doesn't really matter. Because to add another body into the correctional center, what do we have to do? We feed them. We give them linens. The cost of that to Grand Forks County is minimal. I don't have to add staff. It's a win-win for Grand Forks County.
HERALD: Are you adding staff because of it though?
BURKHOLDER: No.
HERALD: What do you think the ratio is right now of Grand Forks-responsibility inmates versus non-Grand Forks inmates on a day just like today? What's the split?
BURKHOLDER: That number keeps rising every day because I keep refusing to bring others in because I don't have the capacity. Right now today, it might be as high as 80%
HERALD: Meaning 80% Grand Forks vs. 20% non-Grand Forks?
ROST: You know, one of the things that I thought stood out so much from Bret's presentation is when he talked about the correctional center and what a functional capacity is, and what he has in each pod. He talks about having several issues that we deal with, where we have to put people in certain places. Maybe Bret would elaborate a little bit because to me, it opened my eyes.
Functional capacity is 180. But realistically, I mean, he's got a whole pod just full of women. And then there's other people that have committed crimes together, they can't be together. And so you got to put them in special places.
BURKHOLDER: There are so many reasons people can't be housed together. If we purposely put, for example, two individuals who we know or suspect there's going to be trouble … we've got deliberate indifference, and we're going to be sued.
Correctional facilities and jails across America have become the new mental health wards. The number of people that we have in custody that have mental health needs … is approximately 60% or greater. So we're dealing with people that just many times don't get along well with others. I've got people (in certain parts of the facility) that for reasons I can't house together.
HERALD: Moving on to the actual projects, where do we stand with all that right now?
FORD: The juvenile detention-correctional expansion, and you'll hear me every time I'm speaking about that project purposely saying "new juvenile detention and jail expansion project," because again, I think the juvenile detention center gets lost in the conversation. So we're building that. The first bid packages were approved by the commission (in February). The goal is to break ground hopefully this spring on that project with footings and precast.
HERALD: How are we paying for it?
FORD: For the jail-juvenile detention project, $32 million is being bonded. It's a $38 million project, so $32 million is bonded, and the gap is through ARPA funds. So about $5 million in ARPA funds.
ROST: Seven mills.
FORD: Yes, it comes out to seven mills.
HERALD: Has anybody on the commission thrown up any roadblocks? Is it a universal decision that we should be going forward?
FORD: I think so. I don't think there has been any dissents. In the Dec. 22 meeting, and this is public record, Commissioner (Mark) Rustad did oppose. But I think he was opposed because he was wanting more information on state reimbursements and how Mr. Burkholder manages that. He wasn't opposed to the project itself.
Editor's note: In a portion of the interview that has been edited out due to space considerations, Burkholder had said the jail's operating budget was approximately $7 million in 2021. He later clarified on upcoming budget numbers and staffing.
BURKHOLDER: Getting back to the numbers, I want to be clear. The approximately $6 million I said that was in 2021, I'm looking at 2023, commission approved, and I'm at $8.021 million this current year.
Now, I quickly did the math of those costs. What encompasses personnel cost? It's 72%.
Why that is important is that, as I've said before, if I don't change staffing, staffing is my most expensive part of running the facility without question, because we're open 24 hours a day, seven days a week. Adding one post is actually five bodies. So one post is not cheap. So efficiencies of the facility are key. If we never built, what that would mean is we would be pulling out all that per diem, staffing would remain the same. We would not be raising our staffing and such to accommodate anything because we wouldn't need to. But in any expansion, there's no question we're going to have to add staff. It's going to be more costly to operate. It would be my hope, though, that we can capture some more of our federal inmates to help offset the costs for Grand Forks County.
HERALD: So we're getting down to the end of the meeting. Again, outline for us what's on your mind.
FORD: My goal for today was to sit down with the (Herald) and clarify any misunderstandings that the community may have about the project. It was to have county officials go on the record and say the reason behind the juvenile detention and jail expansion project (and) to let the people in the community know that it was driven by one facility that needs to come down. Every architect and engineer over the years has told us it's got to come down. We've had to put a lot of money into it just to keep it up. And that it's about beds, it's about capacity. And that, unfortunately, the population is going to only continue to rise.
And also to dispel the rumor that the commission sold, for lack of a better word, this project on lack of revenue from the state. So hopefully, we were able to articulate that today.
It's also important to note because we are having to address the juvenile detention center. And there's a whole other story to that with attendant care and shelter care. Letting people know that with the juvenile detention project now having to be a focus, the jail expansion actually won't fully address the bed occupancy needs at the correctional facility. It's just phase one. And so that's what's been driving the project – lack of space and needing a new facility for juvenile detention.
HERALD: Give us a summary of what it's like at the current juvenile detention center.
HANSEN: It was opened in 1978. We were a four-bed facility. And then in 1988, when the jail took over the lower section where it was Sheriff's Department and county court, they separated our facility four years later, in 1991.
In 2004, the top of the HVAC center for the courthouse was expanded and that's where we expanded another seven beds to our facility so we could accommodate 16 juveniles.
But we've had leaks and we have a (faulty) ventilation system. … Our maintenance people have done an excellent job but we've worked through the problems to maintain that area for the safety and security of the kids. The expansion now will allow, with the closing of Lutheran Social Services, for us to take care of all the kids within our community. And the revenues are going to help pay for the expansion.
We will be a regional facility. It will be "Grand Forks County regional."
SPAIN: There are only two other shelter care facilities in the entire state – Minot and Williston.
It's CHIPS – Children in Need of Protection – kids we can hold up to seven days, or they can file for an extension for 14 while they find a more permanent, safe place. It's a non-secure facility (meaning they are not locked in).
HANSEN: These might be kids that were picked up with adults who were busted for marijuana or methamphetamine and there's no place for these kids to go.
SPAIN: Or in a foster home that didn't work out and there's no foster home for them to go into. They would be held in shelter care.
HANSEN: Even Cass County, they hold their delinquents in Clay County and they have 11 beds. And when, in the past, they've gotten into overflow, they've had to transport two or three. We have (in the past) held for Cass County. And the revenue for shelter care youth is $395 per day.
In the new facility, there'll be each shelter care beds. So you'd be looking at, you know, almost $400 a day times eight. That's $3,200 a day for holding just shelter kids. … Bret started this back in 2012 or 2011, with knowing and having the foresight to know the county was in need for expansion. And then when that building started falling apart, the commission said it's time.
We waited a long time for this place to happen.