Grand Forks County Commission votes against including more employees in ARPA distribution
Commission Chairwoman Cynthia Pic made a decision to stop debating the topic and bring it to a vote.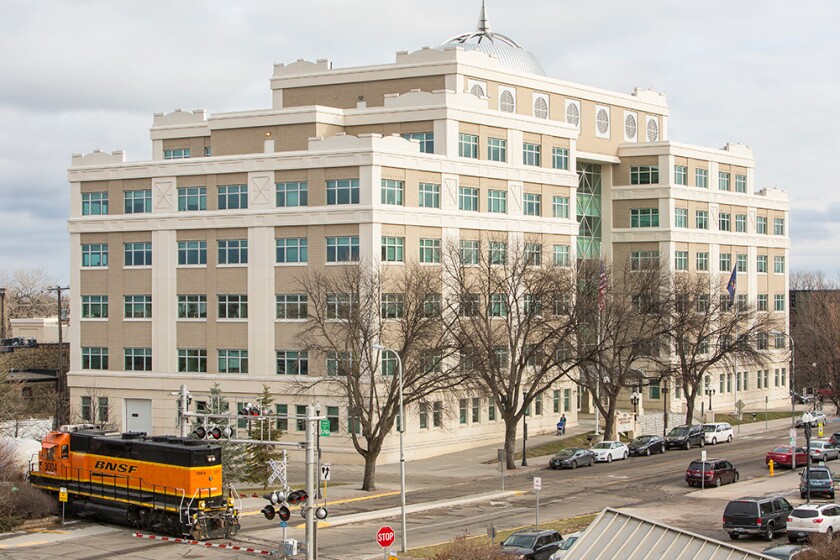 The Grand Forks County Commission on Tuesday decided some employees, including six from the Sheriff's Office, are not eligible to receive federal ARPA funds for their work during the coronavirus pandemic.
The proposal had been before the commission since early last month, and would have expanded the pool of employees who could receive the funds from the American Rescue Plan Act. The dollars are for employees who worked on the front lines, and with the public, during the pandemic.
The decision came during Tuesday's commission meeting, at which Commission Chairwoman Cynthia Pic made a decision to stop debating the topic and bring it to a vote. After 40 minutes of discussion, Commissioner David Engen had requested to table the item again due to what he described as the danger of unlawfully excluding people.
"We really should clarify the criteria," Engen said. "I really hate to push it off to another meeting, but I think that's what we should do."
Pic then responded, calling for a vote.
"I don't want to belabor this any further than we have to, and the reason why I'm saying that is because this is something that needs to be done," Pic said. "... My decision at this point is we're not going to have another debate. Where we're at is where we're at. We have a motion on the floor right now of wanting to add six individuals that work for the sheriff's department. The sheriff has put in a letter, he's come to committee meetings, he's talked about this, it's on our agenda right now today. This motion is going to go through. We're going to vote on this motion with a roll call vote, and what happens is what happens."
The proposal then lost 3-2, with Engen and Bob Rost voting in favor and Pic, Diane Knauf and Tom Falck voting against.
The idea first came before the commission on Nov. 2, after commissioners were presented a premium pay plan to distribute ARPA dollars. At that meeting, Sheriff Andy Schneider argued that six of his support staff at the Sheriff's Office should be eligible for the funds, which were to be divvied out to county employees who had consistent contact with the public during the COVID-19 pandemic and were unable to work from home.
Schneider argued that the employees, whose duties include taking fingerprints and other tasks that cannot be done virtually, should be deemed eligible to receive the funds. The compensation is a maximum of $2,000 per employee working the entirety of the time between July 2, 2020, and April 30, 2021, which is when the commission believed Grand Forks County began showing a steady decrease in positive COVID-19 cases.
After that meeting, Grand Forks County Administrator Tom Ford and Human Resources Director Michele Thiel were tasked with going through the details of whether these employees would be eligible, discussing the proposal with Haley Wamstad, the state's attorney. What they decided between the Nov. 2 meeting and Tuesday's meeting was to continue following the Interim Final Rule guidelines for what can and can't be done with ARPA funds. Ford noted that some county employees excluded from the funds have made it known they are unhappy.
"I'm not going to speak for Ms. Thiel, but I received a lot of anonymous nasty-grams under my door from employees," Ford said. "They're not happy about this, as if we're picking and choosing favorites. That's not what happened. We went through it the best we could. We tried to come up with the most fair, equitable process possible for the commission to look at."
Pic said she had faith in the staff the commission hired to know the importance of the decisions it makes. She continued by saying she doesn't believe the commission could come to a solution that will match every interpretation it has of the law in question.
"I'm not trying to be disrespectful of the sheriff. I'm not trying to be disrespectful of any employee that is employed by Grand Forks County," Pic said. "As I said, I believe we've done the best we possibly can to give them additional payment for their years of service."
Pic noted that all employees will receive a 4% cost of living adjustment, a 2% market increase in 2022 and any eligible step increases for qualified employees. And referencing Ford's comment about receiving nasty notes, she implored those who are upset to contact her instead.
"I took this job not for the money. I took this job to make a difference in this county," she said. "I'm sorry, but where we're at right now is where we're out. We have plenty of other fish to fry. We don't have everybody fully immunized. We've reached 100 deaths in Grand Forks County. That's 100 times how many other people were impacted, whether it was the medical staff, emergency staff, whoever, all the families that have losses over this. This $2,000 additional, who's going to get it in their hands, does not make one damn difference to those hundred people or their deaths."
Pic became visibly emotional as she ended by calling for a vote.
"That hurts a lot," Pic said. "So, we're going to go through this motion. I'm going to call for a roll call vote. I'm sorry I'm emotional, I apologize, and then we'll move forward."