Gear Daddies kick off Greenway Takeover Festival as first headliner in weekend of live music, events
The Gear Daddies took the stage on Thursday night, Sept. 8, after a lineup of other local bands, like Honky Tonk Troubadours and Tumbleweed Radio.
We are part of The Trust Project.
GRAND FORKS — The usually tranquil Greenway along the Red River was filled with sounds more often found at a hockey game as the Gear Daddies jumped into "Zamboni" early in their set during Thursday's opening night of the Greenway Takeover Festival.
"It's nice to be back in Grand Forks," said lead singer Martin Zellar.
The band, which originated in Minnesota and has continued to play regionally, closed out the first night of the Greenway Takeover Festival , an annual four-day event that features live music by local and national bands, family friendly entertainment and local food and beverage vendors on the Greenway. The Gear Daddies took the stage at 9:30 p.m. Thursday after a lineup of local bands, like the Honky Tonk Troubadours and Tumbleweed Radio.
Hailing from Austin, Minnesota, the Gear Daddies first played together in 1984. Following early 1990s success in the Twin Cities music scene with songs like "Time Heals" and "Stupid Boy" that led to an appearance on "Late Night with David Letterman," the band's four members split to pursue individual careers. They now reunite a few times a year for shows like the one on Thursday.
Despite not releasing new music in two decades, the band retains a strong Midwest fan base, many of whom showed up on Thursday. Audience members wore Gear Daddies merchandise and sang along to the band's songs. Especially popular is the band's "Zamboni," which outlines the wishes of a man who simply wants to drive the ice-conditioning machine at "the local arena."
"I went down to the local arena, asked to see the manager man," the song begins. "He came from his office and said, 'Son can I help you?'
I looked at him and said, 'Yes you can.' I wanna drive the Zamboni. I wanna drive the Zamboni."
The song has become a staple in hockey arenas and in a handful of movies. The band played it early in Thursday's set as the crowd sang along.
The Senate Energy and Natural Resources Committee heard the bill Feb. 2 and recommended 4-1 do pass, but it failed the Senate 8-36.
It was not the Gear Daddies' first time in Grand Forks, made evident by Zellar's on-stage recollections of lounging by the cowboy boot-shaped pool and drinking fishbowl drinks at the Fabulous Westward Ho Motel, a Grand Forks entertainment complex that closed in 2001.
"Man, I loved that place," Zellar said as the crowd reacted with a cheer.
Dustin Shower, Melinda Socwell and daughter Morgan Socwell attended the Gear Daddies show on Thursday, but admitted they did not know a lot of the band's songs. Instead, they are fans of the Greenway Takeover Festival and any acts it might bring. They have attended the festival every year since it debuted in 2017.
"I'm just a fan of live music," said Melinda. "It's just nice to come hang out, see some local bands."
"Me too," said Morgan.
The three planned to come back for the next three days of the festival.
Friday's lineup includes Mark Ryan at noon; Jake Ingamar at 1; Jimmy River Band at 5; Pat Lenertz Band at 6:15; Silver Warehouse at 7:45; Big Head Todd and the Monsters at 9:30; and DJ Matt Lutgen at 11.
Saturday's schedule is Penumbra at 11; Chris Johnson at noon; Cheron at 1; Grand Forks Master Chorale at 2:15; Your Earholes at 3:15; The Dank at 4:30; Downtown Horns at 6; Mae Simpson at 7:45; and Yonder Mountain String Band at 9:30.
Sunday will include Mudbucket at 11 a.m.; Koo Koo Kanga Roo at noon; and Manic Drive at 1:15.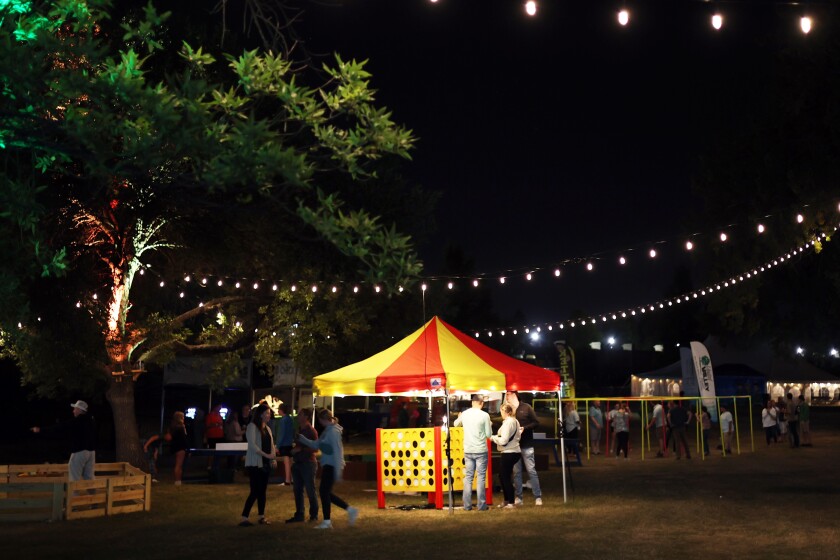 Each day, the festival is free before 6 p.m. and $10 for entry after 6. The full festival lineup can be found at www.greenwaytakeover.com/2022-line-up .