East Grand Forks School Board votes to immediately walk back mask requirement
As COVID-19 cases in the district and community continue to fall, the East Grand Forks School Board voted unanimously to relax some COVID mitigation measures, including the controversial mask requirement for grades K through 6.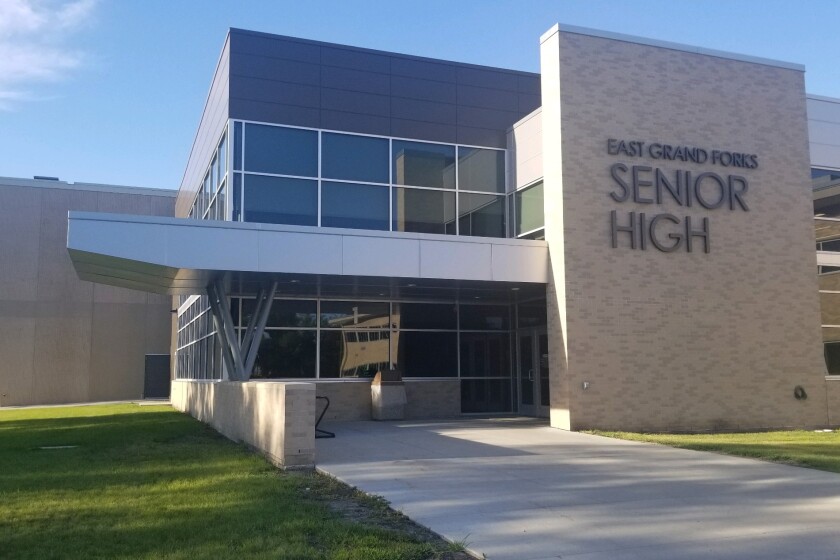 We are part of The Trust Project.
The East Grand Forks School Board unanimously decided to move from a COVID-19 mitigation "level 3" to "level 2" in light of falling case numbers in the district.
The most significant change between the two levels is that students in grade 6 and younger will no longer be required to wear masks in school buildings. The district intended to communicate the change to parents later Monday night in order to allow masks to start coming off Tuesday.
The processes for visitor check-in and lunch in the school buildings will become more relaxed as part of the transition to the lower mitigation level.
The work to continuously update and revise the Safe Return to In-Person Learning Plan is ongoing, however, and board members intend to continue their work to vet the mitigation level thresholds at a work session sometime this week. During that session, board members will seek input from nursing and administrative staff about the best practices to mitigate the spread of COVID-19 in the district.
A date for the work session has not yet been set.
Board members have discussed potentially relaxing COVID-19 mitigation strategies for several weeks now as case numbers in the district have continued to decrease.
According to a report by district Superintendent Mike Kolness, there were nine active cases in the school district as of last Wednesday, Oct. 20, for a total of 47 cases in the district since the start of the academic year. No staff members have tested positive this academic year.
Case numbers in the broader community have also continued to fall. Cases in the county have fallen in recent weeks from 219 to 185 to 104 last week, according to Polk County Public Health. Last week, Polk County Public Health reported that 42 of the 104 cases were in the 0-19 age group, or about 40% of cases. There were also six new hospitalizations, zero patients in the ICU and two deaths.
In other board-related news:
The East Grand Forks Public School District received a "perfect" audit of its annual finances from Eide Bailly, a Fargo-based public accounting and business advisory firm.
Erica Gunville, who was hired earlier this year as the district's American Indian engagement specialist, has transitioned to a new role as a special education teacher at New Heights Elementary School. Ricky White will advise the American Indian Parent Advisory Group on a number of upcoming events in the district, including a masquerade pow wow featuring dancers and a drum group, which will be held from 5:30 to 7:30 p.m. Wednesday, Oct. 27, in the Central Middle School cafeteria.